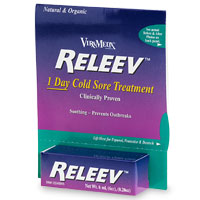 Full price 23.99
Savings 21%
Releev One Day Cold Sore Treatment (0.2 oz)
| | |
| --- | --- |
| | Buy 3 - Get free delivery on whole order |
Releev is an all-natural product created to effectively treat and help prevent the onset of cold sores, fever blisters, and other related outbreaks. It is specially formulated to treat skin lesions associated with the herpes virus such as cold sores, oral gingival stomatitis, herpes genitalis, shingles and chicken pox. HSV1 and HSV2 are the viruses that are known to cause cold sores and blisters. Releev has demonstrated in tests to effectively kill these viruses. One study conducted on 300 people showed that 99 percent of participants claimed the pain and severity of cold sore lesions were relieved within minutes and the cold sore lesions were resolved within 24 hours. For patients who were able to apply Releev at the first signs of outbreak (itching, tingling, etc.), the cold sore lesions were prevented from developing at all.
Releev by ViraMedX contains a powerful blend of ingredients that work together to disinfect, dry up blisters, and soothe painful irritations on the skin. Releev contains Benzalkoniun Chloride which is an organic, antimicrobial salt that works as a natural skin cleanser. It also utilizes the healing properties of Viracea, which is a proprietary blend of Benzalkonium Chloride and phytochemicals such as Echinacea. Methyl, propyl paraben and potassium sorbate complete the list of effective ingredients that bring pain relief and healing for cold sores and blisters. The antiviral properties of Releev help to inactivate the herpes virus so that it is killed and is not able to develop resistance to medication. Find fast, all-natural pain relief and healing from cold sores, blisters, and other skin lesions associated with the herpes.
Benefits:
Kills the herpes virus on contact
Antimicrobial
relieves pain
Prevents breakouts when applied at first sign of a breakout
all-natural
Cautions:
May be used inside the mouth, use only as directed. Do not ingest! Should not be used in yeast infections. Do not use a cotton applicator, do not bandage tightly. We suggest not drinking alcohol during use and outbreaks. If the condition worsens or symptoms persist for more than 7 days, contact your doctor.
Dose:
For adults and children two years of age and older. Apply Releev liberally to affected area by pressing firmly onto skin. Apply Releev 3-4 times daily to ensure the lesion is coated adequately. Apply at the first sign of breakout. Consult a doctor before use for children under the age of two or if you are pregnant or nursing.
Active Ingredients: Benzalkonium Chloride 0.13% (an organic chloride salt)
Inactive Ingredients: Viracea, Methyl & Propyl Paraben, Potassium Sorbate, Methylcellulose, Purified Water
*Not intended to diagnose or treat diseases or ailments, and is not reviewed by the FDA.
Uses & Indications.
Treating Skin Irritations And Symptoms In One Day
Ailments & Concerns.
Cold Sores
Skin Lesions Associated With The Herpes Virus
Fever Blisters
Compare to these:
Reviews
Wednesday 11 February, 2009
ReLeev is a wonderful product. Don't waste your money on other meds for cold sores. ReLeev is higher priced, but the results are fantastic and the bottle lasts for a long time. When I feel a slight tingle of a cold sore, I immediately start applying the ReLeev and it wipes it out. If the CS has already started forming, I apply as directed, 3-4 times a day, and the CS is gone within 2 days. It takes the ugly out of cold sores. If used properly, this med is tops. Thanks
---
Questions and answers:
Asked on:
November 27, 2012
Question: , you can still get cold sores on your genitals.HSV2 (genital hepres) is a more severe problem than HSV1. It causes larger sores, more sores, more pain and a longer outbreak. If you have HSV2, it gets registered with your national health board. Also, you legally have to inform your partners BEFORE contact that you have it (even without an outbreak).Herpes can be contagious even with no outbreak. So to clearly answer your questions:If your partner kisses you with a cold sore, you could get HSV1cold sores on your mouth. It might not show up immediately. It could show up in a year. Or even 10 years. So please, avoid kissing himher.If your partner has a cold sore and gives you oral sex, you could get HSV1cold sores on your genitals. This can also show up immediately, in a year, ten years, or never. So please avoid oral sex with a partner with cold sores! Also it's highly contagious. If your partner has cold sores, make himher wash hands before touching you, especially down there!You can never know you have until it first shows up. A hepres test can only be performed on a sore. So please be very very careful. And if you notice a small itchy blister, get yourself to a doctor. There are ways of managing and reducing the outbreaks.Please check out more information at:
Explore More Products