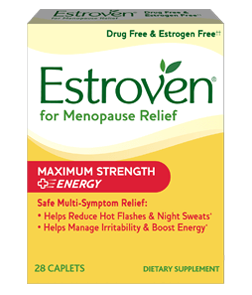 Full price 29.33
Savings 28%
Estroven Maximum Strength Plus Energy (28 caplets)
| | |
| --- | --- |
| | Buy 3 - Get free delivery on whole order |
Likely, you already have some sense about Estroven because it's either been recommended to you, or you've been using it.
If you're having pre-menopausal (perimenopause) sysmptoms - hot flashes, sweats, tender breasts, etc - then let's evaluate Estroven to see why it's popular, and what mechanisms make it work.
If you don't know all of the symptoms of perimenopause/pre-menopause, see how many symptoms you have at this Mayo Clinit resource here, and monitor these as you start any treatment to track the progress, success, and setbacks. It's so important to make sure any treatment you are on works for your body.
If you're in your 40's or 50's (can rarely occur in 30's) and experiencing perimenopause, you might notice:
Highly irregular periods
Hot flashes and sweating
Mood swings
Painful intercourse
Dry vaginal walls, loss of elasticity
Bladder/vaginal problems
Loss of sex drive
Decreasing bone density
Unusually elevated cholesterol levels (LDL)
Estroven targets the cause of these symptoms which is changing estrogen levels in your body.
There are natural ways to do this, and Estroven does this primarily with black cohosh and soy. By investigating the research on the topic, they have formulated this dietary supplement based for which women claim to notice relief when using.
One note: Although Estroven does not contain an active form of estrogen, the plants used in this formula can either convert, or act as estrogen "mimickers," which in many cases have the same effect. If your doctor or physician has ever told you that you are sensitive to estrogen, or you are on other treatments that specifically target the estrogen in your body, please set up an appointment with them to better understand if there could be risks to you using this product. The NCCIH has stated that the risk of the main ingredient, black cohosh, interfering with other medications is low.
What's the main method of action?
Black Cohosh
In fact, they claim to have twice the amount of black cohosh as other formulas on the market.
There are other synergistic herbs in this formulation as well that I'll touch on. For now, black cohosh is a well studied supplement and is the primary focus Estroven.
However, the exact method of action is not yet known, and futher studies from the NIH are expected to follow up on isolating the method. The root of the cohosh plant has a number of chemicals that possibly act like estrogen in the body.
Other chemicals in the root are also suspected to have an action on the nervous system, as well as the immune system.
Here are the pros and cons of using Estroven.
Pros:
Highest sales volume on the market
Simple formula, with energy boosters
Cost effective
Ingredients are well studied
Potential Cons:
Contains caffeine! (green tea extract, yerba mate eaf extract)
Contains isoflavones from soy
Not a unique formulation
Now most of the cons won't be worrysome for the majority of people who already drink tea or coffee, or who are not sensitive to soy. But, you should know that they are in there so you can make an informed choice about your health.
If you prefer a simple black cohosh formula that has also been extensively studied in the support of menopause, I suggest looking at Remifemin. It is a much simpler formula, and of high quality.
Back to Estroven, let me explain the other ingredients.
First of all, Estroven claims to support energy levels, and it does this through caffeine. I'm a supporter of caffiene from the sources included in this product, but you shouldn't take Estroven at night. Also, stay away from it and check out alternatives like Remifemin if you do not consume caffeine.
Soy isoflavones are phytoestrogens which act differently depending on your body's ability to convert them to a useful source. They are likely much less effective than hormone replacement. Although this ingredient is in here, I don't find it particularly helpful or harmful in this formulation.
Lastly, magnolia bark is included in a very small amount, likely as an anti-anxiety or stress relief adjunct. There is no decent research I want to link to here, but you can contact me if you find any studies that effectively support it's use. Again, I think it doesn't help or hurt the product in this case.
Before I go, a quick note about prices and where to buy.
I reccomend using online retailers in general for supplements, because the turnover and freshness tends to be higher.
Online, prices range greatly, and at the time of writing from $29.95 with free shipping, down to $18.90 with additional shipping and handling. Seacoast currently carries it from $21.12 with free shipping available. I caution people against Amazon, not because I don't like shopping with them (I do!), but because they don't sell the product themselves. Instead, they fulfill through third parties. Take the freshness, storage and source of your vitamins seriously.
Please hit the contact button with any questions or feedback you have for me.
Supplement Facts: Serving Size: One (1) Caplet
Servings Per Container: 28
Amount Per Serving - % Daily Value
Calcium (from carbonate and hydroxide) 90 mg 10%
Black Cohosh Root (Cimicifuga racemosa) 80 mg
Soy Isoflavones 60 mg
Estroven Herbal Energy Blend: Magnolia Bark (Magnolia officinalis), Green Tea Leaf Extract (Camellia sinesis), Yerba Maté Leaf (llex paraguariensis) [Energy Blend contains 52 mg naturally occurring caffeine]
Suggested Use: Take one (1) caplet per day near mealtime.
For best results, daily use for a minimum of 60 days is important.
Other Ingredients Dicalcium phosphate, microcrystalline cellulose, stearic acid, croscarmellose sodium, hydroxypropyl methyl cellulose, silica, titanium dioxide (color), propylene glycol, magnesium stearate, and riboflavin (color). Contains soy. This is the same product.
*Not intended to diagnose or treat diseases or ailments, and is not reviewed by the FDA.
Uses & Indications.
Promoting Well Being
Reducing Occurance Of Night Sweats And Hot Flashes
Restoring Calm
Boosting Energy Levels
Ailments & Concerns.
Mood Swings
Fatigue
Hot Flashes
Night Sweats
Restlessness
Compare to these:
---
Questions and answers:
Asked on:
March 25, 2020
Question: Does the black cohosh cause cancer in black women?J
Explore More Products