MedOp Inc - Quality Products for Health and Well-Being
CoQ10 by ellpa (50mg 60 capsules)
Coenzyme Q10, a powerful antioxidant is also called ubiquinone, which signifies its ubiquitous (widespread) distribution in the human body. CoQ10 is used by the body to transform food into adenosine triphosphate (ATP), the energy on which the body runs.
Virtually every cell in the human body contains CoQ10. The heart and the liver contain the greatest amounts of CoQ10. Studies have found that as we age, our body's supply of CoQ10 slowly decreases. After about age 30, levels begin to decline.
CoQ10 has helped some people with congestive heart failure (CHF), an effect reported in an analysis of 8 controlled trials and found in some, though not all, double-blind studies. The beneficial effects of CoQ10 may not be seen until after several months of treatment. Discontinuation of CoQ10 in people with CHF should only be done under the supervision of a doctor.Similar improvements have been reported in people with cardiomyopathies, a group of diseases affecting the heart muscle. Research (including double-blind studies) in this area have been consistently positive. CoQ10 appears to increase the heart's tolerance to a lack of oxygen. Preliminary research has shown that problems resulting from heart surgery occurred less frequently in people given CoQ10 compared with the control group.
Blood Pressure - CoQ10 appears to modulate blood pressure by reducing resistance to blood flow. Several trials have reported that supplementation with CoQ10 significantly reduced blood pressure in people with hypertension, usually after 10 weeks to 4 or more months of treatment.
Alzheimer's Disease - Mitochondrial function also appears to be impaired in people with this disease. Due to CoQ10's effects on mitochondrial functioning, one group of researchers has given CoQ10 (along with iron and vitamin B6) to several people with Alzheimer's disease and reported the progression of the disease appeared to have been prevented for one and a half to 2 years.
Parkinson's Disease - In a double-blind trial, administration of 1200 mg of CoQ10 per day for 16 months to people with early Parkinson's disease significantly lowered the progression of the disease, compared with a placebo. Smaller amounts of CoQ10 were slightly more effective than placebo, but the difference was not statistically significant.
Cancer - CoQ10 may be useful in treating cancer because it boosts the immune system. Also, studies suggest that CoQ10 analogs (drugs that are similar to CoQ10) may prevent the growth of cancer cells directly. As an antioxidant, CoQ10 may help prevent cancer from developing. *Cancer information taken from the National Cancer Institute
Drug Interactions - Certain statin drugs that help reduce cholesterol and some beta blockers may inhibit CoQ10 production in the body which is why it is especially important to make sure you are supplementing your diet with CoQ10.
Suggested Use: Adult levels of supplementation are usually 30-90 mg per day, although people with specific health conditions may use 90-150 mg per day. When taking CoQ10 be sure to spread your dosages through out the day as our bodies can only effectively absorb 50 mg at one time.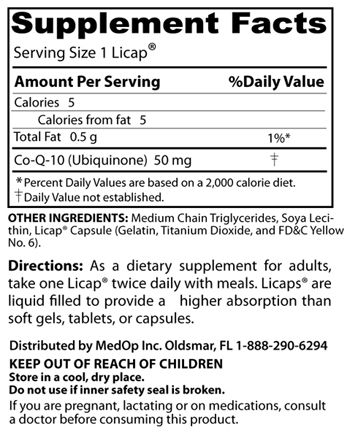 *Not intended to diagnose or treat diseases or ailments, and is not reviewed by the FDA.
Uses & Indications.
Potent Antioxidant
Modulates Blood Pressure
Ailments & Concerns.
High Blood Pressure
Alzheimer's Disease
Congestive Heart Failure
Parkinson's Disease
Cancer
Compare to these:
Explore More Products