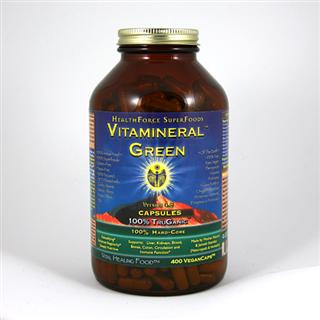 Full price 74.94
Savings 20%
Vitamineral GREEN Capsules Version 5.3(400 v-caps)*
price

Price is

too low

to show. Add it to your cart

Buy 3 - Get free delivery on whole order
Nutritional support for:
Detoxification
Healthy Immune System
Blood Sugar
Liver & Kidney Function
Blood
Strong Bones
Colon Health
Every ingredient, including how it is grown and processed, is therapeutic. It is an extremely potent & comprehensive array of nature's most nutritive and cleansing superfoods, grown and processed to maximize their benefits. Contains a full spectrum of naturally occurring, absorbable and non-toxic vitamins, minerals, all the essential amino acids (protein), antioxidants, chlorophyll, soluble and insoluble fibers, tens of thousands of phytonutrients, and a plethora of other synergistically bound, organic nutrients. Contains no synthetic or isolated nutrients (not excreted as expensive yellow urine or stored as toxic deposits).
Vitamineral Green is 100% Gluten Free..
Ingredients: 100% Superfoods - 100% TruGanic
From the Land: 2,527 mg Nettle Leaf, Shavegrass (Horsetail), Alfalfa Leaf Juice, Dandelion Leaf Juice, Barley Grass Juice, Oat Grass Juice, Barley Grass, Wheat Grass, American Basil, Holy Basil/Tulsi, Moringa Leaf, Yacon Leaf, Nopal Cactus, Chickweed, Ginger Root, Broccoli Juice, Kale Juice, Spinach Juice, Parsley Juice, Carob Pod, Amla Berry
From the Waters:1.877 mg Spirulina, Chlorella
From the Oceans:500 mg Icelandic Kelp, Dulse, Nori, Alaria, Bladderwrack
Enzymes(optimum absorption plus): 43 mg Protease, Amylase, Lipase, Cellulase, Bromelain, Papain, Alpha-Galactosidase
Probiotics: 8 mg Massive array of implantable species and Natural Soil Organisms (NSOs). Laboratory grown.
Comprehensive Probiotic Mixture - Beneficial Organisms. Includes Exclusive NSO™ (Natural Soil Organisms) and Implantable Species. A. Agilis, L. Acidophilus, R. Arrhizus, DDS-1 Acidophilus, Bifidus, L. Bulgaricus, A. Brasilienese, B. Brenis, P. Chrysosporium, A. Citreus, L. Casei, P. Calcis, S. Cellulasae, P. Denitrificans, S. Faecium, S. Fradiae, P. Flourescens, A. Globiformis, S. Griseoflavus, P. Gelatic, B. Lipolyticum, A. Luteus, A. Lipoferum, A. Lwolfii, B. Laterosporous, P. Marinoglutinosa, B. Macerans, P. Nigraclens, P. Putida, L. Plantarum, B. Pumilus, B. Polymyxa, B. Stationis, L. Salivarius, B. Subtilus, B. Succinogenes, A. Simplex, S. Thermopolis , A. Terreus, M. Verrucaria, T. Viride. , K. Zopfit.
Energetics: Shilajit + , Magnetic, Homeopathic, Energetic & Vibrational energies, Magnetically sanitized and purified. Optimally Dried For Maximum Lifeforce
Suggested Usage: Start with 3 VeganCaps per day. (8 caps/day = approximately 50 day supply.)
Increase gradually to a suggested usage of 8 to preferably 12 capsules per day, either all at once or divided.
Take with fresh juice or purified water. Add 1 - 2 Tbsp. of ground flax and/or chia seeds for extra nutrition. Mixing with carrot juice may produce gas. Vitamineral™ Green contains an extremely potent and comprehensive array of nature's most nutritive and cleansing superfoods, specifically grown and processed to maximize their benefits. Refrigeration is not required.
Intensive Usage: 18 - 36 or more capsules per day.
Vitamineral™ Green is food. It is not a supplement. It is a bio-compatible nutritional superfood. It is non-toxic and can be taken in any quantity.
If you experience temporary beneficial cleansing reactions that you feel undesirable (such as loose bowels), reduce amount used to 3 capsules or less, then increase slowly.
Serving Size 5g (Vegan Caps)
Total Calories 17
Protein - 1.81 grams
Carbohydrates - 2.03 grams
Indigestible Fiber - 1.25 grams
Sugars-.31 grams
Fat - .15 grams
Sodium 28 mg
Vitamineral Green consists of approximately 38% protein, 7% fat, & 55% complex carbohydrates.
16% of the volume is minerals.
Add Vitamineral Earth™ (Sacred Healing sustenance) for even greater benefits.
100% TruGanic™: TruGanic™ is a purist, hard-core quality standard significantly beyond Organic. In addition to no pesticides being used anywhere in the growing process, TruGanic™ includes authentic standards for production, non-toxic cleaning agents and pest control, electromagnetic radiation, processing agents, additives, air quality, and actual verification of purity.
*Not intended to diagnose or treat diseases or ailments, and is not reviewed by the FDA.
Uses & Indications.
General Well Being
Supporting Healthy Digestion
100% Organic And Gluten-Free
Ailments & Concerns.
Poor Digestion
Weakened Immune System
Kidney Or Liver Disease
Compare to these:
---
Questions and answers:
Asked on:
January 8, 2013
Question: Awesome blog! Is your theme custom made or did you download it from somewhere? A theme like yours with a few simple adjustements would really make my blog stand out. Please let me know where you got your theme. Kudosnorth face jackets sale http:northfaceuk.bblog.plwpis,gucciwalletformenskating,89786.html
Asked on:
January 13, 2013
Question: I know this if off topic but I'm looking into starting my own weblog and was curious what all is needed to get setup? I'm assuming having a blog like yours would cost a pretty penny? I'm not very web savvy so I'm not 100 sure. Any tips or advice would be greatly appreciated. Cheersnorth face jackets clearance http:cheapnorthfacefleece.guplog.com20130110north-face-breast-cancer-and-ari-forces
Explore More Products