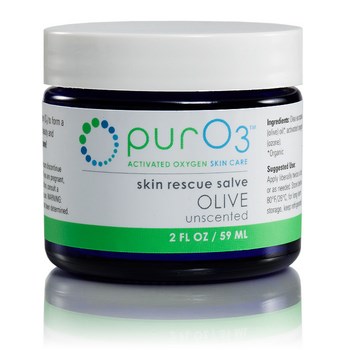 Full price 19.95
Savings 10%
Ozonated Organic Olive Oil Unscented (2 oz)
| | |
| --- | --- |
| | Buy 3 - Get free delivery on whole order |
PurO3 Ozonated Olive Oil combines organic, cold pressed, extra virgin olive oil and ozone, giving you an oxygen-rich, soothing salve. Ozonated olive oil is popular all over the world for a variety of uses and it's organic. It's a little jar of magic!
PurO3 ozonated olive oil may be used to treat conditions of the skin involving inflammation, such as dermatitis and seborrhea. Ozonated Olive Oil is perfect for treating cold sores. Additionally, ozonated olive oil can treat bacterial infections of the skin such as leg ulcers, fungal infections, fistulae, bed sores, hemorrhoids, gingivitis, bee stings, acne, ringworm and insect bites. Further, ozonated olive can also help to prevent secondary infections that result from the post-surgical treatment of wounds.
What makes PurO3 special? PurO3 uses a revolutionary new ozone technology called microfluidic platform technology fed with an ultra pure oxygen source. This method is the pure form of ozone produced without any heat. Seacoast.com believes PurO3 has the highest quality ozonated oil products on the market today! When kept refrigerated PurO3 Oils will last for as long as 10 years. If kept unrefrigerated it is recommended to use within one year.
Benefits of Ozonated Olive Oil include:
Soothing Minor Skin Irritations
Stops the Itching from Insect Bites
Reducing Appearance of Blemishes and Age Spots
Anti-fungal salve
Cold Sores
and more!
Ingredients:
Olea europaea (olive) oil, activated oxygen (ozone).Organic.
Suggested Use:
Apply liberally twice a day or as needed. Store below 80°F/26°C; For long-term storage, keep refrigerated. All PurO3 oils are shipped in an insulated packet.
*Not intended to diagnose or treat diseases or ailments, and is not reviewed by the FDA.
Uses & Indications.
Soften And Protect Skin On Hands And Feet
Stops Itching From Insect Bites
Protect And Heal Skin Irritation
Ailments & Concerns.
Skin Irritation
Hemroids
Dry Skin
Scratches
Mosquito Bites
Scrapes
Nail Fungus
Scarring
Psoriasis
Compare to these:
Reviews
Wednesday 18 April, 2018
Ozonated olive oil is an incredible skin salve healing all sorts of skin irritations and also skin cancers! Ozone heals! Ozone suspended in olive oil stays stable for an indefinite amount of time. This ozonated salve is a superb anti fungal, anti carcinogenic, anti irritant ointment! We keep several jars on hand. Extras can be stored in the refrigerator indefinitely. Ozonated olive oil is truly a healing salve!
Monday 20 February, 2017
I keep this on hand at all times. It is an excellent product for cuts, bites, nail fungus, and even hemorrhoids. It heals fast and stops itching. My Niece is also using this for acne with great results.
Thursday 12 May, 2016
With mosquito fast approaching I ordered a new supply of Ozonated Olive Oil. It works great on bug bites to stop the itching. I use it on the whole family and the bites disappear in no time! I highly recommend this for all kinds of skin irritations.
Friday 22 January, 2016
I started using Ozonated olive oil whenever I would get a scratch or skin irritation. Works great! I also had nail fungus and used it on that and was amazed at how fast it cleared it up. A friend informed me that they have used this on ringworm and cleared it up within a week. I have recommended this product to family and friends.
Wednesday 13 January, 2016
I had a small incision on my leg and applied ozonated olive oil every day for 1 week. It was truly amazing how fast the wound healed and no infection. This has become a staple at my house.
---
Questions and answers:
Asked on:
August 27, 2015
Question: Can ozonated olive oil be used on my dog?
A: The answer is yes, ozonated olive oil is an amazing natural product to use on dogs and other animals. The benefits of using ozonated olive oil have proven to be as effective for all kinds of animals, live stock and pets included. Ozonated has shown to assist in healing scratches, wounds, dermatitis, gingivitis, rashes and itching just to name a few. Pur03 ozonated olive oil is even sold to a zoo where it is being used for skin irritations on the gorillas. Ozonated olive oil is non-toxic so if your dog licks the wound you don't need to worry about rushing him to the vet. Pur03 ozonated olive may be refrigerated for up to 10 years or left out at room temperature for 1 year.
Asked on:
April 24, 2016
Question: You used to carry the Ozonated Oilive Oil from Canada, yellow label, I've been using it for over a decade. I don't see it on your site anymore, just the pur03. When kept in the refrigerator the Canada version stays hard. Is that the case with the pur03 or is it a gel? (whenever I've tried the gels they just aren't as potent)
A: Seacoast Vitamins introduced Ozonated Oils by Pur03 in 2013. These pure organic oils have been a best seller at Seacoast ever since! Pur03 oils do not need refrigeration if used frequently and will not lose their potency, making application smooth. For long term storage the ozonated oils may be refrigerated. Seacoast discontinued Ozone Services ozonated olive oil and our customers are very satisfied with this new line of Pur03 ozonated oils. Pur03 ozonates several different oils including lavender, jojoba, hemp, coconut and more. Each have a unique medicinal value and are very effective. http://seacoast.com/Ozonated-Organic-Olive-Oil-Unscented-purO3-2-oz.p10167
Asked on:
March 27, 2015
Question: Do you ship in refrigerated package?Thank you
A: PurO3 Ozonated Olive Oil is shipped in an insulated pouch with an ice pack included just as a precaution to avoid any extreme heat conditions during shipping. Once you have received the oil is does not need to be refrigerated when in use and is 100% effective. PurO3 Oils are 100% natural, safe and made in the USA. Our customers rave about the healing properties of ozonated olive oil from mosquito bites, cuts, scratches, blemishes and even for use on fine lines and wrinkles.
Explore More Products