Quercetin Plus (formerly known as Prostasol) (80 Caps)
Seacoast recommends DIM Plus (120 capsules) by Nature's Way as an excellent adjunct to taking Quercetin Plus. Sometimes PSA may rise due to estrogen and DIM can metabolize the unwanted form of estrogen .
Note: Quercetin Plus/Prostasol - 2 bottle minimum purchase. Order as many bottles as you need, there is no maximum. 
Quercetin Plus (previously called Prostasol) is the exciting breakthrough supplement for men that you are reading about in the prostate cancer forums. It has been specially formulated to promote a healthy prostate and it has been a runaway hit in helping to treat those with prostate cancer. We have recently added some inspiring customer testimonials, below. It has been shown to help reduce an enlarged prostate and relieve the symptoms associated with an enlarged prostate and is widely known in the medical community.
Quercetin Plus/Prostasol helps treat those with an elevated PSA. It can help to normalize urination and it contains anti-aging properties with specific prostate related health benefits.
Promotes prostate health
Normalizes urination
Effective
Lowers PSA
Suggested Use: As an herbal dietary supplement 2 capsules, 2 times per day.
Supplement Facts:
Serving Size: 2 Capsules
 

% DV
| | | |
| --- | --- | --- |
| | | |
| Calories from fat | | |
| | | |
| Dietary Fiber | | |
| Sodium | | |
| Total Protein | | |
| Total Carboydrates | | |
| Magnesium (Oxide) | | |
| Saw Palmetto | | |
| Sterolin Mix | | |
| Quercetin Mix | | |
| Boron (citrate) | | |
| Nattokinase | | |
| Reishi | | |
| Pygeum | | |
| Ginger | | |
| Ginseng | | |
| Curcuminoid | | |
APS = Amount Per Serving
*% Daily Value (%DV) not established.
Other Ingredients: In a base of maltodextrin, syloid and magnesium stearate as flow enhancers.
*Prostasol is excluded from all Sales, Promotions, Whole Dollar Amounts and other
*Some other restrictions may apply and these statements can change with out notice.
Login for Details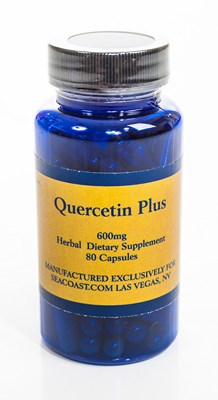 FREE SHIPPING
*Not intended to diagnose or treat diseases or ailments, and is not reviewed by the FDA.
Uses & Indications.
Lowering PSA
Reducing Inflammation
Relieving Urinary Problems
Lowering Prostate Specific Antigen (PSA)
Ailments & Concerns.
Prostate Cancer
Cancer
Elevated PSA
Compare to these:
---
Questions and answers:
Asked on:
September 27, 2017
Question: I was using Prostasol in 2007,8,9 and 10 with great success but it stopped working. I then went back onto hormone implants (Zoludex) which I would like to stop. Has the Quercetin Plus been proved to be as good as the old Prostasol ?
A: Quercetin Plus is the original Prostasol formula manufactured  exclusively for Seacoast Vitamins. Quercetin Plus formerly know as Prostasol continues to be our best selling prostate health product. Our customer base using Quercetin Plus has grown over the years due to positive results after use. Many physicians recommend Quercetin Plus to their patients due to the impressive results. We receive excellent feedback from our customers as you can see in the written reviews. Please click on the link below to read reviews. Seacoast is fortunate to provide this product that continues to help so many. https://www.seacoast.com/Quercetin-Plus-fomerly-known-as-Prostasol-Seacoast-Natural-Health-80-Caps-2-bottle-minimum-purschase.2161
Asked on:
March 14, 2014
Question: Will this lower my PSA's significantly?
A: This formula has been a popular product here at seacoast.com for many years. This special formula is known to lower PSA and promote healthy prostate. Many physicians recommend their patients to purchase this product for lowering PSA. There are many reviews on our website showing that this product has been successful for many men.We recommend that you consult with your physician to see if this product would be right for you.
Asked on:
January 22, 2016
Question: Please explain why Quercetin Plus works better than other prostate formulas in lowering PSA.
A: Quercetin Plus formerly known as Prostasol is a unique herbal supplement for prostate health containing herbs such as saw palmetto, pygeum, ginger, reishi, quercetin, sterolin mix and other compounds. Through research it was found that the use of plant sterols may have a positive effect for those with prostate issues. There is evidence that many prostate problems may be linked to autoimmune activity. Plant sterolins and sterolins have been found to effectively treat autoimmune responses in the body. There is growing research that shows that many prostate problems and even cancer may be a result of an immune system that is over-stressed and then attacks normal tissue in the body. According to research at the Mayo Clinic in Rochester, MN another powerful ingredient in this formula is quercetin, shown to be valuable in preventing and treating prostate cancer. Quercetin Plus

 also contains an assortment of effective Chinese herbs that have long been proven to improve prostate health and help relieve symptoms. Quercetin Plus may be the best combination of all the natural products known to promote overall prostate health, relief uncomfortable symptoms, reduce inflammation, and help treat prostate cancer. It has been extremely effective in significantly reducing PSA levels for suffering men and is very promising in its continued ability to treat the prostate.
Asked on:
February 11, 2016
Question: Does the product produce estrogen like effects? Breast enlargement? I'ts ok if it does, as long as it works!
Reviews
Tuesday 21 February, 2017
Wednesday 24 February, 2016
Friday 15 January, 2016
Monday 16 March, 2015
Monday 23 April, 2012
Saturday 17 March, 2012
Monday 13 June, 2011
Wednesday 06 April, 2011
Saturday 11 December, 2010
Monday 15 November, 2010
Wednesday 01 September, 2010
Thursday 12 August, 2010
Saturday 27 February, 2010
Friday 15 January, 2010
Friday 23 October, 2009
Tuesday 21 July, 2009
Monday 20 July, 2009
Thursday 16 July, 2009
Tuesday 30 June, 2009
Friday 19 June, 2009
Sunday 26 April, 2009
Saturday 18 April, 2009
Thursday 26 March, 2009
Wednesday 28 January, 2009
Wednesday 13 August, 2008
Thursday 10 July, 2008
Wednesday 18 June, 2008
Saturday 31 May, 2008
Saturday 03 May, 2008
Saturday 05 January, 2008
Thursday 02 August, 2007
Thursday 05 July, 2007
Tuesday 03 April, 2007
Explore More Products
Cures and side effects for Quercetin Plus have not been reviewed by Seacoast, nor the FDA. Individual results will vary. Contact a healthcare professional if you have questions about using Quercetin Plus.