Vitamineral Green Superfood (500 g)*
Vitamineral Green version 5.3, Healthforce Superfood Powder,  500 grams    100% Gluten Free
Vitamineral Green from HealthForce Nutritionals is a probiotic powder with enhanced bioavailability of essential organisms. It contains a combination of potent cleansing superfoods, which have been grown and processed to maximize their benefits. Vitamineral Green's extremely nutrient dense formula helps support vital body systems, such as the liver, kidneys, and immune system.
Vitamineral Green contains naturally occurring, easily absorbable vitamins and minerals to aid in the development of strong bones. Essential amino acids contribute to healthy cellular systems.
Other phytonutrients and synergistically bound organic nutrients contribute to the overall health and well-being of the body. Vegetable extracts provide fiber which helps maintain a healthy colon, cleansing and detoxifying the urinary tract. Improving regularity and overall digestive system health.
Benefits
Maintain healthy liver and kidneys
Help build strong bones
Aid in blood circulation
Boost the immune system
Improve colon health
Cleanse and detoxify
Enhance regularity
Land Vegetables:
Whole Leaf Barley Grass
Whole Leaf Wheat Grass
Nettle Leaf
Shavegrass (Horsetail)
Moringa Leaf
Alfalfa Leaf Juice
Dandelion Leaf Juice
Barley Grass Juice
Oat Grass Juice
Burdock Root
Broccoli Juice
Kale Juice
Beet Root Juice
Spinach Juice
Parsley Juice
Carob Pod
Ginger Root
Nopal Cactus
Chickweed
Yacon Leaf
Amla Berry
Algaes:
Wildcrafted Aquatic Vegetables:
Icelandic Kelp
Dulse
Laver
Bladderwrack
Alaria
Nori
Irish Moss
Enzymes: (optimum absorption, cleansing +)
Amylase
Lipase
Protease
Cellulase
Bromelain
Papain
Alpha Galactosidase
Comprehensive Probiotic Mixture - Beneficial Organisms. Includes Exclusive NSO (Natural Soil Organisms) and Implantable Species.
A. Agilis, L. Acidophilus, R. Arrhizus, DDS-1 Acidophilus, Bifidus, L. Bulgaricus, A. Brasilienese, B. Brenis, P. Chrysosporium, A. Citreus, L. Casei, P. Calcis, S. Cellulasae, P. Denitrificans, S. Faecium, S. Fradiae, P. Flourescens, A. Globiformis, S. Griseoflavus, P. Gelatic, B. Lipolyticum, A. Luteus, A. Lipoferum, A. Lwolfii, B. Laterosporous, P. Marinoglutinosa, , B. Macerans, P. Nigraclens, P. Putida, L. Plantarum, B. Pumilus, B. Polymyxa, B. Stationis, L. Salivarius, B. Subtilus, B. Succinogenes, A. Simplex, B. Subtilus, S. Thermopolis , A. Terreus, M. Verrucaria, T. Viride. , K. Zopfit.
SKU: VMG500
UPC: 650786000215
Distributed or manufactured from HealthForce Nutritionals. See more
HealthForce Nutritionals
products.
Login for Details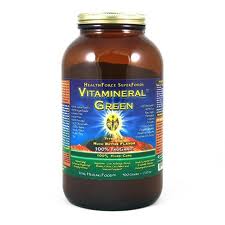 FREE SHIPPING
*Not intended to diagnose or treat diseases or ailments, and is not reviewed by the FDA.
Uses & Indications.
Increasing Energy
Enhancing Metabolism
Supporting Vital Healing
Promoting Well Being
Ailments & Concerns.
Toxic Build-Up
Anemia
Vitamin Deficiency
Compare to these:
Reviews
Friday 10 February, 2017
I have been using The Vitamineral Green now for 3 months and I LOVE IT! I add this to juice or when I make a smoothie I will add it to that. It has so many nutrients and cleanses in it that I really feel refreshed and energized with this product. If I go without it for a few days I really start feel sluggish, I have found that this product is really my best supplement to take for overall health benefits.
Tuesday 13 December, 2011
I love this product, it is so full of healthy nutrients that your body can use. I put a tablespoon in my protein shake every day along with strawberries, blueberries flax and chia seed. I also put in shake Healthforce Acerola powder and there spirulina powder.I have really noticed the difference it really keeps me going.
Tuesday 11 October, 2011
I've been using this product for nearly 17 years and have found it to be an excellent product for maintaining good general health. I was first introduced to this product while looking for a "green" supplement in a local health food store. After viewing several option I spoke with the stores supplement manager, he told me that if he could take only one product from the store HealthForce Vitamineral Green would be his choice. You can pay less but you would find better "greens"
Monday 29 August, 2011
This is an outstanding product. I have been using it for about 15 years now, if I could take only one supplement Vitamineral Green would be it.
Tuesday 21 June, 2011
I use this product daily, especially during times of fasting and cleansing. I mix bee pollen and chia seeds and have that as a meal. It is so full of bio-energized nutrient dense superfoods, that I am never lacking for energy. By body craves this stuff. I've tried many different green powders, but nothing compares.
Monday 11 October, 2010
I have been using this product for over 10 years. If I could use only one health product this would be the one. I use it a part of a breakfast drink, it blends easy and the taste does not overpower the drink.
Tuesday 20 July, 2010
I have tried many green superfoods, and this one is the best!!! I eat it by the spoonful right out of the jar. It can be added to green smoothies or juices to boost the nutrient content. All of the Healthforce products are top notch, especially for raw vegans like I am.
Saturday 15 November, 2008
I\'ve been using Vitamineral Green everyday for over a year and it has greatly improved my health.
Wednesday 05 March, 2008
I've been using Vitamineral Green for two years--a scoop a day in a smoothie along with banana, fruit juice and hemp protein powder. This has been a big help to insure that I get adequate nutrients for the day, especially since meals are usually small. I'm 60, rely on a bike for most errands, and find that this product helps keep the body fit and energized.
Monday 02 July, 2007
Tastes great and the ingredient list (including digestive enzymes, probiotics and wheat and barley grass - which I do not enjoy the taste of) is full of health promoting whole raw foods! I noticed improved digestive function within 3 days.
Explore More Products