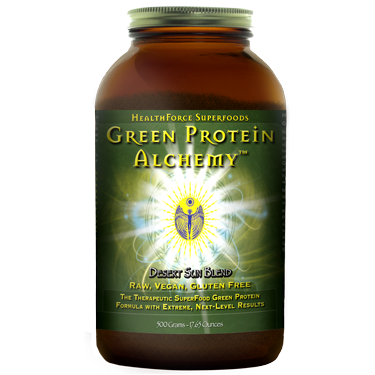 Full price 68.69
Savings 22%
Green Protein Alchemy - Desert Sun (500 gr)*
| | |
| --- | --- |
| | Sorry! The manufacturer has discontinued this product. |
| | Sorry! This item has been discontinued. See below. |
Green Protein Alchemy (formerly Green Sage Protein) is available in 2 amazing flavors: Desert Sun Blend and Magic Mint. 100% unique, no other protein powder can compare to the alchemical synergy of the most powerful green protein superfoods blended together by HealthForce).
Benefits:
100% Complete Protein, 100% Whole Food and 100% Superfoods
Contains Spirulina to Help Protect and Regenerate the Kidneys
With Chlorella to Provide Added Cleansing and Healing of Your Entire Body
Supporting Healthy Immune Function
Dairy and Guten Free
Suggested Use:
Getting Started:
Start slowly with 1 teaspoon per day.(This product is VERY cleansing.) Increase slowly to 2 or more heaping tablespoons per day. Green Sage Protein is pure food, and can be consumed in any quantity. It will nourish your entire body in a way that only whole superfoods can.
Intensive Use:
6 or more heaping tablespoons per day, ideally spread out into 2-3 servings.
How to Consume:
Mix Green Sage Protein in pure water, fruit/vegetable juice, nut/seed milk, or try it in your favorite smoothie. Best to use blender or shaker jar to prevent clumping. You can also sprinkle on foods, such as salads.
Supplement Facts
Green Protein Alchemy - Desert Sun
Serving Size = 1.5 tablespoons (24 grams)
APS
%DV
Total Calories
90
Total Carbohydrates
3.0 g
1.0%
Dietary Fiber
2.9 g
11.6%
Sugars
0.0 g
Protein
16 g
32%
Fat
1.6 g
2.5%
Sodium
81 mg
3.4%
Calcium
69 mg
6.9%
Iron
21.5 mg
119%
From the Waters
20,161 mg
From the Land

Mesquite Pod Powder*~+
Ginger*+
Nopal Cactus*~+
Alfalfa Grass Juice*+
Dandelion Leaf Juice*+
Barley Grass Juice*+
Oat Grass Juice*+

3,737 mg
Enzyme Concentrate +

Protease
Amylase
Lipase
Cellulase
Bromelain
Papain
Alpha-Galactosidase

60 mg
Friendly Force Probiotics +
Acid stable, shelf stable, colonizing (not transient)
truly Vegan, and magnified/fed by the Green Sage Protein formula.

Lactobacillus plantarum
L. paracasei
L. rhamnosus
L. salivarius
Streptococcus thermophilus
L. bulgaricus


10,000,000,000/serving Through Expiration Date
42 mg
*Organic / ~Wildcrafted / +TruGanic
Percent Daily Values are based on a 2,000 calorie diet.
Daily Value Not Established.
Green Sage Protein formula helps to properly alkalize the body. The enzyme concentrate and probiotics aid digestion, brain, and immune function. The longer you use Green Sage Protein, the deeper the benefits will become. Green Sage Protein is Dr. Sheridans personal workout formula for sustaining peak athletic performance.
*Not intended to diagnose or treat diseases or ailments, and is not reviewed by the FDA.
Uses & Indications.
Suitable For Vegetarians - Vegans - Raw Food Enthusiasts
Ailments & Concerns.
Sore Muscles And Joints
Low Energy
Toxic Build-Up
Compare to these:
Explore More Products