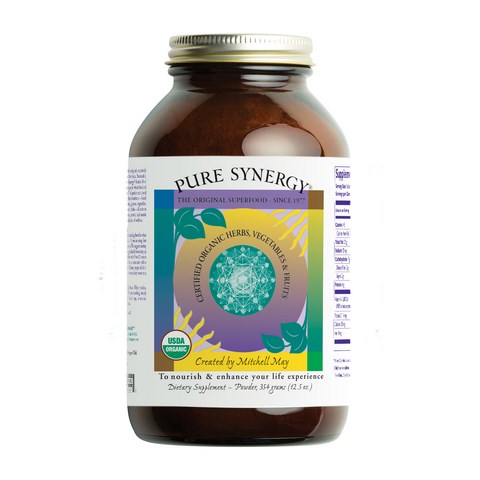 Pure Synergy Organic Superfood Powder (12.5oz)*
price

Price is

too low

to show. Add it to your cart

Buy 3 - Get free delivery on whole order
Pure Synergy Organic Superfood, 12.5 oz
The Ultimate Superfood Formula
Made with Certified Organic Herbs, Vegetables and Fruits
Created by Mitchel May
Created in 1979, Pure Synergy is the original, comprehensive green superfood, made with more than 60 ingredients, including several varieties of algae, grass juices, green vegetables, Chinese and Western herbs, Asian mushrooms and phytonutrient-rich fruits and berries. These deeply nourishing foods provide a broad spectrum of valuable micronutrients and phytonutrients to support health at the cellular level. When these potent live superfoods are used in tonic doses for long periods of time, their synergistic effects support the immune system, enhance authentic energy, assist in detoxification and cleansing, and nurture regeneration and recuperation. Available in kosher powder and vegetable capsules.
The wide spectrum of ingredients includes:
Organic Aquatic Greens and Grass Juice Powders
Organic Freeze-Dried Fruits, Berries and Enzymes
Organic Freeze-Dried Sprouts and Vegetable Powders
Organic Asian Mushrooms and Herbal Extracts
Organic Freeze-Dried Tonic Herbs
Suggested Usage: 1 teaspoon (12 g). Pure Synergy powder is a pleasant tasting powder that may be mixed with a variety of liquids. Just add Pure Synergy to juice or filtered water in a jar or glass with a tight-fitting lid, and shake well. Pure Synergy is ready to drink.
Supplement Facts
Serving Size: 1 heaping tablespoon (12 g)
Servings Per Container: about 30
Amount Per Serving
% Daily Value
Calories
45
Calories from Fat
0
Total Fat
0.5 g
0**
Sodium
55 mg
2**
Carbohydrate
7 g
2**
Dietary Fiber
2 g
7**
Sugars
2 g
‡
Protein
4 g
9**
Vitamin A (100% as beta-carotene)
5,000 IU
100
Vitamin C
1.4 mg
2
Vitamin B12
8 mcg
130
Calcium
53 mg
5
Iron
4 mg
20
Synergized Algae
Fresh freeze-dried, cold-dried or Refractance Window dried Pure Spirulina Crystals*, Pure Klamath Crystals*, Pure Chlorella, Dunaliella*, Kelp*, Wakame*, Kombu*, Bladderwrack*, Dulse*, Laver*.
3.40 g
‡
Synergized Phytonutrients & Enzymes
Fresh freeze-dried enzymatically active Sprouts of Millet*, Quinoa*, Broccoli*, Apple Fruit*; fresh freeze-dried Blueberry*, Raspberry*, Green Papaya Fruit*; natural plant Enzymes (Amylase, Cellulase, Lipase, Protease).
2.87 g
‡
Synergized Tonic Herbal Extracts & Asian Mushrooms
Reishi*, Shiitake*, Maitake*, Agaricus*, Cordyceps*. Tonic Herbal Extract*: Astragalus Root*, Eleuthero Root*, Lycium (Goji) Berry*, Angelica sinensis Root*, Schizandra Berry*, Bai-Zhu Atractylodes Rhizome*, Fo-Ti Root*, Paeonia lactiflora Root*, Rehmannia Root*, Codonopsis Root*, Licorice Root*, Jujube Fruit*, Poria*, Ginger Rhizome*, Tangerine Peel*, Polygala Root*, Ligusticum Wallichii Rhizome*.
2.61 g
‡
Synergized Green Juices
Fresh freeze-dried or CO2-dried: juice concentrates of Wheat Grass*, Barley Grass*, Oat Grass*, Alfalfa Grass*; Spinach Leaf*, Parsley Leaf*, Kale Leaf*, Collard Leaf*.
1.72 g
‡
Synergized Western Herbs
Fresh freeze-dried Nettle Leaf*, Red Clover Flower*, Skullcap Flower* and Leaf*, Burdock Root*, Ginkgo Leaf*, Yellow Dock Root*, Dandelion Leaf*; Rose Hips Fruit*.
1.15 g
‡
Synergized Natural Antioxidants
Rosemary Leaf*, Clove Bud*, Sage Leaf*, Natural Vitamin E (Sunflower).
2 mg
‡
* Organically grown, processed and certified.
** Percent Daily Values based on a 2,000-calorie diet.
‡ Daily Value not established.
Each Serving of Pure Synergy contains:
Synergized Algae - 3.40 g |Fresh freeze-dried, cold-dried or Refractance Window dried Pure Spirulina Crystals, Pur Klamath Crystals, Pure Chlorella, Dunaliella, Kelp, Wakame, Kombu, Bladderwrack, Dulse, Laver.
Synergized Phytonutrients & Enzymes - 2.87 g | Fresh freeze-dried enzymatically active Sprouts of Millet, Quinoa, Broccoli, Apple Fruit, fresh freeze-dried Blueberry, Raspberry, Green Papaya Fruit, natural plant Enzymes, (Amylase, Cellulase, Lipase, Protease).
Synergized Chinese Mushroom & Herbal Extracts - 2.61 g | Reishi, Shiitake, Maitake, Agaricus, Cordyceps. Standardized 7:1 herbal extract: Astragulus Root, Eleuthero Root, Lycium (Wolfberry) Fruit, Tang-Kuei Root, Schizandra chinensis Fruit, Atractylodes Macrocephala Root, Fo-Ti Root, Paeonia Lactiflora Root, Rehmannia Root, Codonopsis Root, Licorice Root, Jujube Fruit, Poria, Ginger Rhizome, Tangerine Peel, Polygala Root, Ligusticum Wallichii Root.
Synergized Green Juices - 1.72 g | Fresh freeze-dried or CO2-dried: juice concentrates of Wheat Grass, Barley Grass, Oat Grass, Alfalfa Grass, Parsley Leaf, Spinach Leaf, Kale Leaf, Collard Leaf.
Synergized Western Herbs - 1.15 g | Fresh freeze-dried Nettle Leaf, Red Clover Flower, Ginkgo Leaf, Skullcap Leaf & Flower, Burdock Root, Yellow Dock Root, Dandelion Leaf, Rosa Canina Fruit (Rose Hips).
Synergized Natural Antioxidants - 2 mg | Rosemary Leaf, Clove Bud, Sage Leaf, natural Vitamin E (Sunflower).
Other Naturally Occurring Food Co-Factors | Lutein, Bioflavonoids, Chlorophyll, Beta Glucans, Iodine, Alginates, RNA/DNA, Sulforaphane, Phycocyanins, GLA, SOD, Octacosanol, Polysaccharides, Sitosterols, Xanthophyll, Zeaxanthin, Anthocyanins, Ellagic and Phenolic Acids.
The Pure Quality in Pure Synergy:
There is truly only one way to ensure that every ingredient in every bottle of Pure Synergy will meet the uncompromising quality standards of Mitchell May and to make Pure Synergy ourselves, in our award winning facilities. The extraordinary quality of Pure Synergy begins with the cultivation of our very specialized ingredients and continues through every stage of processing, packaging and shipping.
ORGANIC INGREDIENTS: Pure Synergy is made with organic ingredients, cultivated and harvested to our exacting specifications. Overseeing all stages of the organic growth cycle not only assures maximum nutritional quality, but also protects our environment and bodies from harmful toxins. All of Pure Synergy ingredients are sustainably harvested at the optimal stage of growth, when their nutrients have fully matured.
PERFECTLY PROTECTED: Many nutritional components are highly sensitive to heat and oxygen. Our fresh freeze-drying and cold-drying processes fully protect the heat and oxygen sensitive bioactive constituents and phytonutrients in Pure Synergy superfood ingredients. We also utilize special cold-milling equipment. Studies have demonstrated that these unique technologies offer unprecedented protection of all Pure Synergy valuable nutrients.
CONCENTRATED AND STANDARDIZED: We concentrate and standardize select ingredients, using slow, non-chemical processes. Our full-spectrum, organic concentrates are many times more potent than those created by other methods.
WELL RESEARCHED: Pure Synergy origins go back over 35 years to the original research on energetic nutrition conducted in the 1970s by Mitchell May and a team of international experts at UCLA. In our ongoing research we continue to consult with the foremost experts in the fields of wellness medicine and nutrition.
TESTED FOR PURITY: Pure Synergy ingredients are subjected to over 600 quality assurance tests for purity and identity at USDA approved and FDA registered laboratories. These extensive tests guarantee that Pure Synergy contains only the highest-quality, purest ingredients.
STATE-OF-THE-ARTISAN PRODUCTION: Pure Synergy is blended and bottled at our award-winning facility, where we combine the best of old-world, artisan craftsmanship with state-of-the-art technology and science. Our facilities are toured regularly by industry experts who marvel at the uncompromising methods we apply to every step of production.
ULTRA FRESH PACKAGING: Glass is the only packaging material that is 100% inert and impermeable (research shows that plastic bottles don't fully protect against nutrient-robbing oxygen, and they leach chemicals into food). We vacuum-seal Pure Synergy in light-resistant, recyclable glass bottles, utilizing our Ultra Fresh Packaging process. The bottles are hermetically sealed with induction technology to protect all Pure Synergy valuable constituents.
CERTIFIED ORGANIC AND KOSHER: Pure Synergy is manufactured in our organic and kosher facilities, which are third-party inspected and certified. A vegetarian product, Pure Synergy is made from 100% whole food sources without any additives, preservatives, fillers or synthetic ingredients.
*Not intended to diagnose or treat diseases or ailments, and is not reviewed by the FDA.
Uses & Indications.
Enhancing Athletic Endurance And Recovery
Enhancing Mental Clarity
Providing Stamina And Sustained Energy
Supporting Healthy Immune Function
Assisting Detoxification
Increasing Vitality And Vigor
Ailments & Concerns.
Brain Fog
Low Energy
Fatigue
Weakened Immune System
Compare to these:
---
Questions and answers:
Asked on:
December 14, 2012
Question: Dear Sir Madam,Can you kindly advise what is the Expiry Date of Pure synergy superfood vitamin that your company currently have in stock? Can you also advise if I can get another 15 discount off the price of 49.90 if I join as a Vitamins-Direct member? Pls also kindly advise if you carry stock of Pure Klamath Crystals under The Synergy Company brand. Thank you very much!Regards, Teresa. (Email : teresachia71gmail.com)
Asked on:
February 21, 2013
Question: I see there is Wheat and Barley Grass as included ingrediants, is this product Gulten Free?
A:

There is no gluten in any of The Synergy Company's grass juices or sprouted grains, and neither the grass juices nor the sprouted grains contain any harmful lectins.
Explore More Products