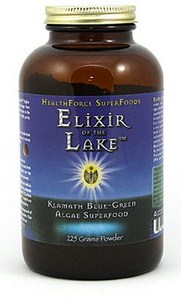 Full price 112.44
Savings 20%
Elixir of the Lake Powder (225 Grams )*
| | |
| --- | --- |
| | Sorry! This item has been discontinued. See below. |
HealthForce Nutritionals
Elixir of the Lake
Energetically enhanced: Magnetic - Homeopathic - Vibrational
Elixir of the Lake is an amazing and unique superfood, blue-green algae (Aphanizomenon flos-aquae) that grows only in one very special place on earth - Klamath Lake Oregon. A nutritional powerhouse and sensational superfood containing high levels of wide ranging, extremely beneficial nutrients including chlorophyll, B vitamins, Beta-Carotene (non-toxic Vitamin A), macro minerals, trace minerals, Phycocyanin and Phenylethylamine (PEA) and trace amounts of the Omega-3 fatty acids DHA and EPA. Blue-Green algae are also among the world
*Not intended to diagnose or treat diseases or ailments, and is not reviewed by the FDA.
Uses & Indications.
Supporting A Healthy Immune System
Boosting Energy And Stamina
Promoting Clarity
Ailments & Concerns.
Memory Loss
Kidney Disease
Brain Fog
Inflammation
Toxic Build-Up
Compare to these:
---
Questions and answers:
Asked on:
January 14, 2013
Question: I fully agree that cleansing andor detacifixotion of the bowel, liver and kidney is very important if we want to maintain our health. Cleansing and detoxifying can have a very positive impact on our health. Indeed, the need to detoxcleanse is imperative. I believe everybody is aware of our constant exposure to thousands of chemicals and toxic subtances from our food intake as well as from the air we breathe and the water we drink. It seems we cannot avoid all these whether we are at home, at school or at work. Moreover, the processed food we take contain unhealthy substances like sugar, unhealthy fats and many others. All these contribute towards becoming lethargic. These proc essed foods are usually stored or stocked up in our system for a longer period of time which are often the root cause heath issues , hence, the need to detoxifycleanse the organs like the bowel, kidney, liver to include colon. There are a number of ways by which detacifixotion or cleansing can be performed aside from those mentioned in this blog. Some use tea, others cleansing like juce and water.This interesting topic!Thanks for the space .
Asked on:
January 16, 2013
Question: Hi Jan,I'm a friend of Amy's down here in Fay. We did a ton of smtoohies when my daughter was 1-2, and have tapered off of them, but she and I loved them! I think finding the right combo is key. Steamed carrots and strawberries go well, whereas blueberries mask the algae powder better than plain strawberries. Bananas also cover up veggie inclusions. We did them with plain yogurt, protein powder, and our usual sprinkles, as my 3 y.o. calls them (fresh ground flax and wheat germ).
Asked on:
May 2, 2013
Question: My son, age 8, has been taking this supplement for one month now, and we have noticed an improvement. However, I would like to know if it comes in capsule form?
A: I am glad to hear of the success your son is having with this supplement. Elixir of the Lake powder product does not come in capsule form unfortunately however mixing it in his favorite drink or a smoothie might be an option.
Asked on:
July 9, 2013
Question: I'm living in Qatar and I want to ask about the price including Express shipping to Qatar and what is the approximately time to receive the product ?and what is the daily dosage for 4 years old child
A: Please call us at 1+) 702-508-9054 to go over additional shipping options and costs. You can reach us Monday-Friday between the hours of 9am-6pm EST. The price of this product is $89.98 and your credit card company will convert it to your local currrency. We are waiting from the manufacturer to find out the specific dose for a child of that age.
Explore More Products