Amazing Grass
Chocolate Green SuperFood Powder | The Orignal Formula Just Got Better
The best-selling Green SuperFood in now infused with an organic cacao and a delicious dark chocolate blend. Chocolate Green SuperFood contains a full spectrum of alkalizing green superfoods, antioxidant rich fruits, and support herbs united with organic Acai, Maca and Cacao to provide a powerful dose of whole food nutrition with a delicious dark chocolate taste. Complete with pre & probiotics and digestive enzymes to ensure rapid nutrient absorption and healthy digestion.
Chocolate Green SuperFood Powder mixes so easily with water or your favorite milk beverage, youll wonder how essential green nutrition could taste this good.
Benefits:
Boosts your energy and immune system
Loaded with a complete spectrum of the three major Green SuperFoods; Cereal Grasses, Alfalfa and Micro-Algae.
More organic whole-leaf greens per gram than most other green drink powders Not from Juice!
Polyphenols in cacao promote healthy cholesterol levels.
Contains no Soy Lecithin fillers
Naturally balanced powerhouse of Anti-oxidants, B-Vitamins, Beta Carotene, Bioflavonoids, Lycopene, Folic Acid, Dietary Fiber, Super Oxide Dismutase (SOD), and Omega 3, 6 & 9 Essential Fatty Acids.
Complete Live Food with beneficial enzymes, carotenoids and phytonutrients (plant pigments) that help fight free-radical damage, aging and tumor causing mutations.
Contains probiotics- the friendly microorganisms that promote healthier digestion and regular elimination.
Contains prebiotics- selectively promotes the growth of healthy intestinal bacteria.
Alkaline green plant foods help balance acidic pH levels.
Naturally detoxifies and boosts your immune system.
Contains essential fatty acids (EFAs) that help keep skin soft, elastic, and youthful.
No Synthetic, Isolated or Fractionated Vitamins & Minerals.
Green SuperFood Energy: All natural and organic ingredients include organic wheat grass, organic barley grass, organic alfalfa, organic spirulina, organic spinach, organic chlorella (cracked cell-wall), organic broccoli, organic yerba mate extract, organic matcha green tea, organic acai, organic maca, organic carrot, organic beet, organic rose hips, Organic pineappleacerola cherry, organic flax seed powder, apple pectin fiber, F.O.S. (from chicory root), L. acidophilus, alpha and beta amylase, protease, lipase, lactase, cellulase, stevia leaf extract, natural flavors, citric acid, peppermint leaf and silicia.
Suggested Use: Mix 1 scoop with 8 oz of your favorite milk. We recommend 1 to 3 servings daily. Mixing Tip: dissolves best when mixed with 1 oz of water prior to adding milk. Recipe: Chocolate Banana Smoothie 1 scoop Amazing Grass Chocolate Superfood 1 cup of your favorite milk 1/2 of a banana Blend until smooth and enjoy! Or try Chocolate Green SuperFood in your favorite protein drink. Best kept frozen or refrigerated after opening.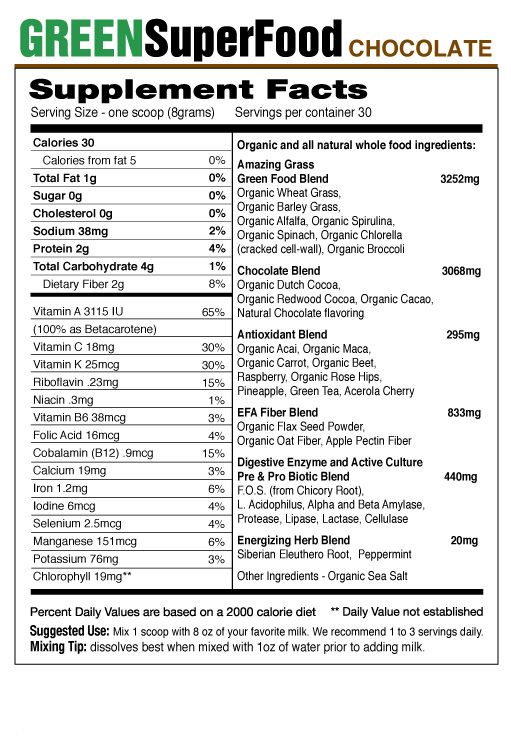 Amazing Grass Green Food Blend
Organic Wheat Grass One of the most potent green vegetables available. Wheat grass is and excellent source of natural vitamins, minerals, amino acids, and enzymes. When grown properly and harvested at the ideal time, wheat grass is highly alkalizing and will help detoxify the body. Organic Barley Grass - Green barley leaves contain a multitude of the body's spark plugs, enzymes. Enzymes are the catalysts for the body's essential chemical reactions and are responsible for our digestive processes, for providing cellular energy, and for antioxidant effects. Considered one of the world's experts on green barely, Dr. Hagiwara, believes that there may be thousands of active enzymes in green barley, especially superoxide dismutase (SOD), a major detoxifying enzyme that helps maintain healthy joints.
Organic Alfalfa Roots grow very deep to absorb many minerals and nutrients from the soil. Contains eight essential amino acids, is a rich source of vitamin B12, natural fluoride and chlorophyll. Recent French studies have found that alfalfa can reduce tissue damage caused by radiation exposure. In addition, it has also shown to maintain healthy cells. Because it neutralizes acidity, it promotes healthy bladders and urinary tracts.
Organic Spirulina - Like all edible dark green plants, is also highly alkalizing, meaning that it helps restore the acid-base balance. In other words, Spirulina helps neutralize the acidity caused by eating excess meats, starches, sugars, soft drinks and preserved foods, excess stress, excess exercise, environmental pollutants, drugs, alcohol, coffee and tobacco.
Organic Chlorella (cracked cell-wall) - Chlorella is the number one selling health food supplement sold in Japan. Chlorella, a unique single-celled fresh water green algae, contains high concentrations of chlorophyll, nucleic acids, amino acids, enzymes, antioxidant carotenes, and vitamins and minerals, especially zinc.
Organic Spinach A deep green leafy vegetable, spinach is a great source of betacarotene, vitamin K, folate, iron and vitamin C. It is also recognized for its high chlorophyll content.
Organic Broccoli Good source of iron and folic acid. Broccoli is one of the richest sources of anti-oxidants and contains sulforaphane, which is believed to help maintain optimal health.
Chocolate Blend
Organic Dutch Cocoa The dutch process provides uniformity and consistent taste and appeal. The alkali process neutralizes the acids in cocoa. This aligns with one of the major benefits of greens, their highly alkaline nature and balancing effect on the bodies pH levels. Its also easy to mix with liquids
Cacao We source premium raw cacao from Peru. This high quality cacao is minimally processed and provides an abundance of polyphenals which promote healthy cholesterol levels.
Natural Chocolate Flavoring Our proprietary chocolate flavor provides an all natural and incredible dark chocolate taste.
Antioxidant Blend
Organic Acai We feature Sambazon Organic Pure Acai. (Ah-sigh-ee) is a purple berry from the Amazon Rainforest. It contains more anti-oxidants than pomegranates and is loaded with healthy omega fats, proteins and dietary fiber. It has a rich berry-cocoa flavor that unites perfectly with our Green SuperFood. Our friends at Sambazon created a supply chain that benefits thousands of local families while protecting the Amazon rainforest through sustainable agriculture. Excellent source of vitamin A from Beta Carotene.
Organic Maca Organic Maca (Lepidium meyenii) is a perennial that grows between 13,000 and 14,500 feet above sea level high in the Andian plateaus of Peru. It has tuberous roots that resemble its relative the radish. It is rich in calcium, magnesium, phosphorous and iron, and contains trace minerals, including zinc, iodine, copper, selenium, bismuth, manganese and silica, as well as B vitamins. It also contains four alkaloids proven in scientific investigation to nourish the endocrine glands, including the reproductive system of men and women.
Organic Carrot Excellent source of vitamin A from Beta Carotene. Carrots are believed to be very beneficial for ocular (eye) health.
Organic Beet High source carotenoids such as lycopene and lutein that supports optimum health. Contains betaine, which stimulates the function of liver cells and protects the liver and bile ducts.
Raspberry Great source of beneficial photochemicals and antioxidants, which are compounds or groups of compounds that neutralize unstable molecules in humans.
Rose Hips - Natural source of Vitamin C. Promotes good health with bioflavonoids and strong antioxidant and immunity support.
Pineapple Good source of digestive enzymes, vitamin C and natural source for flavoring.
Green Tea - Since ancient times, green teas have been used to boost immune function. Supports liver health and contains catechins which show a wide range of protective effects, including cardioprotective, chemoprotective, and anitmicrobial properties.
Acerola Cherry - Natures richest source of vitamin C. Vitamin C is a premier antioxidant and important for overall health of the immune system.
EFA Fiber Blend
Organic Flax Seed Powder - Flax seeds contain a high percentage of alpha linolenic acid (ALA), which promotes weight loss. This flax is also very high in lignans, which have anti-viral, anti-bacterial, and anti-tumor properties plus, antioxidants. Flax seed contains high levels of the desirable Omega-3 oils that are also found in fish.
Apple Pectin Fiber - Helps modulate blood glucose by slowing its absorption into the bloodstream. It also chelates toxins, such as heavy metals, in the intestinal tract. In addition, soluble fiber helps maintain normal cholesterol levels by binding the bile salts that cause the body to break down cholesterol to manufacture even more bile salts.
Digestive Enzymes and Active Culture - Pre & Pro Biotic Blend
FOS from Chicory Root (Fructo-oligosaccharides) are naturally occurring short-chain polymers composed of simple carbohydrates (fructose and sucrose). FOS are not metabolized by the body like simple sugars are and, therefore are considered soluble fiber. They occur naturally in bananas, garlic, onions, artichokes, and a variety of other plants. Our premium FOS comes from Chicory Root. FOS are considered prebiotic, because they feed beneficial intestinal bacteria (probiotics), particularly Bifidus. FOS are low-calorie sweeteners and are only half as sweet as sucrose, while having minimal caloric value. Probiotics L Acidophilus: Balanced spectrum of beneficial bacteria found in human intestinal tracts. Regular intake of beneficial probiotics can aid in maintaining healthy intestinal flora.
Digestive Enzyme Blend - Tom Bohager explains enzymes in his book Enzymes: What the Experts Know as. A powerful blend of unique proteins that contain energy. Enzymes are the catalysts that provide organisms with the formation, breakdown and rearranging of molecules to provide organisms with the energy and materials to live and function.
Alpha and Beta Amylase - breaks down carbohydrates, Protease - breaks down and hydrolyzes proteins, Lipase- breaks down lipids (fats) Lactase- breaks down lactose, Cellulase breaks down cellulose.
Energizing Herb Blend
Siberian Eleuthero Root Offers therapeutic benefits and increased energy. Ginseng can play an important role in maintaining sound physical as well as mental health.
Peppermint Powder Acts as a muscle relaxant, particularly in the digestive tract and has many therapeutic benefits.
Other Ingredients
Sea Salt An essential element to the human diet. Just a dash of our unrefined sea salt contains over 80 elements from the sea and are beneficial to your health.
SKU: 8.5ozChocGSF
UPC: 8-2983593300-6
Distributed or manufactured from Amazing Grass. See more
Amazing Grass
products.
Login for Details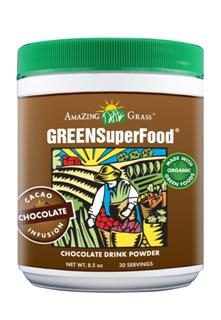 FREE SHIPPING
*Not intended to diagnose or treat diseases or ailments, and is not reviewed by the FDA.
Uses & Indications.
Complete Live Food With Beneficial Enzymes
Naturally Balanced Powerhouse Of Antioxidants
Detoxifies And Boosts Your Immune System
Ailments & Concerns.
Compare to these:
Explore More Products