Liquid Daily Multi Plus 36 oz
What is the benefit of a liquid multivitamin compared to a capsule or tablet? The body does not need to break down a liquid extract, allowing the nutrients to be absorbed directly into our system. Tablets and capsules are often more difficult for the body to break down and absorb.
Contains NO Iron - New improved exact testing for high quality supplement facts & benefits!
Seacoast's Liquid Daily Multi Plus has been formulated to supply you with a full spectrum of daily needs. Vitamin deficiencies are responsible for chemical imbalances within the brain, unhealthy skin, and mood irregularities. Ensure your body the vitamins and minerals it needs to keep you functioning normally.
Liquid Daily Multi Plus has added ginkgo and ginseng extracts to increase blood flow and promote longevity. Any human who knows their body knows that when you have everything you need, you feel good. Include Liquid Daily Multi Plus in your diet and feel the plus.
Benefits:
Delivers essential vitamins to body
Allows absorption of minerals
Increases energy
Promotes longevity
This formula includes -
Enzymes:
Amylase, Lipase, Papain, Pepsin, and Ptyalyn
Amino Acids:
Alanine, Arginine, Aspartic Acid, Cystine, Glutamin Acid, Glycine, Isoleucine, Leucine, Lysine, Methionine, Phenylalanine, Proline, Serine, Threonine, Tyrosine, and Valine
Trace Minerals:
Antimony, Barium, Berylium, Bismuth, Boron, Bromine, Cadmium, Caesium, Carbon, Cerium, Chlorine, Chromium, Cobalt, Fluorine, Gallium, Iridium, Lanthanum, Lithium, Molybdenum, Niobium, Nitrogen, Osmium, Oxygen, Palladium, Rhodium, Rubidium, Selenium, Silver, Sodium, Strontium, Sulfur, Tellurium, Thallium, Thorium, Tin, Tungsten, Vanadium, Zicronium
Daily Multiple Plus is a formulation of organic super-concentrated Sea Vegetables and contain natural levels of  naturally occuring amino acids and trace minerals in addition to its main ingredients.
Tropical fruit flavor
Liquid Daily Multi Plus
Serving Size: 1 oz.
 
APS
%DV
Calories
16
 
Total Fat
1 g
 
Cholesterol
0 mg
 
Sodium
15 mg
 
Total Carbohydrate
5 g
 
Dietary Fiber
0 g
 
Sugars
4 g
 
Protein
1 g
 
Vitamin A (as palmitate)
5000 IU
 
Vitmain B1 (as thiamin)
15 mg
 
Vitmain B2 (as riboflavin))
18 mg
 
Vitamin B3 ( as niacin)
30 mg
 
VItmain B5 ( as pantothenic acid)
50 mg
 
Vitmain B6 ( as pyridoxine HCI)
10 mg
 
Vitamin B12 ( cyanocabalamin)
50 mcg
 
Folic Acid (as folate)
400 mcg
 
Vitamin C ( as ascorbic acid)
300 mg
 
Vitamin D ( as cholecalciferol)
400 IU
 
Vitamin E
80 IU
 
Vitamin K 1
50 mcg
 
Calcium ( as citrate)
9 mg
 
Copper
 1 mg
 
Iodine
160 mg
 
Magnesium
130 mg
 
Manganese
12 mg
 
Phosphorus
150 mg
 
Potassium ( as citrate)
150 mg
 
Zinc
15 mg
 
APS = Amount Per Serving
*% Daily Value (%DV) not established.
Ingredients: 100% Pure Aloe Vera Juice (inner leaf gel), Honey, Siberian Ginseng, Natural Fruit Flavor, Organic Seaweeds (Alaria valida, Costaria costata, Gigartina, Laminaria, Nereocystis, Ulva lacuca, Ulza linza), Ginkgo Biloba, Siberian Ginseng
Other Ingredients: Water, Sucrose, natural fruit flavor, Potassium Benzoate, Citric Acid, Potassium Sorbate (Potassium benzoate & sorbate are natural preservatives derived from soy bean).
SKU: DMP
Distributed or manufactured from Seacoast Vitamins. See more
Seacoast Vitamins
products.
Login for Details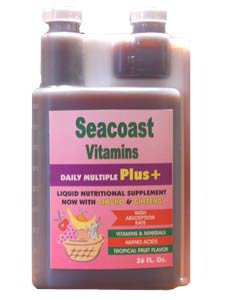 FREE SHIPPING
*Not intended to diagnose or treat diseases or ailments, and is not reviewed by the FDA.
Uses & Indications.
Promoting Well Being
Increasing Energy
Promoting Longevity
Enhancing Immune System
Ailments & Concerns.
Fatigue
Vitamin Deficiency Anemia
Aging
Hypothyroidism
Compare to these:
---
Questions and answers:
Asked on:
December 16, 2017
Question: While you list all natural ingredients, I am interested in knowing if the b vitamins, in particular, Folic Acid and b-12, if these are natural forms or synthetic. Is your folic acid really folate? Is your b-12 - cyanocobalamin or methylcobalamin? Thank you!
A: Liquid Daily Multi Plus is formulated with sea vegetables which offer a broad range of B vitamins and minerals. Seaweeds are an excellent source of plant based folic acid (as folate) and vitamin B12 ( as cyanocobalamin). In addition, seaweeds contain a good amount of lignans, iron, calcium and magnesium. Please click on the link below to see the additional breakdown of all added B vitamins, minerals, enzymes and more in Liquid Daily Multi Plus. https://seacoast.com/Liquid-Daily-Multi-Plus-36-oz-Seacoast-Vitamins-.p425
Asked on:
July 14, 2016
Question: Is Vit k ....Vit k2? That is important for proper absorption
A: Liquid Daily Muti Plus includes vitamin K1 the natural form of vitamin K found in plants. Vitamin K1 is regarded as more absorbable and faster-working than K2.
Asked on:
February 9, 2017
Question: Does this product help increase energy? I have been really seeing a decrease in my energy level and believe that I need to take a good multi vitamin.
A:

Liquid Daily Multiple is Seacoast Vitamins #1 selling multi vitamin supplement and for good reason. The number one comment we hear from customers is an increase in energy levels after using 1oz of Liquid Daily Multi each day. The number two comment is the great taste!  Liquid Daily 

Multi

 is filled with energy boosting vitamins and minerals such as ginseng, ginkgo 

biloba

, energizing amino acids, trace minerals, a complete vitamin B profile, enzymes for optimal digestion and more. Liquid Daily Multi is convenient and easy to use. Check out what our customers are saying about Seacoast Vitamins Liquid Daily Multi.

 

https://seacoast.com/Liquid-Daily-Multi-Plus-Seacoast-Vitamins-36-oz.p425
Asked on:
April 27, 2017
Question: What is the benefit of a liquid multivitamin compared to a capsule or tablet?
A:

The body does not need to break down a liquid extract, allowing the nutrients to be absorbed directly into our system. Many tablet and capsule multivitamins never make it past stomach acids and are released in urine. Liquid Daily Multi Plus is a unique delicious tasting formula providing essential vitamins, minerals, amino acids and enzymes in a 100% pure aloe vera juice base with ginseng, ginkgo and more. Customers rave about the boost in energy levels when using Liquid Daily! 
Asked on:
March 20, 2014
Question: What flavor is this product?
Reviews
Thursday 22 June, 2017
Thursday 09 February, 2017
Wednesday 13 January, 2016
Saturday 19 January, 2013
Monday 02 April, 2012
Thursday 26 January, 2012
Thursday 25 August, 2011
Friday 15 July, 2011
Wednesday 11 May, 2011
Friday 03 December, 2010
Sunday 14 November, 2010
Sunday 12 September, 2010
Wednesday 11 August, 2010
Thursday 27 May, 2010
Friday 19 March, 2010
Thursday 11 February, 2010
Monday 01 February, 2010
Friday 29 January, 2010
Thursday 10 December, 2009
Monday 20 July, 2009
Saturday 18 July, 2009
Sunday 24 May, 2009
Tuesday 03 February, 2009
Sunday 01 February, 2009
Saturday 03 January, 2009
Sunday 12 October, 2008
Tuesday 23 September, 2008
Sunday 14 September, 2008
Tuesday 26 August, 2008
Saturday 26 July, 2008
Tuesday 26 February, 2008
Tuesday 29 January, 2008
Explore More Products
Cures and side effects for Liquid Daily Multi Plus 36 oz have not been reviewed by Seacoast, nor the FDA. Individual results will vary. Contact a healthcare professional if you have questions about using Liquid Daily Multi Plus 36 oz.