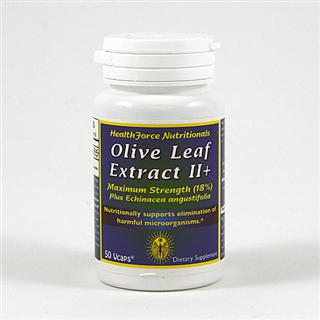 Full price 32.43
Savings 46%
Olive Leaf Extract II plus Echinacea (50 VCaps)*
| | |
| --- | --- |
| | |
| | Sorry! This item has been discontinued. See below. |
Olive Leaf Extract II+
18% Olive Leaf + 4 % Echinacea
Effective Nutritional Support for resistance to Viruses, harmful Bacteria, Fungi and many parasites* Plus systemic immune support* Olive leaf extract is a totally natural product that has been used for microbial challenges (viral, bacterial, fungal) and parasites (both small and large) as well as overall immune support. Olive Leaf Extract can be taken as a preventive measure, to nutritionally support keeping harmful microbes at bay, and also to nutritionally support the elimination of harmful microbes in acute situations.
Each Vegan Capsules contains:
Olive Leaf Extract @ 400 mg
Echinacea angustifolia @ 100 mg
Suggested Use:
Maintenance - One to three Vcaps per day. Take, ideally, on an empty or relatively empty stomach, such as with fresh, raw juice, fruits, or vegetables. It is appropriate, however, to take with other foods. It is more important to take this product anytime than not at all.
INTENSIVE USAGE: 3-5 Vcaps, 3 times per day (for a total of 9-15 per day), or as directed by a health care professional. Apply other aspects of nutrition/health. Intensive usage should be cycled 10 days on and 5-10 days off due to the echinacea. This level of usage may initiate cleansing reactions. If you have Candida and you are wanting to use Olive Leaf Extract II+ at the intensive usage, start with maintenance usage and build up to the Intensive Usage over several days or 2 weeks to prevent toxic die off symptoms.
Suggested Adjuncts: Supplements: HealthForce Oxygen Supreme™ II, Vitamineral™ Green (a unique superfood complex), Digestion Enhancement Enzymes™, Liver Rescue™ II+, garlic, grapefruit seed extract, tea tree oil, and oregano oil. NOTE: Do NOT take essential oils (tea tree oil, oregano oil) internally unless under supervision of a qualified health care professional. Note: HealthForce recommends that high levels of Echinacea be taken for no longer than 10-14 days at a time, and then not taken for at least 5-10 days.
Other Suggested Adjuncts: Vitamineral™ Green , Digestion Enhancement Enzymes™, and a diet emphasizing whole Vegan foods, and fresh raw foods.
Compare to these:
Explore More Products