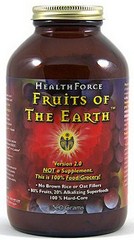 Full price 62.44
Savings 20%
Fruits of the Earth Superfruit Antioxidant Blend (360 g)*
This product has been discontinued.
Seacoast recommends an excellent replacement from HealthForce. Click here.

Sorry! This item has been discontinued. See below.
HealthForce Nutritionals, Fruits of the Earth Superfruit Antioxidant Blend, 360 grams
Fruits of The Earth is a high antioxidant, potent combination of natures most nutritive fruits from around the world.
Dried at low temperatures to preserve heat sensitive elements. 80% of the formula is fruit. Fruits are somewhat acid forming, so 20% of the formula is intentionally alkaline forming vegetables (beet juice, wheat grass and barley grass, Nopal Cactus).
The ultra-finely ground and highly bioavailable whole leaf grasses provide a huge source of nutrition including essential alkalinity and better blood sugar balance.
Actual Food Chromium is also added to support healthy metabolism and blood sugar levels.
Superfoods, or Whole Foods provide a broad array of vitamins, minerals, and fiber. Fruits of the Earth is so nutritious, you need only ingest 1-2 tablespoons a day to aquire your daily intake of fruits. HealthForce has optimized this product by adding a special blend of Probiotics, including Natural Soil Organisms to enhance the digestion process and nourish the intestines.
Benefits:
Full serving of Fresh Fruits
Enhanced Digestion
Vitamins & Minerals
Fiber
Antioxidants
Maximized Energy
Fruits of the Earth contains the following:
Super Fruits Complex: Blueberry Juice, Acai Juice, Grape Juice, Goji Berry (Wolfberry) Juice, Pomegranate Juice, Bilberry Juice, Black Cherry Juice, Elderberry Juice, Acerola Berry Juice, Cranberry Juice
Alkaline-Forming Vegetables: Beet Juice, WHeat Grass, Barley Grass
Probiotic Complex, Natural Soil Organisms: Massive array of implantable species and Natural Soil Organisms (NSOs). Supports System Support, Anti-Candida*
Actual Food Nutrients containing 100% Organically bound- Chromium, B-Vitamins, Beta-Glucans + all necessary co-factors grown on Saccharomyces cerevisia.
Energetics: Shilajit + Magnetic, Homeopathic, Energetic & Vibrational energies

Suggested Use: Add 1-2 Tbsp to your beverage of choice- mixes well with water, juices, and in smoothies.
*Not intended to diagnose or treat diseases or ailments, and is not reviewed by the FDA.
Uses & Indications.
Enhanced Digestion
Supporting Healthy Metabolism
Potent Antioxidant
Ailments & Concerns.
Candida
Free Radicals
Bacterial Disease
Oxidation
Aging
Compare to these:
Reviews
Monday 16 May, 2011
If you just read the ingredients alone and see all the "superfoods" in the product. You will be amazed!
---
Questions and answers:
Asked on: November 27, 2012
Question: B vitamins ..b12 also helps hair and nails .and don't foergt your calcium supplements and drink at least 8 glasses of water daily!!So which nutrients do you need to keep your skin healthy and looking its best? According to the experts interviewed by WebMD, plus new information from the American Academy of Dermatology (AAD), the following vitamins, minerals, antioxidants, and other nutrients nourish your skin, whether you take them in supplement form, apply them directly to you skin, or make sure you get enough from the foods you eat.Vitamins Good for Skin NutritionVitamins C, E, A, K, and B complex can all help improve skin health. Here's how:Vitamins C and E. Among the most important new dermatologic discoveries is the power of vitamins to counter the effects of sun exposure.In research presented at the 2002 Annual Meeting of the American Academy of Dermatology, Duke University researcher Sheldon Pinnell and colleagues demonstrated that appreciable photoprotection can be obtained from topical vitamins C and E. Topical Vitamin C can prevent the consequences of prolonged sun exposure which can lead to skin cancer, says Karen E. Burke, MD, in a news release. Supplementation with natural Vitamin E in 400 mg per day has been noted to reduce photodamage, wrinkles and improve skin texture.

Asked on: November 28, 2012
Question: is this a powder or liquid

Asked on: December 28, 2012
Question: is this safe for lactating mothers?

Explore More Products