Vitamineral Earth Version 3.2  300g  Gluten Free 
Sacred Healing Food
Nutritionally supports blood sugar, colon, detoxification, the immune system, and longevity.
Vitamineral Earth is a completely different, grounding superfood with the best sources of essential fatty acids, cleansing and highly nutritive roots, barks, and colon detoxifying and supportive foods.
Suggested Usage: Due to the cleansing nature of Earth start with 1 teaspoon in 16-32 oz of water or juice & gradually increase to 2 or more heaping tablespoons per day. Earth can be used on its own as a grounding superfood blend, or ideally taken in the same day as Vitamineral Green for a balance of yin and yang. Smoothies: Will thicken and nutrify. Broth or Tea: Add to warm water or make a tea (virtually all natives made teas of healing herbs with hot water). Hot water tea produces a totally different flavor (with more phytonutrients). Drink all at once or throughout the day. You may decide to create savory dishes using Vitamineral Earth: Add to foods such as soups, salads, dressings, casseroles, etc.
Ingredients: Version 3.0 & 100% TruGanic
Earth Below: Astragalus Root , Burdock Root, Nettle Root, Marshmallow Root, Yacon Root, Dandelion Root, Carrot, Ginger, Rhubarb Root
Earth Above: Red Clover Blossoms, Slippery Elm Bark, Watercress, White Oak Bark, Corn silk, Kelp, Cinnamon Bark, Blessed Thistle, Sheep Sorrel.
Earth Seeds: Sprouted Flax Seeds, Sprouted Chia Seeds, Milk Thistle Seeds.
Earth Broth: Miso, Chili Powder, Paprika, Sage Leaf . (Providing essential organic sodium and grounding spices of life.)
Earthbiotics: Massive array of both implantable lactobacillus species and NSOs(Natural Soil Organisms)
Actual Food Nutrient Array: containing 100% organically bound Chromium, Selenium, Molybdenum, Manganese, B-Vitamins, Beta-Glucans, and all necessary cofactors.** (**Grown on saccharomyces cerevisiae.)
Energetics: Shilajit + Magnetic, Homeopathic, Energetic, & Vibrational Enhancements. Magnetically sanitized and purified.
100% TruGanic: TruGanic is a purist, hard-core quality standard significantly beyond Organic. In addition to no pesticides being used anywhere in the growing process, TruGanic includes authentic standards for production, nontoxic cleaning agents and pest control, electromagnetic radiation, processing agents, additives, air quality, and actual verification of purity.
SKU: EARTH300
UPC: 650786000123
Distributed or manufactured from HealthForce Nutritionals. See more
HealthForce Nutritionals
products.
Login for Details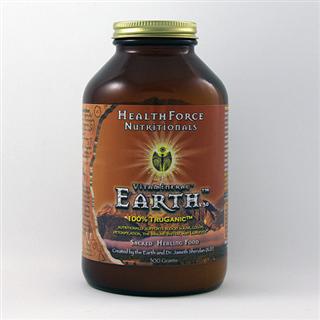 FREE SHIPPING
*Not intended to diagnose or treat diseases or ailments, and is not reviewed by the FDA.
Uses & Indications.
Cleasing Colon
Adding Additional Nutrients
Detoxifying
Ailments & Concerns.
Toxic Build Up
Constipation
Compare to these:
Reviews
Wednesday 01 March, 2017
I would recommend this product to anyone that has problems with constipation and intestinal issues. I suffered with constipation off and on for several years. Once a started using this product it has made me more regular than ever before. I even have more energy and motivation than I used to. I believe that a good cleansing is so important for overall health. It also helps to reduce any inflammation in your body. I like the fact that it is a RAW food formula.
Thursday 18 March, 2010
Thank you Seacoast Vitamins for so qucikly and efficiently shipping my products and for the great discount. I think my total order was almost $AU100 less than one other distributer, which I almost used. I will definitely use your service again. Best wishes, Debora
Explore More Products