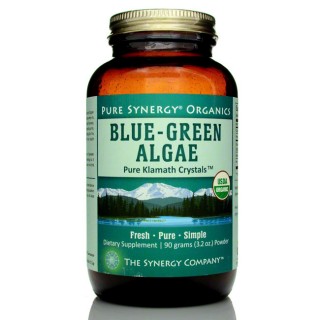 Organic Blue-Green Algae (3.2 oz - powder)*
price

Price is

too low

to show. Add it to your cart

Buy 3 - Get free delivery on whole order
Organic Blue Green Algae 2.8oz powder | 90g
The highly valued superfood Klamath Lake algae (Aphanizomenon flos-aquae) is a protein powerhouse. Providing a highly bioavailable protein that is 80% assimilated by our bodies (compared to meat protein, which is 20% assimilated). The Certified Organic Blue-Green Algae harvested from Klamath Lake is known to be one of the world's most concentrated sources of chlorophyll, one of nature's most cleansing and regenerating substances.
Benefits:
100% Organic Blue-Green Algae grown in mountain spring-fed Upper Klamath Lake
Harvested at one special time of year, at its peak of bloom
Triple-filtered, cold-processed, and independently tested and verified
Contains antioxidant-rich carotenoids, bioavailable vegan protein, & detoxifying chlorophyll
Supports your energy, stamina, and overall well-being
The Synergy Company pays meticulous attention to quality. 100% organic, certified kosher Pure Klamath Crystals are simply the highest-quality Klamath Lake blue-green algae available. When you consume The Synergy Company's Pure Klamath Crystals, you know you are safely receiving all the amazing health benefits and vibrant life energy this potent, nourishing superfood offers!
Suggested Use: Take ½ Level tsp. (1 gram) daily. Build to desired amount. Mix with juice or water. Consume early in the day on an empty stomach.
Our experience shows that Pure Klamath Crystals is also a perfect companion to Pure Synergy superfood.
Supplement Facts
Pure Klamath Blue-Green Algae Crystals
Serving Size: 1 teaspoon (1.5 gr)
APS
%DV
Calories
6
Protein
1 g
Vitamin A (100% as beta-carotene)
1,020 mcg
34%
Iron
450 mcg
3%
Vitamin B12
5 mcg
90%
* Percent Daily Values based on a 2,000-calorie diet.
Ingredients: Certified organic and kosher Klamath Lake blue-green algae (Aphanizomenon flos-aquae)
More Information About Quality Assurance, Harvesting, Processing, Testing and Packaging from The Synergy Company
Our algae is exclusively harvested according to our stringent quality control program. The Synergy Company developed and implemented unique harvesting techniques over 15 years ago to ensure the extraordinary purity and quality of our Pure Klamath Crystals. Using custom-designed equipment, we meticulously harvest from the clear, pristine waters of Upper Klamath Lake. This lake sparkles with fresh mountain spring water. Additionally, we harvest only at the peak of bloom, when our algaes nutrients are at their highest concentrations.
Immediately after we harvest the algae, we triple-filter it using a state-of-the-art ultra-effective filtration system. Similar to reverse osmosis systems used in water purification, this unique filtration method ensures Pure Klamath Crystals is free of any possible contaminants. The algae is then immediately chilled to temperatures below 38° to preserve all of its vibrant constituents, including enzymes, chlorophyll, and other valuable phytonutrients, amino acids, RNA, DNA, vitamins, and minerals.
The powerful nutrient components in whole, live foods are easily destroyed by exposure to heat, so the method by which algae is dried is particularly important. Our iridescent Pure Klamath Crystals is protected with our unique cold-drying technology, which prevents the degradation of algaes fragile nutrients. Studies have shown that this drying preserves 20% more of fresh algaes carotene content than the next best drying method. Our drying method also enhances solubility. Pure Klamath Crystals disperses easily in water and has a very mild taste.
Our algae passes the most stringent scientific tests to certify purity. Our standards are stricter than those used by the World Health Organization to determine the safety of drinking water. After the harvesting and filtration processes, samples of our algae are sent to the foremost independent laboratory in the field of algae testing; this lab is certified by the USDA and registered with the FDA. A complete spectrum of tests is performed at the laboratory to confirm that our algae is indeed the rare Klamath Lake algae and that it is free of impurities.
Pure Klamath Crystals is prepared and packaged at our own award-winning, FDA-registered production facility, where we are certified to manufacture organic and kosher products. Utilizing our special Ultra Fresh Packaging methods, we vacuum-seal Pure Klamath Crystals in amber glass to fully protect all of its potent properties. Pure Klamath Crystals contains absolutely no fillers, binders, additives, or preservatives, and it is unconditionally guaranteed!
*Not intended to diagnose or treat diseases or ailments, and is not reviewed by the FDA.
Uses & Indications.
Gently Assisting The Natural Processes Of Detoxification
Nourishing Overall Well-being
Supporting Energy And Stamina
100% Organic Source Of Concentrated Vegan Protein
Ailments & Concerns.
Protein Deficiency
Toxic Build-up
Low Energy
Compare to these:
Explore More Products