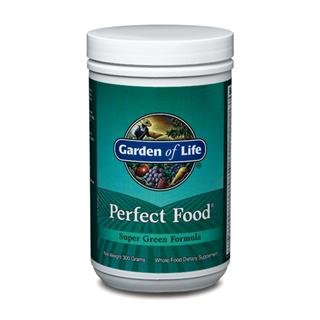 Full price 51.99
Savings 20%
Perfect Food - Green label (300g Powder)
| | |
| --- | --- |
| | |
| | Buy 3 - Get free delivery on whole order |
Garden of Life
Perfect Food - Green label (300g Powder)
One way to make sure you are receiving the nutritional benefits of multiple servings of fruits and vegetables is through green food supplementation. Perfect Food Super Green Formula has more greens per serving than other leading green food formulas. Other formulas often load their products with non-greens and fillers. While many of these non-greens are important and have a definite nutritional benefit, no other type of food source provides the nutritional benefit of green foods. That is why Perfect Food Super Green Formula Powder contains over 8000mg of greens per serving.
Super green foods is a term usually used to describe young cereal grasses such as wheat, barley, oats and alfalfa, as well as spirulina, chlorella, kelp and other sea vegetables. A diet comprised of super green foods enables grass-eating animals to continually maintain their weight, strength, and vibrant health. If I
Compare to these:
---
Questions and answers:
Asked on:
January 13, 2013
Question: You really don't have to buy antyihng special to use green cleaners. In fact, some of the most green cleaners are not commercial cleaners at all. Baking soda, washing soda, vinegar, borax, toothpaste, and bar soaps (like Ivory), will all do a great job cleaning around the house. The idea that these things don't work as well as the comercial cleaners, or at all for that matter, is simply deeply ingrained marketing. I have often been dumbfounded by how well these simple household things work, almost like magic.When I do buy a green cleaner, my favorite brand is Bi-O-Kleen. I've had great success with their laundry detergent and all-purpose cleaner. The best part about this brand is that most of their products are concentrated quite a bit (3x consentrated for both the laundry detergent and all-purpose cleaner), so there is less packaging and more product. As a bonus, a bottle of Bi-O-Kleen laundry detergent or all-purpose cleaner cost less than a bottle of their nonconcentrated traditional counterparts. I've used the laundry detergent exclusively for about two years, and my clothes are as clean as anyones. The all-purpose cleaner is truly all-purpose. I've used to to clean the everyday stuff like kitchen and bathroom, and nasty stuff like the oven and grill. We even use it when we rent a carpet cleaner in place of the expensive carpet cleaning solutions. Other brands I buy currently:Seventh Generation -Their products all work really well, but are pricey, so I don't use them as often.Bon Ami Hands down the best scouring agent around, and it's non-toxic. I'm not sure how green it is, but compared to Comet brand, it's a step in the right direction.
Asked on:
January 16, 2013
Question: - Page 5 -Panel 1: Where are the tacos? Panel 2: They they're down there. Panel 3: You mean to tell me, you forgot them? Great just great. Those meant a lot to me, y'know? Panel 4: Now I have to go all the way acosrs the solar system to another taco joint. Thanks a lot! Panel 5: I can't believe you LEFT the only food we had on an exploding planet, man. Epic Fail. Hold on Tomar, let me follow. I need to know where this taco joint is. I'm hungry as hell.
Explore More Products