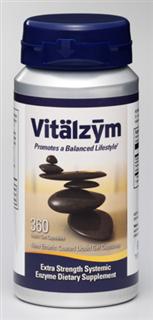 Full price 199.99
Savings 25%
Vitalzym Systemic Enzyme Supplement (360 gelcaps)*
price

Price is

too low

to show. Add it to your cart

Buy 3 - Get free delivery on whole order
Vitalzym Extra Strength Systemic Enzyme Supplement with a technologically advanced delivery system that allows for reduced dosage and vastly increased effectiveness. Vitalzym has been reformulated to use a pharmaceutical grade enteric coated gel capsule which is the only method to ensure that 100% of the ingredients are not destroyed by stomach acids.
Vitalzym is an all-natural, 100% vegetarian, systemic enzyme supplement with a unique blend of enzymes including a form of serrapeptase. This formulation helps maintain the body's normal chemistry for general wellness and cleansing. Vitalzym is endorsed by renowned healthcare professionals as one of the most popular systemic enzyme supplements on the market today.
The unique blend of vegetarian enzymes, antioxidants and flavonoids has been formulated for 100% bioavailability.
Serrapeptase, a key ingredient in Vitalzym, was originally discovered in Japan and is commercially produced there for medical applications. It has been used as a substitute for animal-derived enzymes, such as chymotrypsin, due to its stronger effect in terms of bradykinin-decomposing activity. The serrapeptase used in Vitalzym is the same as that used by the Japanese pharmaceutical blend of serrapeptase. (Dasen, Takeda Pharmaceutical Company Limited). Vitalzym is highly recommended by healthcare professionals worldwide.
Vitalzym provides enzymes that may help to maintain the body's enzyme amounts needed to support each of the millions of biochemical reactions in our body. Without enzymes, life could not exist.
Serrapeptase: Also known as Serratia peptidase; a proteolytic enzyme isolated from the non-pathogenic enterobacteria Serratia E15. Serrapeptase has been shown to be one of the most popular enzymes available today.
Bromelain: An enzyme found in pineapples that breaks down other proteins, such as collagen.
Papain: A proteolytic enzyme obtained from unripe papaya.
Amylase: Any of a group of proteins found in saliva and pancreatic juice and parts of plants, Amylase digests carbohydrates and helps convert starch to sugar.
Lipase: Lipase digests fat. It is an enzyme secreted in the digestive tract that catalyzes the breakdown of fats into individual fatty acids that can be absorbed into the bloodstream.
Amla: Amla is a great source of Vitamin C.
Rutin: One of the many existing flavonoids. Flavonoids support health by strengthening capillaries and other connective tissue.
Protease: Any enzyme that catalyzes the splitting of proteins into smaller peptide fractions and amino acids by a process known as proteolysis.
Suggested Use: As a dietary supplement, take 3 capsules daily with water. It is best to take Vitalzym at least 30 minutes before a meal, 60 minutes after a meal, or anytime in between meals.
Supplement Facts
Vitalzym
Serving Size: 3 gelcaps
APS
%DV
Proprietary Enzyme Blend
168 mg
**
Vitalzym Proprietary Blend contains: Bromelain, Papain, Rutin, Amylase, Protease, Lipase, Amla, Serrapeptase
**Daily Value Not Established
Other Ingredients: Medium-chain Triglycerides, Starch, Glycerin, Polysaccharide, Corn protein, Beeswax, Glycerin Fatty Acid Ester, Soy Lecithin, Citric Acid.
This dosage recommendation is for most users. The dosage recommended by your healthcare professional may differ. Your healthcare professional may also recommend a higher activation dosage. Warning: If you are currently taking anti-coagulants (blood thinners), do not take this product without the consent of your healthcare professional.
Vitalzym is protected by a recyclable aluminum can
*Not intended to diagnose or treat diseases or ailments, and is not reviewed by the FDA.
Uses & Indications.
Promoting Natural Healing
Restoring Enzyme Levels
Reduced Dosage - Increased Effectiveness
Enteric Coated Liquid Gel Capsules
Ailments & Concerns.
Autoimmune Disease
Arthritis
Fibromyalgia
Chronic Fatigue
Compare to these:
---
Questions and answers:
Asked on: November 26, 2012
Question: First of all, I love your advice, but even thgouh this girl is very hot and everyone loves to look at her, it doesn't do any good if all you do is talk about yourself. I got annoyed and turned it off. Now, your body, on the other hand, would have been great! Your body is smoking hot! Biceps, arm veins (my thing lol), abs, and groin muscles? are so cute ( i substituted cute cuz i didn't want my post banned). But .woww

Asked on: January 29, 2013
Question: I have Ankolysing Spondilitis and Polysistic overies. I cannot take any type of anti-inflamatories. Would this help me in anyway?

Asked on:
March 22, 2013
Question: what about for Kidney disease,vitalzym can help.
A: Though Vitalzym is helpful for a variety of conditions and ailments, your physician would be best advised to let you know if this can help with your kidney disease. Vitalzym can help with a variety of things such as inflammation, digestion and more.
Asked on:
February 5, 2014
Question: can a person put serrapeptase topically on a sore or wart or bug bite?
A: I have not found any information as to serrapeptase being used in a topical form. As we age our bodies natural production of enzymes decreases, Supplementation with Vitalzym,along with proper diet and excercise, will help to maintain normal enzyme levels, balancing your body's own repair mechanisms.
Asked on:
March 7, 2014
Question: My three year old son had eye cancer in both of his eyes as an infant, which left him with calcified scar tissue from the tumors on his retinas. The scar tissue blocks part of his vision. I gave him Doctor's Best Serrapeptase for a few months to see if it would help dissolve the scar tissue but saw no response. I had to break open the capsules and pour the powder in his juice in order to get it in his system. He's obviously too young to swallow pills. Would this product still offer benefits if taken that way (pill broken and powder poured in juice)? If not, do have another recommendations?
A: Vitalzym is in a enteric coated gel cap that passes through the stomach and dissolves in the intestines for better absorbtion. We do have Dr's Best Serrapeptase 270vcaps which are capsules that you can open and use in pudding or apple sauce. We recommend that you cousult with your physician before taking any new supplements. The link to view this product is below. http://www.seacoast.com/best-serrapeptase/doctor-s-best/40-000-units-270-capsules/p2855
Asked on: April 4, 2014
Question: Iys really a good medicine for height ?

Explore More Products