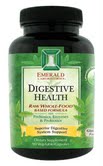 Full price 29.95
Savings 12%
Digestive Health (90 caps)*
price

Price is

too low

to show. Add it to your cart

Buy 3 - Get free delivery on whole order
Ultra Laboratories & Emerald Laboratories present a comprehensive group of Gluten-Free, Condition-Specific, Raw Whole Food-Based Nutritional Supplements. Completely Free of Additives, Fillers, Magnesium Stearate. All natural, High quality and 100% pure for your health.
Digestive Health - 90 capsules
Therapeutic dosages of a full spectrum of digestive enzymes that help stimulate the bodys natural enzyme systems to breakdown all food stuffs including: Gluten, Dairy and Beans which are among the most common food sensitivities.
Suggested Use: Take 1-2 capsules with or at the end of each meal.
Benefits from this formula by Dr. Mark Stengler include:
Contains DPP-IV (Dipeptidyl Peptidase) Gluten-Specific Digestive Enzyme.
DPP-IV can be very effective for people with gluten sensitivities.
Plant-Based Clinical-Potency Broad Spectrum Digestive Enzyme Formula.
Digestive herbal blend to stimulate organs of digestion such as stomach, liver, gallbladder, and pancreas.
Supplement Facts
Digestive Health
Serving Size: 3 capsules
APS
%DV
Proprietary Digestive Enzyme Blend
700mg
Protease 250 DPP-IV(Gluten Digesting Enzyme), Protease 30000 HUT, Lipase 1000 FIP, Lactase 500 ALU, Invertase 1000 Sumner, Hemicellulase 2000 HCU,Cellulase 900 CU, Alpha-Galactosidase 75 GALU, Amylase 4500 SKB, Amylase 900 BAU, Beta-Glucanase 20 BGU, Xylanase 900 XU, Bromelain 225 GDU, Papain 5100 TU, Acid-Stable Protease 30 SAPU, Maltase 150 DP
Proprietary Digestive Herbal Blend
225mg
Gentian Root Powder, Ginger Root Powder, Fennel Seed Powder
Raw Whole-Food Proprietary Blend
100mg
Raw Whole Food Sprout Powders (Alfalfa, Quinoa, Mung Bean, Millet & Brocolli - containing 3500ppm sulfurophane), Raw Plant Enzyme Blend (Lipase, Lactase, Invertase, Protease, Hemicellulase, Cellulase, Alpha-Galactosidase, Amylase, Bromelain, Papain, Acid-Stable Protease, Maltase), Raw Probiotic Blend (Acicophilus DDS-1 Strain 200 million CFUÃ

*Not intended to diagnose or treat diseases or ailments, and is not reviewed by the FDA.

Uses & Indications.

Digestive Aid
Effective Support For People With Gluten Sensitivity

Ailments & Concerns.

Neutralizing Stomach Acids
Bloating
Stomach Upset
Heart Burn

Compare to these:




---

Questions and answers:

Asked on:

May 8, 2013

Question: Is this a substitute for Creon?

A: Both Creon and this Digestive Health supplement contain digestive enzymes to help people that have digestive challenges. Creon looks to only help by giving you pancreatic enzymes while Digestive Health provides an herbal digestive blend for not only the pancreas but the liver, gallbladder, and stomach. As for Digestive Health, being a suitable replacement for Creon, unfortunately I cannot confirm that, however if you are looking for a more natural approach for your digestion problems, you may want to run this by your physician.

Explore More Products




1. Statements and claims on Seacoast.com have not been evaluated by the FDA and are not intended to treat or diagnose any ailment or disease.

What interests you?