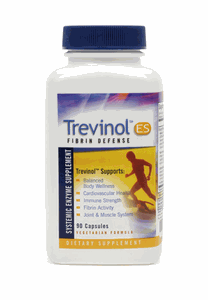 Full price 139.95
Savings 14%
Trevinol ES* (300 capsules)
price

Price is

too low

to show. Add it to your cart

Buy 3 - Get free delivery on whole order
Trevinol ES (300 caps)
Scientifically advanced Trevinol® ES is a systemic enzyme blend, clinically developed to support reduction of fibrin and the relief of inflammation. Landis Revin created this unique formula that features state-of-the-art enzyme research. Trevinol® ES incorporates a proprietary blend of proven ingredients with the highest fibrinolytic actvity available and includes Serrapeptase, Nattokinase, Bromelain, Protease, Serraspore Lactobacillus and an exclusive Enzyme Catalyst Blend of Antioxidants.
Trevinol ES is formulated to replenish the enzymes and antioxidants that are naturally destroyed by the body due to the inevitable forces of aging. The anti-oxidant rich ingredients contained in Trevinol ES™, as well as a full spectrum of proteolytic (protein digesting) enzymes, are enterically coated to remain viable in a wide spectrum of environments. Trevinol's uniquely potent formulation include highly concentrated digestive enzymes that enable the body to digest proteins, fats, sugars and carbohydrates. These digestive enzymes are designed to work in removing waste material from the bloodstream and convert undigested food particles into useful energy.
Many studies have discovered that inflammation is the driving force behind atherosclerosis and the increasing risk of stroke, by which plaque accumulates within the walls of the arteries and impedes the flow of blood. A Harvard School of Public Health study reports that high levels of C-Reactive Protein in the blood were associated with a 79% higher risk of heart disease in men and women over a period of 8 years. Many professionals now believe that high CRP levels are a better predictor of heart attacks than that of cholesterol levels.Trevinol® ES is designed to increase blood flow by removing unwanted debris, while avoiding gastrointestinal distress, or affecting the liver. For those already affected by heart disease, fibrinolytic enzymes have shown the ability to lower LDL cholesterol, emulsify plaque buildup within the arteries and reduce scar tissue. Nattokinase has been clinically shown to remove arterial blockages over 50% faster than the body's natural fibrinolytic enzyme known as plasmin. The combination of Serrapeptase, Nattokinase and the Enzyme Catalyst Blend found in Trevinol ES™ offers a complete fibrinolytic compliment of enzymes.
Trevinol® ES supports a reduction in excess fibrin levels, cardiovascular well-being, reduced inflammation, enhanced joint health and boosts immune strength.
Flexibility and Movement
Inflammation
Blood Flow & Circulation
Sports Injury Recovery
Peripheral Artery Disease (PAD
Fibrinolytic Activity
Chronic Pain and Fatique
Healthy Joints
Pulmonary Fibrosis
Scar Tissue
Fibromyalgia
How Should You Select a Systemic Enzyme Blend?

While there are many enzyme formulations to choose from, not many are actually effective. Trevinol™ ES is made in the USA and contains ingredients with proven health benefits. Landis Revin has utilized the most current research in order to develop what could be the most effective enzyme product on the market today.
With the addition of antioxidants and L. sporogenes (our Proprietary Serraspore™ Lactobacillus) to Trevinol, Landis Revin is offering a truly unique systemic enzyme formula.
Supplement Facts: Serving Size: 3 Vegetarian Capsules - Servings Per Container: 100
Fibrin Defense Blend: 1,500 mg (Providing 177,000 FU) Phytofiber Complex: Lactospore® Lactobacillus sporogenes (195 million CFU) and F.O.S. (fructo-oligosaccharides) vegetable cellulose Hydrolase Enzyme CoFactors: (Nature identically originated) Serrapeptase, Papain, and Nattokinase Enzyme Catalyst Blend: Quercetin, Alpha-Lipoic Acid, Methylsulfonylmethane (MSM) ,USP Coenzyme Q10 Magnesium (as magnesium oxide) 15 mg Other Ingredients: Hypromellose, magnesium stearate, microcrystalline cellulose and silica. May contain Soy
*Not intended to diagnose or treat diseases or ailments, and is not reviewed by the FDA.
Uses & Indications.
Replenish Vital Enzymes And Antioxidants
Improve Blood Flow- Reduce Plaque Buildup In Arteries
Fight Damaging Effects Of Aging
Deactivate Free Radicals
Ailments & Concerns.
Poor Circulation- High Blood Pressure
Thromboses
Gastrointestinal Stress
Liver Damage
Inflammation And Joint Stiffness
Cardiovascular Disorders
Fibrinolytic Activity
Arthritic Swelling
Compare to these:
---
Questions and answers:
Asked on:
February 13, 2018
Question: Are the enzymes in Trevinol pharmaceutical grade? How does this compare to Neprinol? Neprinol seems stronger?
A: Landis Revin certifies all ingredients through certificates of analysis to ensure that all ingredients on the label are included in each formula and of the highest quality. Some think this is more important than being classified as a pharmaceutical ingredient. People want to know what they are consuming and that the ingredients have been quality tested. Manufacturers who go through the certification process are always the best choice when choosing natural health supplements. Trevinol compared to Neprinol has a higher FU count (fibric units) in the defense blend. The formula also includes Lactobacillus which helps the enzymes absorb into the system effectively. CoQ10 and quercetin super charge the enzymes for superior absorption. Both products Neprinol and Trevinol are superior choices for enzymes on the market today.
Explore More Products