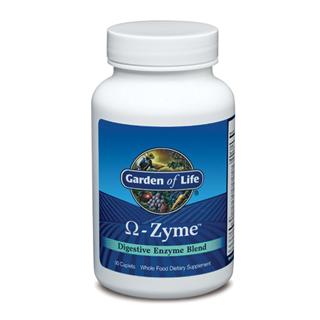 Full price 43.99
Savings 11%
O-Zyme Digestive Enzyme Blend (90 Caplets)
| | |
| --- | --- |
| | |
| | Buy 3 - Get free delivery on whole order |
Garden of Life
O-Zyme Digestive Enzyme Blend (90 Caplets)
The human body is capable of accomplishing incredible feats and overcoming obstacles, provided that it receives proper, wholesome nutrition. Consuming enzyme rich foods and/or highly active enzyme supplements like O-Zyme are two valuable approaches to ensure your body gets the enzymes it needs to support healthy digestion which is essential to overall health.
O-Zyme provides 20 different digestive enzymes. Each of these enzymes has a specific function. For example, the protease blend aids the digestion and utilization of dietary proteins. Amylase digests starch, lipase digests fats, and lactase digests the milk sugar lactose. Garden of Life understands that having a broad range of enzymes to support the digestion of a multitude of nutrients in the gastrointestinal tract is vital to the efficacy of the product. Additionally, Garden of Life believes that enzyme viability at different pH levels is equally important. O-Zyme was specifically formulated to include enzymes that are active across different pH levels.
With 20 different digestive enzymes, O-Zyme provides a broad array of enzymes to help your body process a wide variety of foods.
Provides 20 different vegetarian digestive enzymes that help you process proteins, carbohydrates, fats and difficult-to-digest foods like broccoli, nuts, seeds and beans.
A great way to get the enzymes you need is to consume a diet high in
Compare to these:
---
Questions and answers:
Asked on:
November 26, 2012
Question: Kudos to you! I hadn't touhght of that!
Asked on:
December 17, 2012
Question: Does it contains diamine oxidase (DA0) or not..?
Explore More Products