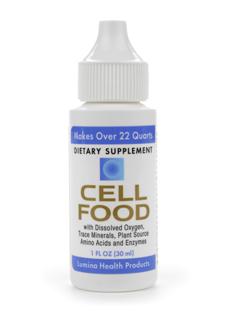 Full price 35.95
Savings 13%
Cellfood (1 oz)*
price

Price is

too low

to show. Add it to your cart

Buy 3 - Get free delivery on whole order
CellFood Liquid 1oz
CELLFOOD is a proprietary ionic formula that contains 78 ionic minerals, 34 enzymes, 17 amino acids, electrolytes and dissolved oxygen— and utilizes a unique water-splitting technology. It provides an unsurpassed oxygen and nutrient delivery system, and is absorbed quickly and efficiently by every cell in the body. Cellfood's unique structure oxygenates and feeds the cells— cleaning and tuning up the body's systems throughout the day. Cellfood is made from all-natural plant substances, and is yeast-free and gluten-free.
Who can benefit from CellFood?
Athletes
Those in good health seeking preventive health
Individuals with health challenge
Those seeking to cleanse and restore the body
Supplement Facts Serving Size: 8 drops Servings Per Container: 90
Amount Per Serving: Cellfood Proprietary Blend Deuterium Sulfate, Ionic Trace Mineral Blend, Trace Enzyme Blend, Trace Amino Acid Blend 328 mg
Suggested Use:Please read entire label carefully.
Mix 8 drops in 8 oz. of purified water or juice, taken 3 times per day — or mix 1 day's amount in bottle, drink as desired during day. Take with or without meals. If any mild detoxification symptoms result, reduce dosage temporarily.
Other Ingredients: Purified Water
The world's top-selling oxygen+nutrient formula— sold in over 70 countries and recommended by health professionals everywhere.
The only formula able to split water molecules, releasing oxygen and hydrogen throughout the body. Cellfood is therefore unique and cannot be duplicated.
The most foundational product for optimum human health. Cleans and detoxifies through its oxygen release, builds and strengthens through its hydrogen release. Nourishes the cells by providing 78 trace minerals, 34 enzymes, 17 amino acids and electrolytes.
Made from pure ocean- and plant- based sources, and is yeast-free and gluten-free.
Supplement Facts
CELLFOOD
Serving Size:8 drops
APS
%DV
Cellfood Proprietary Blend, purified water, dissolved oxygen, seawater extract, plant source amino acid blend, plant source enzyme blend
326 mg
*
Directions for use:
Adults take 8 drops in 8 oz. of purified or distilled water, or juice, 3 times per day— or during stress or physical activity. May be taken with or without meals. You may mix 1 day's amount in water bottle and sip throughout the day. Each 1-oz. bottle of Cellfood® contains 90 servings of 8 drops each, or 720 drops.
Some may experience a cleansing or detoxification response. If so, halve dosage at beginning, then gradually resume full dosage.
Caution:Keep out of reach of children. Avoid eye contact; rinse well if dropped in eyes. If pregnant, nursing or under medical care, consult your health professional.
Pour with care. Before Cellfood is mixed with water or juice, its beneficial organic enzymes can compromise countertops, clothing and other surfaces. No refrigeration is necessary.
*Not intended to diagnose or treat diseases or ailments, and is not reviewed by the FDA.
Uses & Indications.
Energy
Wellness
Longevity
Ailments & Concerns.
Disease
Poor Nutrient Absorption
Fatigue
Compare to these:
---
Questions and answers:
Asked on:
December 22, 2012
Question: ayuda a bajar de peso?
A:

Todos los precios

indicados son

en dólares estadounidenses.

Cuando usted paga

con tarjeta de

crédito, la

compañía de tarjetas de

crédito

calculará el

tipo de cambio

e incluirlo en

su declaración mensual.
Asked on:
February 5, 2013
Question: does cell food contain glutathione
A:

I don't see glutathione listed within the ingredients.
Asked on:
February 9, 2013
Question: is it made by nusience
A: This product is made by Lumina Health.
Asked on:
March 15, 2013
Question: qual a diferena entre o celfood dietary suplement e o cellfood dnarna oque um tem, que o outro nao tem???
A: In addition to the regular formula Cell food DNA RNA has

Folic acid, Methylcobalamin (B12), Pyridoxine Hydrochloride (B6), Calcium Pantothenate (B5), Niacin (B3), Thiamine Mononitrate (B1), Proprietary Blend of DNA & RNA bases, TMG, Cellfood, Glycine, ATP, L-Glutamine, L-Serine, L-Lysine, L-Proline, L-Aspartic Acid.
Asked on:
July 22, 2013
Question: Does Cellfood contain any soy?
A: Yes, all Cellfood products are soy free.
Asked on:
August 10, 2013
Question: Does it increase oxygen levels in the blood and help with clubbing?
A: Cellfood does help to increase oxygen in ones cells and your blood is made up of thousands of cells. We are not aware of and direct studies with this product for clubbing though it may be possible that it could help support that condition.
Asked on:
February 28, 2014
Question: Will it help with sinus infections?
A: Cellfood is a powerful formula composed of 17 amno acids, 34 enzymes and 78 trace minerals. This formula balances the bodys system and oxygenates the cells of the body. Cellfood increases metabolism and enhances nutrient absorption. It balances and normalizes the bodys pH level. It also detoxifies the body and improves the immune system therefore giving you more energy. It is a natural antibiotic, killing infectious bacteria,fungi,parasites and viruses. Customers using this product report recovering from conditions such as upper respiratory,asthma,and sinus infections.
Asked on:
October 28, 2015
Question: does Cellfood contain any heavy metals ?
A: Cellfood is made from all-natural plant substances, and is yeast and gluten free. Cellfood contains minerlas, enzymes and amino acids that aid in deeply detoxify the body through it's oxygen release. Cellfood is used as a natural antibiotic helping to eliminate, fungus, parasites and bacteria without harming beneficial microorganisms in the body. Cellfood was first developed in 1956 to make portable water for the military. 2 drops of cellfood to a gallon of water, let sit for 8 hours and clean, safe potable water is created. Our body needs a certain level of oxygen circulating in the blood to cells and tissues. Without adequate amounts our body organs will not function properly. According to Artour Rakhimov PHD "All chronic pain, suffering and disease are caused by a lack of oxygen at the cell level.
Asked on:
November 30, 2017
Question: does cell food good for kidney and heart transplant patients ,does it affect the immune suppression medications?UCLA transplant Date 08282008 Kidney and Heart Transplant
Explore More Products