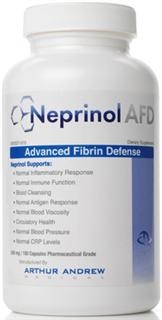 Full price 79.99
Savings 31%
Neprinol AFD (90 caps)*
price

Price is

too low

to show. Add it to your cart

Buy 3 - Get free delivery on whole order

Neprinol is radically more advanced than today's leading systemic enzyme blends. Neprinol can supplement the enzymes that Mother Nature takes away from us as we age. Neprinol contains several sources of anti-oxidants, as well as a full spectrum of proteolytic (protein digesting) enzymes. Neprinol's exclusive formulation contains several highly concentrated digestive enzymes that assist the body in its ordinary digestion of fats, proteins, sugars, and carbohydrates. These digestive enzymes also work in the blood removing waste material and converting undigested food particles into energy. All of the enzymes contained in Neprinol come from microbial, fungal, or vegetable sources, and have a much wider pH tolerance than their animal-derived counterparts. Neprinol is vegan friendly.
Inflammation and Enzymes
Our body produces certain chemicals in response to injury. Enzymes do not inhibit the production of these chemicals and thus reduce swelling and pain without interfering in the natural process of healing. Essentially, enzymes work synergistically with the natural repair mechanism of our body.
Neprinol Supports:
Normal Immune Function
Normal Blood Clotting
Blood Cleansing
Fibrinolytic Activity
Normal Blood Viscosity
Circulatory Health
Normal CrP Levels
Suggested Use: As a dietary supplement, take one or two capsules three times a day, in between meals with 8oz. of water.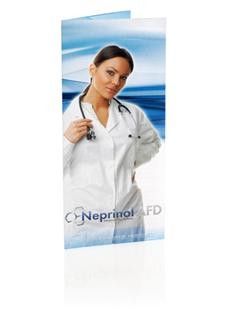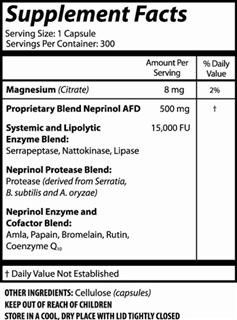 Neprinol AFD Contains:
The benefits of Ubiquinone (USP Grade Co-Q10): (Coenzyme)
Decreases the proliferation of free radicals, supporting a healthy immune system.
Stimulates the metabolism to aid your body in the conversion of food to energy.
Essential to the production of ATP, cell respiration, electron transfer and the reduction of cellular oxidation.
Helps promote maintenance of normal cardiovascular function
Coenzyme essential for enzymes to function in the body
The benefits of Serratiopeptidase (Serrapeptase): (Proteolytic Protein digesting enzyme)
Activates naturally occurring plasmin "the bodies naturally released fibrinolytic enzyme".
Thins secretions from the mucus membranes
Potent Fibrinolytic activity reduces systemic fibrin concentrations
Absorbs released amino acids
Selectively locates the desired amino acids
Promotes recovery of musculature after physical stress
Boosts energy levels
Promotes leanness in body mass
The benefits of Nattokinase (Fibrinolytic enzyme)
Helps maintain normal blood viscosity
Helps maintain normal cardiovascular health
Antioxidant effects may be beneficial to promote normal prostate health
Aids in the elimination of free radicals
Potent Fibrinolytic activity reduces systemic fibrin concentrations
The benefits of Bromelain: (Proteolytic Protein digesting enzyme) derived from pineapple
Acts with the body to promote its normal immune responses
Helps maintain healthy skin condition
Helps maintain a healthy immune system
The benefits of Papain: (Proteolytic Protein digesting enzyme) derived from papaya
Promotes normal healthy digestive processes which may reduce occasional gas/bloating, diarrhea, and cramps
Helps keep skin healthy and soft�
Promotes natural healing of bruises and other tissue injuries
The benefits of Rutin: (Non Enzyme "Flavonoid")
Promotes strong capillaries and connective tissue
Helps maintain healthy blood vessels
The benefits of Amla: (Non Enzyme) derived from Indian Gooseberry
Contains tannic acid, glucose, cellulose and calcium
Helps maintain normal acid and pH balance
Traditionally used as a nerve, brain and hair tonic
The benefits of Magnesium: (CoEnzyme)
Promotes a healthy cardiovascular system
Helps maintain healthy teeth and gums
Essential for cell repair, hormones and a regular heartbeat
Helps reduce effects of increased stress
Coenzyme essential for enzymes to function in the body
*Not intended to diagnose or treat diseases or ailments, and is not reviewed by the FDA.
Uses & Indications.
Supporting Optimal Health
Boosting Fibrinolytic Activity
Maintaining Strong Immune System
Ailments & Concerns.
Dissolves Scar Tissue
Pain And Inflammation
Fights Fibrosis
Compare to these:
---
Questions and answers:
Asked on:
March 29, 2013
Question: Hi, does this product help people with pulmonary fibrosis? Thank you
A: Please consult with your physician to find out if Neprinol AFD can help with your pulmonary fibrosis as they can provide you the most clear and accurate answer.
Asked on:
March 29, 2013
Question: Hi,this is Joe again,Im trying to get this information for my brotherwho has pulmonary fibrosis (scar tissues) for over a yr.My brother Dr.said that he can try alternatives supplements.I was trying to find out if this product does work if it does ,how soon do we know if it will work ? Thank You.. Please Reply
A: I understand your concern and I'm happy to hear that your brother's doctor will allow him try alternative medicines. Legally we are unable to say that any supplement will work for a specific person or will cure anything per FDA guidelines. That is why we always advise people to consult with their physician about the supplements they want to take for questions like that. Most supplements will state what they support or help with, but that unfortunately is usually the extent of what can be provided.
Asked on:
July 3, 2013
Question: Hola quiero saber por favor si este producto me ayuda a curar esta enfermedad del peyroni, quiero utilizar este producto y que tan confiable es. gracias
Explore More Products