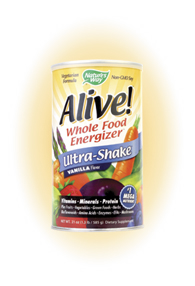 Full price 25.99
Savings 19%
Alive! Whole Food Energizer Ultra Shake Vanilla Flavor (1lb)
| | |
| --- | --- |
| | |
| | Buy 3 - Get free delivery on whole order |
Alive! Whole Food Energizer Ultra Shake Vanilla Flavor
Vitamins - Minerals - Protein
Plus Fruits - Vegetables - Green Foods - Herbs Bioflavonoids - Amino Acids - Enzymes - EFA's - Mushrooms
Feels your best with Alive All Day Long!
No time for lunch? No need to worry, Alive! Ultra-Shake is the ultimate nutritional energy source. Simple, just add water. It's also a comprehensive, whole food multivitamin with the added benefit of Solae soy protein. Each serving contains more invigorating nutrients than most balanced meals.
Alive! Provides More than most multi's

Vitamins
Minerals
Potein
Fruits
Vegetables
Green Foods
Herbs
Enzymes
Amino Acids
BioFlavonoids
EFAs
Mushrooms
Nucleic Acid
Healthy Heart. 25g of soy protien a day as part of a diet low in saturated fat and cholesterol, may reduce the risk of heart disease. A serving of Alive! Ultra-Shake provides 15g of soy protein.
Directions: As a dietray supplment, add 1 heaping scoop to 8 floz of cold water, milk or juice (scoop included). Shake or stir untill smooth. Mixes instantyl, no blender required.
Net WT. 21oz (1.3lb/585 g) Dietary Supplement
Each serving of 1 Scoop (39 g) provides:
Ingredient

Amount

US RDA

Calories

119

***

Calories from Fat

7

***

Total Fat

<1g

1%

Total Carbohydrate

13g

4%

Dietary Fiber

3g

12%

Sugars

9g

Protien

16g

32%

Vitamin A(35% [5,000 IU] as retinol palmitate and 67% [10,000 IU] as beta carotene) providing (typical analysis): beta carotene 2,813 mcg, gamma carotene 28 mcg, trans beta carotene 28 mcg, beta zea carotene 6 mcg

15,000iu

300%

Vitamin C (as ascorbic acid)

1g

1667%

Vitamin D (as ergocalciferol)

400iu

100%

Vitamin E (as d-alpha tocopherol)

200iu

667%

Vitamin K (as phyonadione)

80mcg

100%

Thiamin (as thiamine mononitrate)

25mg

1667%

Riboflavin (Vitamin B2)

25mg

1471%

Niacin (as niacinamide)

125mg

625%

Vitamin B6 (as pyridoxine HCI/pyridoxal 5-phospahte)

50mg

2500%

Folic Acid

400mcg

100%

Vitamin B12 (as cyanocobalamin)

200mcg

3333%

Biotin (as biotin triturate)

300mcg

100%

Panthothenic Acid (as d-calcium pantothenate)

125mg

1250%

Calcium (as citrate/carbonate)

250mg

25%

Iodine (from pacific kelp powder)

150mcg

100%

Magnesium (as citrate/oxide)

125mg

31%

Zinc (as amino acid chelate)

15mg

100%

Selenium (as selenium monomethionine)

70 mcg

100%

Cooper (as amino acid chelate)

2mg

100%

Manganese (as amino acid chelate)

4mg

200%

Chromium (as polynicotinate)

120mcg

100%

Molybdenum (as molybdenum triturate)

75mcg

100%

Sodium

165mg

7%

Potassium

210mg

6%

Soy Protein (from Solae non-GMO Soy Protein Isolate with less than 2% lecithin)

15g

***

Green Food/Spirulina Blend: Spirulina (microalgae); Kelp (whole thallus); Alfalfa (leaf, stem); Barley Grass (grass); Dandelion (leaf); Wheat Grass (grass); Melissa (leaf); Lemon Grass (grass); Nettle (leaf); Blessed Thistle (stem, leaf, flower); Chlorella (broken-cell micro algae); Plantain (leaf); Blue Green Algae (microalgae); Cilantro (leaf)

1284mg

***

Amino Acids: (from Spirulina, Zinc AAC, Chlorella, Blue Green Algae, Boron AAC)(Glutamine , Asparagine, Leucine, Alanine, Arginine, Lysine, Threonine, Valine, Glycine, Isoleucine, Serine, Protein, Phenylalanine, Tyrosine, Histidine, Menthionine, Tryptophan, Cysteine)

660mg

***

Garden Veggies Blend: Parsley Juice Powder, Kale Juice Pwder, Spinach Juice Powder, Wheat Grass Juice Powder, Brussels Sprout Juice Powder, Asparagus Juice Powder, Broccoli Juice Powder, Cauliflower Juice Powder, Beet Juice Powder, Carrot Juice Powder, Cabbage Juice Powder, Garlic Juice Powder

100mg

***

Orchand Fruits Blend: Plum Juice Powder, Cranberry Juice Powder, Blueberry Juice Powder, Strawberry Juice Powder, Blackberry Juice Powder, Billberry Juice Powder, Cherry Juice Powder, Apricot Juice Powder, Papaya Juice Powder, Orange Juice Powder, Grape Juice Powder, Pineapple Juice Powder

100mg

***

Myco Defense ® Mushroom Blend: Cordyceps Mushroom; Reishi Mushroom; Shiitake Mushroom; Hiratake Mushroom; Maitake Mushroom; Yamabushitake Mushroom; Himematsutake Mushroom; Kawaratake Mushroom; Chaga Mushroom; Zhu Ling Mushroom; Agarikon Mushroom; Mesima Mushroom

100mg

***

Digestive Enzyme Blend: Concetrated Enzyme formula: (Protease I, Protease II, Peptizyme SP, Amylase, Lactase, Invertase, Lipase, Cellulase, Alpha Galactosidase); Betaine HCI, Bromelain (from pineapple); Papain (from papaya)

100mg

***

Omega Fatty Acid Seed Blend: Flax Seed Powder, (dry, cold pressed); Sunflower Seed Powder, (dry, cold pressed) (providing Alpha-Linolenic Acid, Oleic Acid, Linoleic Acid, Palmitc Acid, Stearic Acid, Behenic Acid, Gadoleic Acid, Palmitoleic Acid, Eicosanoic Acid, Lignoceric Acid)

100mg

***

Citrus Bioflavonoid Complex (from lemon, sweet orange, bitter orange, grapefruit)

200mg

***

Siberian Eleuthero (root)

50mg

***

Inositol

50mg

***

Choline (as choline bitartrate)

30mg

***

PABA (para aminobenzoic acid)

25mg

***

Rutin

25mg

***

RNA (from spirulina, chlorella)

29mg

***

DNA (from spirulina, chlorella)

8mg

***

Chlorophyll (from spirulina)

8mg

***

Hesperidin (from citrus bioflavonoid complex)

26mg

***

Boron (as amino acid chelate)

1mg

***

Lutein (from marigold)

200mcg

***

Other ingredients: 100% pure crystalline fructose, Natural flavors, Chicory root extract, Maltodextrin fiber, Xanthan gum, Guar gum

*Daily value not established.

*Not intended to diagnose or treat diseases or ailments, and is not reviewed by the FDA.
Uses & Indications.
Promoting Longevity
Promoting Well Being
Increasing Energy
Enhancing Immune System
Ailments & Concerns.
Anemia
Fatigue
Aging
Vitamin Deficiency
Eating Disorders
Compare to these:
---
Questions and answers:
Asked on:
December 20, 2012
Question: Potassium how many
Explore More Products