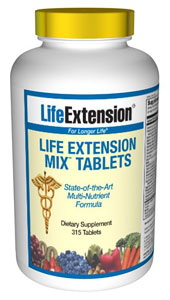 Full price 98.00
Savings 25%
Life Extension Mix Tablets (315 tablets)*
price

Price is

too low

to show. Add it to your cart

Buy 3 - Get free delivery on whole order
LifeExtension- Nutritional Supplements, Antiaging, Health and Nutrition
Life Extension Mix Tablets 315 tablets
Published scientific studies document that people who eat the most fruits and vegetables have much lower incidences of health problems. Few people, however, consistently eat enough plant foods to protect against common age-related decline, and commercial multivitamins do not provide all of the vital plant components needed to maintain good health.
Life Extension Mix has been upgraded to include pterostilbene, a compound naturally found in blueberries and grapes that has been shown to have beneficial, antiaging effects on gene expression and to promote healthy cognitive function. The new Life Extension Mix now contains double the amount of vitamin D, more of the essential trace element iodine to promote optimal thyroid function, and less preformed retinol vitamin A.
Supplement Facts
Serving Size 9 tablets (per day)

Servings Per Container 35

Amount Per Serving

Vitamin A (as 90% Betatene D. salina natural beta-carotene with mixed carotenoids and 10% acetate)

5000 IU

Vitamin C (as calcium ascorbate, ascorbic acid, ascorbyl palmitate, magnesium ascorbate, niacinamide ascorbate, and acerola extract)

2000 mg

Vitamin D3 (as cholecalciferol)

2000 IU

Vitamin E (as D-alpha tocopheryl succinate)

400 IU

Thiamine (vitamin B1) (as thiamine HCI)

125 mg

Riboflavin (vitamin B2) (with 2 mg riboflavin 5' phosphate coenzyme)

50 mg

Niacin (vitamin B3) (as 53% niacinamide, 38% niacin, 9% niacinamide ascorbate)

190 mg

Vitamin B6 (as 100 mg pyridoxal 5' phosphate coenzyme and 5 mg pyridoxine HCI)

105 mg

Folate (as folic acid)

400 mcg

Vitamin B12 (as 42% cyanocobalamin, 42% hydroxylcobalamin, 16% ion exchange resin)

600 mcg

Biotin

3000 mcg

Pantothenic acid (as D-calcium pantothenate with 5 mg pantethine)

600 mg

Calcium (as calcium ascorbate, D-calcium pantothenate, Calcium D-Glucarate2)

218 mg

Iodine (as potassium iodide)

150 mcg

Magnesium (as magnesium oxide, citrate, glycinate, taurinate, arginate, ascorbate)

400 mg

Zinc (as OptiZinc zinc DL-methionine complex, zinc succinate)

35 mg

Selenium [as 50% Se-Methyl L-Selenocysteine, 25% L-selenomethionine (yeast free) (SelenoPure and 25% sodium selenate]

200 mcg

Copper (as copper bisglycinate chelate)

1 mg

Manganese (as manganese gluconate)

1 mg

Chromium (as Chromium 454 bio-organic yeast extract matrix)

500 mcg

Molybdenum (as sodium molybdate)

125 mcg

Potassium (as potassium chloride)

37.4 mg

N-acetyl-L-cysteine (NAC)

600 mg

Taurine

200 mg

Inositol

250 mg

Phosphatidylcholine (from soy)

150 mg

Choline (as choline bitartrate)

120 mg

Boron (as boron citrate/aspartate/glycinate complex)

3 mg

Ascorbyl palmitate (fat-soluble vitamin C)

250 mg

para-aminobenzoic acid (PABA)

200 mg

Trimethylglycine (TMG) (as betaine anhydrous) (from sugar beets)

100 mg

Citrus bioflavonoid complex [standardized to 50% total flavonoids (100 mg)]

200 mg

Broccoli sprout concentrate (A proprietary blend of broccoli sprout concentrates and Calcium D-Glucarate2) (providing sulforaphane, glucosinolates, D-3T, and PEITC)

525 mg

Calcium D-Glucarate2

200 mg

Decaffeinated Green tea (Camellia sinensis) extract (leaf) [standardized to 98% polyphenols (318.5 mg) and 45% Epigallocatechin gallate (EGCG) (146.25 mg)]

325 mg

Acerola extract 4:1 (Malpighia punicifolia) (fruit)

300 mg

Ginger root extract (Zingiber officinale) (root) [standardized to 5% gingerols (10 mg)]

200 mg

HiActives 100% fruit/berry complex (A proprietary blend of concentrated blackberry, blueberry, cranberry, elderberry, persimmon, plum, and cherry powders)

200 mg

Wild Blueberry (Vaccinium angustifolium) standardized anthocyanin extract (fruit)

150 mg

Milk thistle extract (Silybum marianum) (seeds) [standardized to 85% silymarin (85 mg)]

100 mg

PomellaPomegranate (Punica granatum) extract (fruit) [std. to 30% punicalagins (25.5 mg)]

85 mg

Bilberry extract (Vaccinium myrtillus) (berry) [standardized to 25% anthocyanidins (7.5 mg)]

30 mg

Leucoselect grape seed extract (Vitis vinifera) (seeds) [std. to 95% proanthocyanidins (23.75 mg)]

25 mg

BioVin grape extract (Vitis vinifera) (whole grapes) [std. to 95% proanthocyanidins (23.75 mg)]

25 mg

Bromelain (from pineapple) (2400 gelatin digestive units per gram)

15 mg

Lutein (purified concentrate from marigold flowers) (Tagetes erecta) (providing 465 mcg zeaxanthin)

15 mg

Olive juice extract (fresh fruit) [6% hydroxytyrosol (0.75 mg), 3% oleuropein (0.38 mg), 1% tyrosol (0.12 mg)]

12.5 mg

Sesame (Sesamum indicum) lignan extract

10 mg

Luteolin (high purity luteolin, as Pureoli

8 mg

Lycopene (from Lyc-O-Matonatural tomato extract)

3 mg

Cyanidin-3-glucoside (3CG)
1.25 mg

trans-Pterostilbene (from pure Pterospa pterostilbene)

0.5 mg

Other ingredients: microcrystalline cellulose, dicalcium phosphate, stearic acid, maltodextrin, vegetable stearate, croscarmellose sodium, silica, pharmaceutical glaze.

Contains soybeans. Contains corn and sesame.


This product contains NO milk, egg, peanuts, crustacean shellfish (lobster, crab, shrimp), wheat, gluten, or rice. Contains NO artificial sweeteners, flavors, or colors.
Dosage and Use
Take nine tablets per day in divided doses with meals, or as recommended by a healthcare practitioner.
Caution
Temporary flushing, itching, rash, or gastric disturbances may occur. Liver function testing is recommended when niacin is taken in excess of 500 mg daily. Those with gout or liver diseases should avoid taking high doses of niacin. Consult with your doctor before using this product if you are taking anticoagulant medications. Individuals consuming more than 2,000 IU/day of vitamin D (from diet and supplements) should obtain a serum 25-hydroxy vitamin D measurement. Vitamin D supplementation is not recommended for individuals with hypercalcemia (high blood calcium levels). Individuals with in-born errors of copper metabolism (e.g. Wilson
Compare to these:
Explore More Products
1. Statements and claims on Seacoast.com have not been evaluated by the FDA and are not intended to treat or diagnose any ailment or disease.