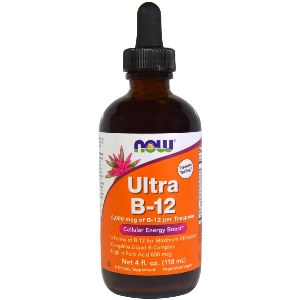 Full price 15.99
Savings 31%
Ultra B-12 - 4 oz. (non-animal derived) Vegetarian and Vegan friendly
Ultra B-12 is a water-soluble vitamin necessary for the metabolic utilization of fats and proteins. It supports a healthy nervous system and is essential for the synthesis of DNA during cell division. Day to day worries about money, job, family, illness etc. can take a toll on our health and effect our mood. Sufficient amounts of Vitamin B can help by working with brain chemistry and nuerotransmitters to achieve balance and reduce stress.
What do B vitamins do for the body?
Cellular Energy Boost
Protects Nerves And Brain Cells From Free Radical Damage
Improves Mood
Vitamin B Complex converts essential nutrients in the food we eat into fuel to energize the body
Essential nutrients for optimal health and well-being
Suggested Usage: Shake well before use. As a dietary supplement, in the morning, take 1 teaspoon, hold in mouth for 30 seconds, then swallow. 1 teaspoon (5 mL) is equivalent to about 5 half dropperfuls. Refrigerate after opening to maximize freshness.