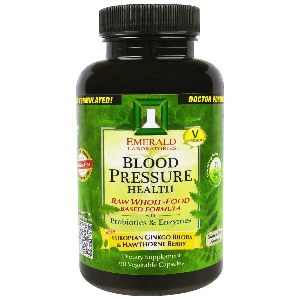 Full price 29.95
Savings 12%
Blood Pressure Health (90 caps)*
price

Price is

too low

to show. Add it to your cart

Buy 3 - Get free delivery on whole order
Ultra Laboratories & Emerald Laboratories present a comprehensive group of Gluten-Free, Condition-Specific, Raw Whole Food-Based Nutritional Supplements. Completely Free of Additives, Fillers, Magnesium Stearate. All natural, High quality and 100% pure for your health.
Blood Pressure Health - 90 capsules
Therapeutic dosages of well known minerals and herbs that have been shown to help maintain proper Blood Pressure and Improve Circulation.
Suggested Use: Take three capsules divided throughout the day with or without food.
Benefits:
Albion® magnesium and potassium - The Gold Standard in Mineral Chelates.
Highest quality European Extracted Ginkgo Biloba Extract
Casien Hydrolosate - shown to effectively relax blood vessels
Hawthorn Berry Extract which has been shown to have blood pressure lowering effects
Supplement Facts
Serving Size: 3 Capsules
Servings Per Container: 30
Amount Per Serving
%Daily Value
Magnesium (TRAACS Glycinate Chelate Buffered)
100 mg
25%
Potassium (TRAACS Amino Acid Complex)
99 mg
3%
Casein Hydrolysate
100 mg
†
Hawthorne Berry Extract (1.8% Vitexin)
500 mg
†
European Ginkgo Biloba Extract (24:6)
(Naturally occurring Flavone Ratios)
60 mg
†
Dandelion Leaf Powder
250 mg
†

Raw Whole-Food Proprietary Blend
Tocotrienol Complex, Organic Raw Whole Food Sprout Powder (Organic Quinoa, Organic Mung Bean, Organic Millet), Raw Probiotic Blend (400 million CFU's Acidophilus/B.Bifidum), Raw Plant Enzyme Blend (Lipase, Lactase, Invertase, Protease, Hemicellulase, Cellulase, Alpha-Galactosidase, Amylase, Bromelain, Papain, Acid-Stable Protease, Maltase), Fructo-Oligosaccharides, Organic Whole Food Chlorella Powder (Cell-Wall Broken), Whole Food Spirulina Powder, Whole Food Pomegranate Juice Powder, Raw Whole Food Freeze-Dried Acai Powder, Whole Food Mangosteen Hull Powder, Whole Food Noni Fruit Powder.

250 mg
†
Percentage Daily Value based on a 2000 Calorie diet.
† Percentage Daily Value not established
* Percent Daily Value based on a 2000 Calorie diet.
Percentage Daily Value not established
Other Ingredients: Vegetable capsule, Tocotriene Complex.
Gluten-Free, Condition-Specific, Raw Whole Food-Based Nutritional Supplements
Emerald Laboratories products are formulated by Dr. Mark Stengler - Author of "Prescription for Natural Cures" and "Prescription for Drug Alternatives".
"Therapeutic doses with clinical results" - Dr. Mark Stengler
Why is our mission of being Additive-Free so important?
Additives have little or no nutritive value. The point of taking a dietary supplement is for the herbs or nutrients to fully be utilized by our bodies. Additives do not facilitate this process; they are not in the products for your benefit. The best supplements promote the quick and effective uptake of nutrients by your body.
Top 7 Reasons Why Emerald Laboratories is Superior
1. Raw Whole-Food Based Formulas for Enhanced Absorption & Bioavailability 2. Formulated by Dr. Mark Stengler
3. Therapeutic Doses with Clinical Results
4. 100% Additive-Free - No Magnesium Stearate
5. Gluten-Free Formulas
6. Purity Tested - cGMP Certified Facility
7. Every Product in Vegetable Capsules
*Not intended to diagnose or treat diseases or ailments, and is not reviewed by the FDA.
Uses & Indications.
Gluten Free Formula
100% Additive Free
Helping To Maintain Proper Blood Pressure
Improving Circulation
Ailments & Concerns.
Heart Disease
Arteriosclerosis
Hypertension
Compare to these:
---
Questions and answers:
Asked on:
November 26, 2012
Question: can extreme brain fog be a prlebom caused be this, i was drinking eating a lot of sugar and hammmering my body with physical activity and noticed this symptom got worse and worse, ive been cutting out carbs and sugars and eating a lot of greens. Ive noticed it has gotten a lot worse because of the? die off, its like im drunk all day, so it has to be candida, I just wanted your opinion and any other suggestions u might have. i also tried apple cider vinegar but that didnt work
Explore More Products