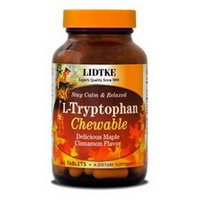 L-Tryptophan (90 Maple cinnamon flavored chewable tablets)*
price

Price is

too low

to show. Add it to your cart

Buy 3 - Get free delivery on whole order
L-Tryptophan 100 mg (90 Tablets) Lidtke Technologies
What doctors say about L-Tryptophan
L-Tryptophan is an essential amino acid that your body must have to sustain life. L-Tryptophan is found in many proteins, enzymes and neurotransmitters throughout your body, including serotonin and melatonin. That's right, it is from L-Tryptophan alone that your body naturally makes serotonin and melatonin. For this reason, no other amino acid, vitamin, mineral, herb or drug can take the place of L-Tryptophan.
The fact that this amino acid is absolutely critical to your health is confirmed by the fact that L-Tryptophan is routinely added to baby formulas, where it is essential for growth, and to hospital intravenous solutions, where it is essential to life. Furthermore, plasma amino-acid analysis of hundreds of patients demonstrates that L-Tryptophan is the amino acid most deficient in our diet. As demonstrated by Dr. Charles Jarowski, former head of Research and Development at Pfizer, Inc., when an essential amino acid such as L-Tryptophan is in short supply, a host of health conditions begin to surface, often emotional ones, first.
Clinical research proves benefits of L-Tryptophan
Because L-Tryptophan is the amino acid most lacking in our diet, it should be no surprise that L-Tryptophan supplements have been widely used to correct deficiencies for more than thirty years by doctors in the United States and Europe. Psychiatrists, medical doctors, and nutritionists, alike, have long recognized the value of pure L-Tryptophan for maintaining good health, promoting a cheerful mood, relieving irritability, reducing the craving for sweets and carbohydrates, and encouraging normal, healthy sleep.
L-Tryptophan and weight loss
During dieting, L-Tryptophan levels and serotonin levels drop dramatically. These low serotonin levels in overweight and obese patients are known to cause carbohydrate cravings and the resultant binge eating. Because brain and blood levels of serotonin, rise and fall depending on the amount of L-Tryptophan you consume, many health practitioners use L-Tryptophan to stop the cravings and help diets succeed.
Numerous clinical trials on overweight patients have demonstrated food cravings decrease, and food intake decreases when serotonin levels are high.
As medical awareness of the impact of L-Tryptophan on health continues to grow, it should be remembered that essential nutrients are not drugs, and it takes time to replenish your body's supply, but it is well worth it! Some symptoms of an L-Tryptophan deficiency may disappear within days, but because essential amino acids are involved in nearly every bodily function, we always advise allowing 60 days for full benefit. Remember, there is no substitute for what your body really needs.
Ultra-Premium quality
Independently tested for purity
Certified free of EBT
Hypoallergenic, gluten free
Promotes relaxation
Improves mood
Promotes satifying sleep
Reduces cravings for carbohydrates
Tested for heavy metals, solvents, and micro-biological contaminants
Non-GMO (no genetically modified ingredients)
Exceeds pharmaceutical standards
Supplement Facts
Serving Size: 3 tablets
Servings Per Container: 30

Amount Per Serving
%DV
L-Tryptophan, USP
300 mg
**
Other ingredients: sucanat (organic cane juice), carob natural maple, natural french vanilla, stearic acid (from palm oil), natural cinnamon, lecithin.
Compare to these:
Explore More Products