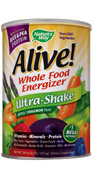 Full price 40.99
Savings 17%
Alive! Rice Pea Shake App-Cinn ( 2.2 lbs )
Alive! Ultra-Shake is the ultimate nutritional energy source. Its also a comprehensive, whole food multi-vitamin with the added benefit of rice and pea protein. Each serving contains more invigorating nutrients from more natural sources than any other supplement.
Delicious powdered shake mix version of the Alive! mega nutrient formula found in tablets and capsules provide benefits of:
Complete protein with 18 amino acids
Vegetarian, non-dairy alternative to whey and soy protein
Better digested with less allergen potential than whey or soy protein
Naturally filling to lessen appetite
More fiber and less carbs than other whole food energy shakes
Easy to mix, no blender required; Just add water, juice or milk
Quickly absorbed
Once daily potency
Alive!® supplements are the ultimate Whole Food Energizers™-- with more invigorating nutrients from more natural sources than any other product.
29 Vitamins & Minerals
24 Fruits & Veggies
14 Green Foods
18 Amino Acids
12 Digestive Enzymes
10 Essential Fatty Acids
12 Organic Mushrooms
#1 Mega Nutrient. Alive! represents the new thinking in supplements for daily health and energy, with a greater diversity of specially balanced nutrients from three important areas:
daily essentials
botanical energizers
system defenders including antioxidants
Quickly Absorbed. Alive! products are specially formulated for easy digestion and absorption into the bloodstream. Even the tablets break up quickly in the digestive tract. In comparison tests with other whole food brands, Alive! tablets were the only ones to completely disintegrate in 20 minutes or less (the proper time to ensure uptake into the body). Other brands took up to 5 times longer.

Compare to these:
Explore More Products