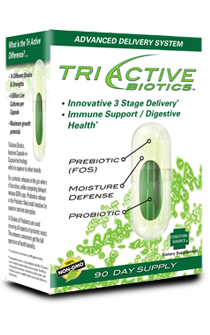 Full price 89.95
Savings 28%
TriActive Biotics (90 capsules)
| | |
| --- | --- |
| | |
| | Buy 3 - Get free delivery on whole order |
TriActive Biotics (90 capsules)
Exciting News! Tri Active is the newest prebiotic and probiotic delivery system to target the immune system and ensure optimal gut health on the market today. Tri Active unlike any other probiotic releases a liquid into the stomach to balance the growth of unfriendly bacteria. The inner capsule travels past the stomach and is protected from deterioration and released into the intestines. This is essential to providing the maximum rate of bacteria multiplication providing long lasting benefits. Tri Active provides 14 different strains and strengths of probiotics totaling 6 billion live cultures per capsule.
Tri Active promotes the ability to survive the stomach acid and bile, allowing the 14 different strains to reach the intestines alive and in adequate numbers with it's 3 step delivery system. The key to a good probiotic is for the capsule to make it's way through the stomach to receive the ultimate benefit.
Frequently asked question. Why should I take a probiotic and why is it so important for my health? Probiotics are not just important for those using a prescribed antibiotic. Research indicates that supplementing with probiotics is probably more important than taking a multi-vitamin and is likely right up their with taking vitamin D. Diets high in sugar, chlorinated and fluorinated water, processed food, antibiotics, pollution, chemicals and refined grains are all factors that throw your gut flora out of balance. Sometimes we are not even aware our gut flora is off balance until our immune system is compromised and symptoms occur.
Did you know that 80% of your immune system is located in the digestive system? Over the past decade, sciencetist have a better understanding of bacteria and how this effects our immune system. We've all heard it's good to eat yogurt and other fermented foods like sauerkraut to gain that good flora back into the gut. Although these may be good foods to eat they are often processed and high in sugar.
Other Benefits: • Vegetarian • Gluten Free • Shelf Stable • Non-GMO
Suggested Use: Take one capsule daily on an empty stomach
Store in a cool dry place.
*Not intended to diagnose or treat diseases or ailments, and is not reviewed by the FDA.
Uses & Indications.
Reduce Gas And Bloating
Supporting Healthy Cholesterol Levels
Immune Support
Controlling Diarreah
Ailments & Concerns.
Gas
Weakend Immune System
Irritable Bowel Syndrome
Indigestion
High Cholesterol
Bloating
Compare to these:
Explore More Products