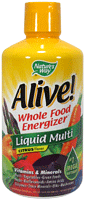 Full price 34.99
Savings 17%
Alive! Whole Food Energizer Liquid Multi(30oz)
| | |
| --- | --- |
| | |
| | Buy 3 - Get free delivery on whole order |
30 fl. oz
Modern-day culture has made it difficult for the average person to obtain proper nutrition through food. We are bombarded by endless sales of processed, over processed, and re-processed foods; foods which have been stricken of their natural value, leaving us with nutrition-less, sodium infused, high calorie glop. Through the process of life we acclimate ourselves to "1 Tbsp. margarine (optional); 1 3/4 Cup milk; bring to boil..." Theses days humans are scientists standing over their stove tops mixing water with an unknown powdery substance... then BAM! You've got mashed potatoes.
Nature's Way understands that we may not be able to make that fresh salad with fruits, dark leafy greens, and mushrooms everyday. To help, they have created Alive! Liquid Multi, a scrumptious blend of vegetables, fruits, green foods, herbs, and mushrooms containing amino acids, bioflavonoids, enzymes, essential fatty acids, and trace minerals. Alive! Liquid Multi nourishes the body with twenty-five vital vitamins and minerals, twenty-four fruits and vegetables, eighteen amino acids, twelve organic mushrooms, and twelve digestive enzymes for optimal absorption. Feel the energizing force of all natural nutrients, try Alive! Whole Food Energizer.
Benefits:
Whole food energizer
Minerals
Vitamins
Amino acids
Bioflavonoids
Spirulina
Digestive enzymes
Essential fatty acids
Directions: Shake well. As a dietary supplement, take 2 tablespoons or 1 capful (about 30 ml or 1 ounce) daily. Best when taken with food or immediately following a meal. Can be consumed alone or mixed into beverages such as water, orange juice or smoothies.
Keep tightly closed and out of reach of children. Store in a cool place and refrigerate after opening.
Alive! Whole Food Energizer Liquid Multi
Serving Size: 1 Fluid Ounce
APS
%DV
Calories
20
Total Carbohydrate
4 g
1%
Sugars
4 g
*
Vitamin A
(50% [5,000 IU] as retinol palmitate and 50% [5,000 IU] as beta carotene)
10000 IU
200%
Vitamin C
(as ascorbic acid/calcium ascorbate)
1 g
1,667%
Vitamin D (as ergocalciferol)
400 IU
100%
Vitamin E
(as d-alpha tocopheryl acetate)
200 IU
667%
Vitamin K (as phytonadione)
80 mcg
100%
Thiamin (as thiamine mononitrate)
25 mg
1,667%
Riboflavin (Vitamin B2)
25 mg
1,471%
Niacin (as nicotinic acid/ niacinamide)
20 mg
100%
Vitamin B6 (as pyridoxine HCl)
50 mg
2,500%
Folic Acid
400 mcg
100%
Vitamin B12 (as cyanocobalamin)
200 mcg
3,333%
Biotin (as biotin triturate)
300 mcg
100%
Pantothenic Acid (as d-calcium pantothenate)
125 mg
1,250%
Calcium (as ascorbate/pantothenate)
100 mg
10%
Iodine (from pacific kelp powder)
150 mcg
100%
Magnesium (as gluconate)
40 mg
10%
Zinc (as amino acid chelate)
15 mg
100%
Selenium (as L-selenomethionine)
70 mcg
100%
Copper (from sodium copper chlorophyllin)
2 mg
100%
Manganese (as amino acid chelate)
4 mg
200%
Chromium (as polynicotinate)
120 mcg
100%
Molybdenum (as sodium molybdate triturate)
75 mcg
100%
Sodium
30 mg
1%
Potassium (as amino acid chelate)
50 mg
1%
Green Food/Spirulina Blend:
Spirulina (microalgae); Kelp (whole thallus); Alfalfa (leaf, stem); Barley Grass (grass); Dandelion (leaf); Wheat Grass (grass); Melissa (leaf); Lemon Grass (grass); Nettle (leaf); Blessed Thistle (stem leaf, flower); Chlorella (broken-cell microalgae); Plantain (leaf); Blue Green Algae (microalgae); Cilantro (leaf)
500 mg
*
Amino Acids :
(from Spirulina, Zinc AAC, Chlorella, Blue Green Algae, Boron AAC)(Glutamine, Asparagine, Leucine, Alanine, Arginine, Lysine, Threonine, Valine, Glycine, Isoleucine, Serine, Proline, Phenylalanine, Tyrosine, Histidine, Methionine, Tryptophan, Cysteine)
225 mg
*
Garden Veggies™ Juice Power Blend :
Parsley; Kale; Spinach; Wheat Grass; Brussels Sprout; Asparagus; Broccoli; Cauliflower; Beet; Carrot; Cabbage; Garlic
100 mg
*
Orchard Fruits™ Juice Power Blend :
Plum; Cranberry; Blueberry; Strawberry; Blackberry; Bilberry; Cherry; Apricot; Papaya; Orange; Grape; Pineapple
100 mg
*
MycoDefense™ Mushroom Blend:
Contains all growth phases (mycelium, primordium, sclerotium and fruit body) of: Cordyceps, Reishi, Shiitake, Hiratake, Maitake, Yamabushitake, Himematsutake, Kawaratake, Chaga, Zhu Ling, Agarikon, Mesima
100 mg
*
Digestive Enzyme Blend :
Concentrated Enzyme formula: (Protease I, Protease II, Peptizyme SP, Amylase, Lactase, Invertase, Lipase, Cellulase, Alpha Galactosidase); Betaine HCI, Bromelain (from pineapple); Papain (from papaya)
100 mg
*
Omega Fatty Acid Seed Blend:
Flax Seed Powder (dry, cold pressed); Sunflower Seed Powder (dry, cold pressed) (providing Alpha-Linolenic Acid, Oleic Acid, Linoleic Acid, Palmitic Acid, Stearic Acid, Behenic Acid, Gadoleic Acid, Palmitoleic Acid, Eicosanoic Acid, Lignoceric Acid)
100 mg
*
Citrus Bioflavonoid Complex:
(from lemon, orange, grapefruit)
60 mg
*
Siberian Eleuthero (root)
50 mg
*
Inositol
50 mg
*
Choline (as choline bitartrate)
30 mg
*
PABA (para aminobenzoic acid)
25 mg
*
Rutin
25 mg
*
RNA (from spirulina, chlorella)
14 mg
*
DNA (from spirulina, chlorella)
4 mg
*
Chlorophyll (from spirulina)
4 mg
*
Hesperedin (from citrus bioflavonoid complex)
30 mg
*
Boron (as amino acid chelate)
1 mg
*
Lutein (from marigold)
200 mcg
*
APS = Amount Per Serving
*% Daily Value (%DV) not established.
Other Ingredients: Purified Water, 100% Crystalline Fructose, Natural Flavors, Citric Acid, Xanthan Gum, Potassium Sorbate and Sodium Benzoate (to preserve freshness), Silica
Contains Soy
Warnings: Women who are pregnant or likely to become pregnant should not exceed recommended dosage. Exceeding the recommended dosage will result in ingestion of more than 10,000 IU of Vitamin A from retinol, which in high amounts is known to cause birth defects. Do not take with sulfonamide since PABA interferes with the activity of this drug.
*Not intended to diagnose or treat diseases or ailments, and is not reviewed by the FDA.
Uses & Indications.
Promoting Longevity
Enhancing Immune System
Increasing Energy
Promoting Well Being
Ailments & Concerns.
Weakness
Aging
Vitamin Deficiency
Compare to these:
Reviews
Saturday 25 July, 2009
The reaction you had is common with niacin, which is in the product. It tends to dissipate after a few uses and in my experience only lasts 5 minutes or so and goes away. I had the redness, hotness and felt itchy all over. It tastes disgusting but it works. I just take it like you would a shot, drink it down, wait the five minutes and I'm good to go. I can't take regular multi-vitamins I have to use chewable or liquid in order for it to absorb into my system and this one has them all, and then some. I also take a liquid calcium citrate and chewable iron.
Friday 26 December, 2008
I enjoyed the product for several weeks having no side effects untill one day, after drinking my smoothy I felt a diebetic type crash. Could'nt keep my eyes open. Felt like I hadnt slept in 3 days. Was taking the product, 1/2 capful a day, 5 times a week. Anyone else out there with same effects??
Friday 10 October, 2008
THE GREATEST MULTI I HAVE EVER TAKEN---I'VE TRYED THEM ALL--AND HAVE MANY HEALTH PROBLEMS--IT CAUSES ME NO BAD REACTIONS--EXTREMELY HEALTHY---THE BEST IN THE WORLD
Sunday 01 June, 2008
Unfortunately I had a severe side effect within minutes of drinking this vitamin. I have used the daily tablets for over two years and love this vitamin. But users should not mix the drink with V-8 or tomato juice. The instructions say it can be mixed with "ANY" juice so I thought this would work. The flavor is not the best alone. But about 10 minutes after drinking only half of the vitamin mixture my face and arms began to burn. Soon I was so flushed I appeared to have a severe sunburn over all my face and neck. Since I had not eaten or drank anything else in the past hour -- it had to have been the liquid Alive. Not sure why this happened. I was really looking forward to using this product. But I'll definitely be returning to the daily tablets.
---
Questions and answers:
Asked on:
November 18, 2012
Question: I found this product on a page listed as Whole30 Approved. I have my doubts about potassium sorbate, but I KNOW sodium benzoate is NOT Whole30 approved.
Asked on:
March 6, 2013
Question: What it does affect to the buddy
A: This product is a whole food liquid multi vitamin with vitamins, minerals, amino acids, digestive enzymes,and more. This supplement can provide energy and nutrients you may not be getting from the food you eat.
Explore More Products