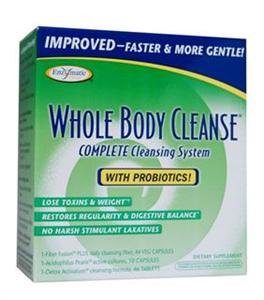 Full price 29.95
Savings 31%
Whole Body Cleanse System with Probiotics
| | |
| --- | --- |
| | |
| | Buy 3 - Get free delivery on whole order |
Whole Body Cleanse and Why It's Important:
Fiber Fusion™ Daily cleansing fiber Serving Size: 4 capsules Servings per container: 11 Amount per serving:
Detoxifies and removes built up toxins which cause disease, fatigue and discomfort
Gentle cleansing removes toxic build up naturally
Herbal laxatives replenish good flora in the gut
Cleansing helps improve the digestive tract to function properly without symptoms of gas, bloating, constipation or

diahhrea

Helps to restore regularity and assists in weight loss
Rid the tissues in the body of pollutants that build up over time
Eliminates bloating, gas, constipation or diarrhea
How often should you cleanse?: Cleansing is common at least twice per year. Listening to your body. You may start feeling run down, fatigued, bloated just to name a few of the symptoms you may experience when you body is telling you it's time to clean out to restore your body's natural flow, energy and rhythm.
Detox Activation™ cleansing formula Serving Size: 5 tablets Servings per container: 10 Amount per serving:
Proprietary Fiber Blend psyllium (husk), glucomannan (Amorphophallus konjac) root extract, oat (Avena sativa) (bran), guar gum (seed), marshmallow (Althaea officinalis) (root) extract, pectin (from citrus fruit) 2.1g
Probiotic Pearls™ acidophilus Serving Size: 1 capsule
Proprietary Probiotic Blend Lactobacillus acidophilus and Bifidobacterium longum 1 billionCFU
Soothing Herbal Blend marshmallow root extract, milk thistle seed extract, slippery elm bark, fennel seed, fenugreek seed extract, and peppermint leaf 875mg
Kickstart Blend burdock root extract, boldo leaf extract, red clover blossom extract, dandelion root extract, radish root, turmeric root and rhizome extract, ginger rhizome extract, and artichoke leaf extract
Suggested Use: Fiber Fusion™ Daily cleansing fiber: Day 2-8, take 4 capsules at night with at least 8 oz of liquid. Day 9-10, take 4 capsules in the morning and 4 capsules at night with at least 8 oz of liquid.
Probiotic Pearls™ acidophilus: Take 1 capsule daily, with water or your favorite beverage. May be taken with or without food. Do not chew or crush. If taking any medications, consult a healthcare professional before use.
Detox Activation™ cleansing formula: Day 1-8: Take 5 tablets with 8 oz liquid in the evening. Day 9-10: Take 3 tablets with 8 oz liquid in the evening. Reduce dosage if you experience abdominal discomfort or diarrhea. If discomfort persists, discontinue use.
Other Ingredients Fiber Fusion™ Daily cleansing fiber: cellulose, plant-derived capsule (hypromellose), silicon dioxide, magnesium stearate Contains wheat.
Probiotic Pearls™ acidophilus: vegetable oil (palm and coconut), fish gelatin (Tilapia), glycerin, soy lecithin, pectin Contains milk, soy, fish (Tilapia) and tree nuts (coconut).
Detox Activation™ cleansing formula: cellulose, soy lecithin, sodium croscarmellose, stearic acid, hypromellose, silicon dioxide, hydroxypropyl cellulose, magnesium stearate, glycerin, carnauba wax Contains soy.
*Not intended to diagnose or treat diseases or ailments, and is not reviewed by the FDA.
Uses & Indications.
Supporting Weight Loss
Internal Detox And Cleanse
Gentle Formula
Increasing Energy
10 Day System Includes Probiotics
Vegetarian
Ailments & Concerns.
Constipation
Low Energy Level
Overweight
Compare to these:
---
Questions and answers:
Asked on:
March 2, 2013
Question: How long after taking products will you have a bowl movement
A: This product does not state as to when to expect bowel movements but a daily bowel movement should happen on a a daily basis.

This cleanse includes ingredients to support bile flow and liver health, a laxative to promote bowel function, and fiber to scrub the intestines and carry toxins out of the body.
Asked on:
March 22, 2013
Question: How toxin came out and clean stomachWithout extra bowel movement. Regular bowel movement !!!Pls write how it's work ...This is my body ... I don't care about moneyI care about my body... I want to use right cleanser ... Pls reply
A: I understand your concern. This whole body cleanse does not contain any harsh stimulants or laxatives. If you do have excess waste, the properties in fiber (Part 2 of Cleanse) may help push that out. Please make sure to read the directions thoroughly and drink plenty of water. If you have any additional concerns, please consult with your physician as they can provide you answers specific to you and your body.
Asked on:
April 7, 2013
Question: Will it interfere with birth control?..the pill btw
A: Though there are no direct warnings against taking if you are on the pill, it is recommended consulting with a physician if you are taking any prescription medication before starting this whole body cleanse.
Asked on:
September 5, 2015
Question: Can I do this while breastfeeding my 22 month old baby?
A: It is suggested to cleanse and detox our bodies 4 times per year. Once with each new season to eliminate built up toxins. Fall is a perfect time to start a cleanse. Enzymatic Therapy has formulated a complete whole body cleanse system that includes probiotics. A fall detox cleanse will help your system ward off seasonal colds and keep your immune system healthy. Whole Body Cleanse does not contain any artificial coloring, flavoring, preservatives, sugar, wheat or yeast. Whole Body Cleanse includes a gentle cleansing fiber, cleansing formula, soothing herbal blend and probiotics to keep the good flora in your gut healthy. This cleanse is easy to take and will not effect your day to day activities like many cleanse and detox products. You may want to check with your Physician to see if Whole Body Cleanse System with Probiotics is right for you while you are breastfeeding.
Asked on:
November 1, 2015
Question: I have many autoimmune issues where my high antibody numbers constantly attack any part of my body at any time. Hashimotos encep, thyroiditis, diabetes, etc...Currently the issue is diarrhea with any intake in food or drink, lessened some by an anti-diarrhea suggested by pharmacy. This cleanse does address diarrhea also correct? and should I continue taking the anti-diarrhea? This will not be anti-productive for autoimmune issues, correct?
A: Cleansing, often called detoxing refers to, cleaning out anything in the body that our cells don't need in order to function. Therfore, periodic whole body cleansing plays an important role in boosting the immune system. Some reactions that may occur when beginning a full body cleanse, include nausea, diarrhea, weakness and feeling tired, depending on what toxins have built up in the body. The end result for most is a feeling of renewed energy, leaving the immune system to work more effectively. Whole Body Cleanse includes a detox cleasing formula including Milk Thistle to remove toxins, Fiber Fusion a combination of herbs to help bind and flush out toxins and Acidophilus probiotic to help replenish healthy digestive bacteria. Whole Body cleansing is a great way to throw away toxins and ensure over all heath.
Explore More Products