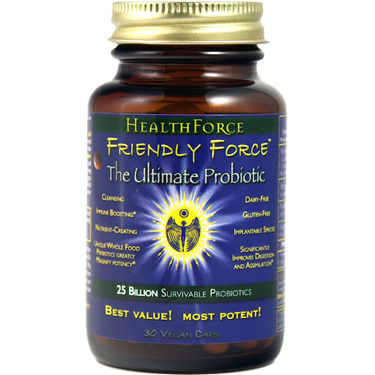 Full price 24.94
Savings 20%
Friendly Force Ultimate Probiotic (30 Vcaps)*
Healthforce Friendly Force Probiotic (30 Vcaps)
Here you'll find the Ultimate Probiotic that has more than 150 Billion Survivable Probiotics.
What are the benefits for you as a "Friendly Force Probiotic" user?
Keep reading...
It contains Unique Whole Food Prebiotics that greatly magnify potency and growth in a healthy way
It is perfect for your Cleansing Support
It significantly helps Digestion and Nutrient Assimilation
Detoxifies Toxins after feeding on them
It Effectively assists to the Elimination of unfriendly bacteria like Candida and others
It Holds barred probiotic
What is the Suggested Use of this Friendly Force Ultimate probiotic:
You can take 4 Vegan Capsules or more per day. Do not use it simultaneously with antibiotic substances. Refrigeration can extend life but is not mandatory.
Supplement Facts Friendly Force Probiotic Powder Serving Size: 2.65 g (approx. 1.5 tsp)
APS
%DV
Probiotics (150+ Billion Active Cultures) Lactobacillus plantarum, L. paracasei, L. rhamnosus, L. salivarius, Streptococcus thermophilus, L. bulgaricus
320.8 mg
*
Prebiotic Synergists Yacon Root, Burdock Root
1202.8 mg
*
Probiotic Protection Kelp, Marshmallow Root
476 mg
*
Energetics Shilajit
0.4 mg
*
Other ingredients: None.
Click on the RED button on the top of the page to buy the immune boosting and cleansing supportive Friendly Force Ultimate Probiotic (30g). It also comes in 120 Vcaps Best Value) and in 80 g Powder.
*Not intended to diagnose or treat diseases or ailments, and is not reviewed by the FDA.
Uses & Indications.
Supporting Healthy Digestion
Strengthening Immune System
Promoting Detoxification And Cleansing
Ailments & Concerns.
Bloating
Constipation
Poor Digestion
Fatigue
Weakened Immune System
Compare to these:
---
Questions and answers:
Asked on:
June 29, 2013
Question: How many V caps does one take a day and these are IC friendly?
A: One can take 4 or more vcaps daily. Though I do not see IC friendly indication on the label however "

Yacon and Burdock" provide powerful phytonutrients and inulin growth medium (not isolated FOS) that significantly magnifies potency. "Marshmallow and Kelp" provide mucilagenous probiotic acid protection. Marshmallow supports protecting and rebuilding the intestinal lining from leaky gut. Kelp provides detox, heavy metal chelation, full spectrum minerals plus mannose and fucose for immunity.

I hope this information is helpful for you.
Explore More Products