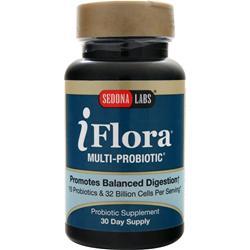 iFlora Multi-Probiotic (60 Vcaps)*
| | |
| --- | --- |
| | |
| | iFlora line of products have been discontinued and the manufacturer is no longer in business. Please see our other great probiotic lines below. |
| | Sorry! This item has been discontinued. See below. |
Balancing good and bad bacteria by using probiotics can not only improve your digestion it can also improve your immunne system, improve metabolism and lead to healthy skin and hair.
The first choice in multi-probiotic formulas, iFlora Multi-Probiotic have been trusted by consumers for decades.
Featuring a healthy bounty of 16 probiotic strains and 16 billion active probiotic cells per capsule plus non-gas forming FOS prebiotic fiber for optimum synbiotic support.
Including the clinically researched probiotic strain, B. lactis HN019, to support optimal large intestine health and promote a healthy immune system.
Why Probiotics?
Your digestive system contains a delicate balance of beneficial bacteria, or probiotics, and other microflora that help keep you healthy.
Probiotics help keep your digestive system running smoothly.*
Because 70% of immune cells are found in your digestive system, probiotics also support a healthy immune system.
BUT, stress, certain medications, a poor diet, and chlorinated water can all reduce beneficial bacteria numbers and upset this delicate probiotic balance in the intestines, causing digestive distress.* i Flora Probiotics can help put the balance back in healthy digestion
Benefits:
Proper colon function
Healthy bladder
Digestive support
16 potent strains of friendly bacteria
iFlora® Multi-Probiotic® Capsules – 16 probiotics that survive stomach acid and 32 billion active cells per serving,* now with B. lactis HN019, a clinically researched probiotic strain that supports optimal digestive health†:
• Alleviate occasional diarrhea, constipation, gas and bloating†
• Promote healthy bowels and balanced digestion†
Supplement Facts
Serving Size: 2 Capsules
Servings Per Container: 30
Amount Per Serving:
DV%

Proprietary Synbiotic Blend 243mg *
Short Chain Fructooligosaccharide
(NutraFlora scFOS), Bifodobacterium
bifidum, Bifidobacterium breve,
Bifidobacterium lactis (infantis),
Bifidobacterium lactin HN019,
Bifidobacterium longum, Lactobacillus
acidophilus, Lactobacillus brevis,
Lactobacillus bulgaricus, Lactobacillus
casei, Lactobacillus gasseri,
Lactobacillus paracasei, Lactobacillus
plantarum, Lactobacillus rhamnosus,
Lactobacillus salivarius, Lactococcus
lactis, Streptococcus thermophilus
scFOS (Nutra Flora)
Calcium silicate
Colloidal silicon dioxide
Pregelatinized starch
Microcrystalline cellulose

*Daily Value (DV) not established.
Other Ingredients: Pregelatinized starch, microcrystalline cellulose, calcium silicate, colloidal silicon dioxide, capsule (water, cellulose)
CAUTION: As with any dietary supplement, consult your healthcare
practitioner before using this product, especially if you are pregnant,
planning to get pregnant, nursing, anticipate surgery, take medication
(particularly blood thinners) on a regular basis, or are otherwise under
medical supervision. Keep out of reach of Children. Pills can be a
choking hazard. Do not take if safety seal is broken or missing.
No refrigeration needed. Store at room temperature away from heat
and moisture.
†These statements have not been evaluated by the Food and Drug
Administration. This product is not intended to diagnose, treat, cure
or prevent any disease.

*Not intended to diagnose or treat diseases or ailments, and is not reviewed by the FDA.
Uses & Indications.
Fighting Infection
Relieving Indigestion
Enhancing Immune Function
Eliminating Yeast
Regulating Bowel Movements
Ailments & Concerns.
Dermatitis
Indigestion
Parasites
Athletes Foot
Gas & Bloating
Cancers
Dyspepsia
Candidiasis
Constipation
Compare to these:
Reviews
Tuesday 14 February, 2017
I suffer with gas and bloating and occasional diarrhea and constipation and decided to try this product to support my digestive health. I have used this product now for a week and bloating has subsided. I actually feel more energetic. I like this probiotic because it does not have to be kept in the refrigerator. Nice to take on trips with you.
Thursday 14 January, 2016
This multi-probiotic has not only helped my digestion and bloating but has also given me energy. It is very true that all the sluggishness from your body not only slows your digestion but also leaves you feeling tired and fatigued. Using this product has eliminated all that. I highly recommend this product.
Saturday 10 September, 2011
Wow! This product solved my problem from day one! I have been plagued by IBS and assorted stomach/digestive disorders--triggered by foods, medications, stress, what-have-you. Plus, I consume yoghurt with active cultures daily, and have done so since childhood. This multi-probiotic clearly was the missing link. Since taking two capsules a day, my stomach has not felt better, nor recovered quicker from food or stress-induced IBS.
Monday 19 October, 2009
I have been taking iFlora caps for about a month and I feel so much better. They have helped my stomach trouble and I no longer have diarrhea.
Sunday 01 February, 2009
THis product has helpped me gratly over the past year! I recommend this to all my friends who have sinus trouble. I work in a school that gives may of us allergy trouble. This producet really works.
---
Questions and answers:
Asked on:
August 16, 2014
Question: Hello my name is Alberto and i want to know if you can send the product to Per.
Explore More Products