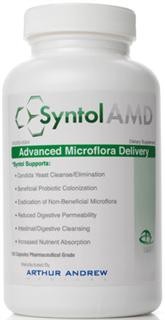 Full price 59.99
Savings 33%
Syntol AMD (90 caps)*
price

Price is

too low

to show. Add it to your cart

Buy 3 - Get free delivery on whole order

Syntol (90 caps) is a combination of probiotics and prebiotics more commonly referred to and classified as synbiotics. Prebiotics are nondigestible food ingredients that stimulate the growth and activity of probiotics. These prebiotics create the essential environments for probiotics as well as our own indigenous bacteria to flourish. Syntol uses Fructo-oligosaccharides or FOS as a prebiotic. FOS also referred to as neosugar and short-chain FOS is completely resistant to bodily digestion. These neosugars pass safely through the stomach and small intestine. They act to stimulate the growth of probiotics and bifidobacteria in the large intestine by fermenting and creating ideal conditions for microflora colonization.
Syntol AMD Benefits:
Candida yeast cleanse and prevention
Reduced intestinal irritability
Food toxins and bacteria resistance
Optimized immune function
Increased nutrient absorption
Microflora delivery and colonization
"LGS" and leaky gut conditions
Suggested Use:
Take (1) to (4) capsules with 8 oz. of water between meals or as directed by your health care physician.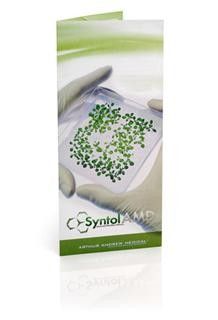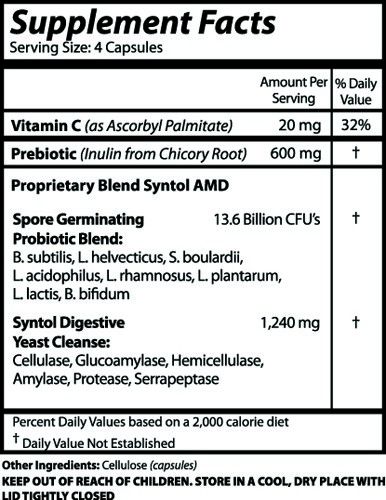 Advanced Microflora Delivery
Typical probiotic formulas contain competing strains of bacteria. These strains can be cannibalistic or fight for the same food sources. Simply including additional strains of bacteria to a formula does not necessarily make it more effective, and in some cases can actually have the adverse effect. Syntol AMD contains 100% complementary microflora in capsule form. Typical probiotic formulas are sold in tablet form, which are easier and less expensive to manufacture, but much less absorbable than powdered capsules. Syntol AMD utilizes spore germination technology, a revolutionary new process that delivers probiotic spores rather than living bacteria. Probiotic spores are dormant life forms that protect the bacteria from acidic conditions, as well as extreme heat and cold. These spores then attach themselves to the inside of the intestinal mucosa and begin to germinate forming the probiotic bacteria. Spore germination technology is an extremely dependable means of delivering probiotics in less than ideal conditions.
*Not intended to diagnose or treat diseases or ailments, and is not reviewed by the FDA.
Uses & Indications.
Boosting Healthy Immune Function
Stabilized Bowel Function
Supporting Intestinal And Digestive Cleansing
Promoting Optimal Nutrient Absorption
Ailments & Concerns.
Intestinal Distress
Leaky Gut Syndrome
Candida Yeast
Compare to these:
---
Questions and answers:
Asked on:
January 13, 2013
Question: Ok, so I'm not a mom! But I work with kids all day long, some who tantrum ALOT. I am a pdtiaeric occupational therapist. Cathy is an amazing mom, among other things, and she is an example of how to best handle this situation! Here is the advice I give parents:- As Cathy did, stay calm and don't try and reason with your child during their tantrum. If you get stressed out, the child will sense this and it will raise their level of arousalstress. And there is no reasoning with a child who is tantruming so your best option is to wait to talk to them after the tantrum when they are calm and alert- just as Cathy did.- Figure out the trigger. So Cathy realized her daughter was over tired and left the store. The best thing at the time for calming her was the car ride home, which helped her fall asleep. Here are some other general ways to help a child calm and self-soothe: deep pressure (a big hug, back rub, gentle massage) having a special quiet place in the house that you can redirect them to go to (set up a tent, or make a cosy corner with pillows, soft blankets and stuffed animals and call this their special place) play slow rhythmical music or a sound machine shut off articifical lights to dim rooms for calming, teach your children how to take deep breaths for young children use bubbles, kazoos and taking a drink of water threw a straw or sippy cup to help slow down respiratory rate.Ok, I could go on an on with this, but I won't. If your child is often in a state of high arousal their are many tools for helping them learn how to cope. Email me and I can offer tons of suggestions and resources:
Asked on:
March 5, 2013
Question: Hi, do you ship this Synto AMD product to Australia for online purchases? As well as your other products?Thanks for your time,Rob
A: We ship all our products internationally including to Australia.
Asked on:
June 26, 2013
Question: This is for a 4 yr old and a 2yr old. One tablet each?
Asked on:
July 11, 2013
Question: Is this product suitable for children ?
Explore More Products