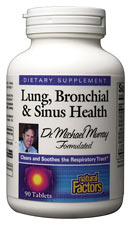 Full price 26.95
Savings 30%
Lung Bronchial and Sinus Health (90 tabs)*
price

Price is

too low

to show. Add it to your cart

Buy 3 - Get free delivery on whole order
Dr. Michael Murray Formulated
Supports Respiratory Health
The ability to breathe clearly is often taken for granted. However, many people suffer regularly from bronchitis, asthma, sinusitis, and other diseases of the respiratory system. Take a breath of fresh air with the help of Natural Factors Lung, Bronchial, and Sinus Health.
When too thick and viscous, respiratory tract secretions can promote blocked airways and difficulty breathing. This natural product helps to increase the elasticity and fluidity of respiratory tract secretions to aid in easy breathing.
Promotes a healthy respiratory system
Reduces symptoms of respiratory diseases
Safe
Effective
Natural
Suggested Use: Adults and children over 12 years of age: 1 tablet, 3-4 times per day. Children 6-12 years of age: 1 tablet 3 times per day or as directed by a health professional. Keep out of reach of children.
| | | |
| --- | --- | --- |
| Supplement Facts: | | |
| Serving Size: 1 Tablet | | |
| Servings Per Container: 90 | | |
N-Acetyl-L-Cysteine

200 mg

*

Bromelain (1500 MCU)

100 mg

*

Marshmallow (Althaea officinalis), powdered extract 4:1 (root)

100 mg

*

Mullein (Verbascum thapsus), powdered extract 4:1 (leaf)

100 mg

*

Wild Cherry (Prunus serotina), powdered extract 4:1 (bark)

100 mg

*

Horehound (Marrubium vulgare), powdered extract 4:1 (aerial part)

50 mg

*

Ivy (Hedera helix L.), powdered extract (aerial part)

50 mg

*

Other Ingredients:

Cellulose, croscarmellose sodium, coating, magnesium stearate (vegetable grade).
APS = Amount Per Serving
*% Daily Value (%DV) not established.
*Not intended to diagnose or treat diseases or ailments, and is not reviewed by the FDA.
Uses & Indications.
Relieving Sinus Pain
Relieving Itchy Eyes
Relieving Sore Throat
Relieving Sneezing
Enhancing Immune Function
Ailments & Concerns.
Sinusitis
Bronchitis
Asthma
Allergies
Cold & Flu
Hay Fever
Compare to these:
Reviews
Thursday 21 January, 2010
I have had sinus infections for 17 years and have been taking antibiotics for 17 years and the last four years taking antibiotics when I get sinus infections for a month at a time and since I have been taking Lung, Bronchial & sinus health I have not had a sinus infection and that has been almost a year now. I do take more then what the sinus Dr. Murray said to use but that is how this formulated works for me.
Thursday 07 May, 2009
Didn't fully understand the product until first dose and then reading about it on the internet. Think Mucinex. It seems to be a natural expectorant and is releasing unwanted, built up mucos, etc thoughout sinus, bronchials and lungs. Best to supplement this with herbal tea VAPORS such as Breathe Easy by Traditional Medicinals, Bronchaid Tea, Ginger or Peppermint type. Am a firm believer in body cleansing and then allowing the body to heal itself with nutrition, rest and environment. Add some fresh garlic or fresh ginger root (natural antibiotics) into diet and will be on your way to health. This product alone will not suppress a cough, but will cause cough to be more productive. Sometimes I have to feel alittle worse, while cleansing different areas of the body, to feel alot better. imho.
Tuesday 23 December, 2008
It is simply wonderful and I can breathe freely as i had all the time thick mucous stuck in my airways. The mucous comes out easily and the generation of mucous is also gradually decreasing
---
Questions and answers:
Asked on:
November 27, 2012
Question: The following works for sinus, cold, ruinnng nose, sore throat and strep throat, when the throat is hurting and lot of other conditions.The most visible thing about sinus is swelling. In case of cold, sore throat, strep throat also swelling is there but to some less extent then it is visible in sinus.Sinus, cold and sore throat usually happen in the following situations -- Change of season, drinking lot of water after exercises, when u get up in the morning, after swimming, after having first sex, kissing, first time smoking etc.The reason The body has limited capacity to store water in places other hen cells and in blood systems. When we suddenly drink lot of water, that must be stored in the cells within a short period. If that does not happen the body tries to lose water through frequent urination, ruinnng nose, cough etc. This excess water is stored in layers of skin or muscles. This stored water outside cells reduces the cell metabolism drastically. That also causes the immune system to be done causing the bacteria growth. That does not need antibiotics. All it needs is reabsorption of that water in cells or blood system. That is possible only by reducing the water intake temporarily.During winters the cells of our body stores less water. This is evident from frequent loss of water from body throuhurination. Normally.Another thing that needs explanation is why does sore throat happens in the morning often. The cellular metabolism is at 5 to 10 during sleep. So the excess water stored between layers of skin and muscles causes the metabolism to fall below the minimum threshold limit. That reduces the immune capacity of the body drastically.The same thing happens after swimming the body is heated up and cooled at the same time. It a person allows sweating after a swimming session and does not drink water or does not take a shower in cold water sore throat may not happen.After having first sex, kissing, first time smoking people tend to either overeat, drink lot of water and sleep immediately so sinus or sore throat happens.The easier way out is to allow body to sweat for 1 or 2 hour by increasing the body temperature but not drinking water or other fluids for may be 1 hour after that. But since cell metabolism is low during this period of cold and sinus, a person will seem to be excessively thirsty even after a short session of small exercise. Thru cell metabolism the water is transferred to blood system. If that happens at a rate slower then required rate the cells may overheat causing excessive thirst.The other easy way to control swelling is to give up water and all other liquids for 24 hours. In 24 hours there will be no significant dehydration to cause organ failure. But to be double sure one can stay indoors for 24 hours. This helps in lot of other ailments. One can do it when one is indoors. It improves the immune system. It ensures that body's control systems work properly.In 24 hours the reduction in the fluids will be about 3 litres or about 5 of the total body weight of a normal adult.Never the swelling due to sinus or cold and cough is more than 5 of the body volume.During this period of 24 hours the lose of water from the body does not reduce even by 1 to offset reduced water intake.The reduction in loss of body water thru urine or sweating starts after 48 hours in most of people. But to be on safe side giving up water and liquids for 24 hours will do the trick.The reduced swelling will give immediate relief from pain. It will make is much more easier to eliminate the cough thru nose without any pain.That will also improve the blood acid levels by about 10. This makes changes at the cell level as well. Blood acid levels are the first line of defense against the infections. So swelling gone, pain gone, cough moving out, infections taken care of. Now what remains in the body for the next change of season time. Obviously nothing.So it has already given u long term relief from sinus. But in some cases one may get sinus during next change of season and may have to do this again. The benefits of drinking lot of water is over hyped. So when winter starts to set in, people still force drink more water. Same thing happens when summer is setting in. As soon as summer comfort is there on increases the water intake drastically. But the cells of the body still does not need that excess supply of water.
Asked on:
July 31, 2015
Question: Would this product help my asthma symptoms?
A: Lung Bronchial and Sinus Health is an all-natural formula designed by Dr Micheal T Murray ND, to nourish the entire respiratory system. This formula includes NAC (N-Aceytl-L-Cysteine) used commonly for reducing symptoms associated with asthma, emphysema, COPD, bronchitis and sinusitis. Many have found relief from the nagging cough and shortness of breath often associated with bronchial and sinus symptoms. Marshmallow root helps reduce the nagging cough by inhibiting the cough reflex and modulating the airways. Mullein helps reduce the inflammation of the upper respiratory tract and helps dissolve phlegm. Lung Bronchial and Sinus Health herbal formula, unlike many other decongestants.
Explore More Products