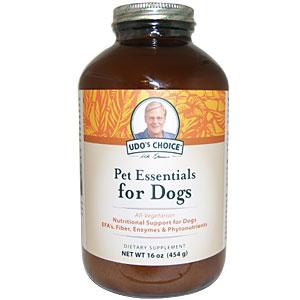 Full price 20.99
Savings 7%
Pet Essentials for Dogs (16 oz)
| | |
| --- | --- |
| | Buy 3 - Get free delivery on whole order |
Flora Health - Udo's Choice
Pet Essentials for Dogs
Udos Choice Pet Essentials for Dogs is rich in certified organic seeds, whole foods, herbs, greens, trace minerals, and phytonutrients in their unaltered, natural state to give your pet optimum nutrition for maintaining an active, energetic lifestyle. Fiber and enzymes help maintain regularity and support the digestive system. Organic flax seeds support the cardiovascular system, help maintain good muscle tone, and promote a healthy skin and glossy coat. Greens are rich in chlorophyll, minerals, and trace elements. Pet Essentials contains no fillers, binders, or other non-nutrient ingredients. It has no preservatives or additives and is nitrogen-packed to ensure freshness. Refrigerate after opening.
Serving Suggestions:Add the following amount of Pet Essentials each day to your pet's regular food. Give animal free access to water.
Weight of Animal / Daily Amount
Up to 15 lbs.= 1 teaspoon
15-35 lbs.= 2 teaspoons
35-70 lbs.= 3 teaspoons
over 70 lbs.= 4 teaspoons
Supplement Facts
Each 16 oz. (454 g) contains a proprietary blend of: Udo's Seed Cake (flax seed*, defatted flax seed*, sunflower seed*, defatted sunflower seed*, sesame seed*, defatted sesame seed*, rice germ, rice bran, oat germ, oat bran), rice bran, carrot, whole golden flaxseed* , tomato, ginger, sprouted soybean, barley grass*, beet, chrysanthemum, Digestive Enzyme Blend (protease, lipase, amylase, cellulase, maltase, glucoamylase, invertase, pectinase, phytase, lactase), lemon grass, parsley, alfalfa*, artichoke, broccoli, burdock, hawthorn berry, kale, kelp*, milk thistle, red clover, yucca schidigera extract, dandelion root, dandelion leaf, oat grass, rosemary, sage, thyme, rye grass*, bee pollen, chlorella, dulse*.
* Certified Organic.
For Optimum Results: Double daily amount for 60 days and add 1/2 teaspoon of Udo's Choice Oil Blend. Refrigerate after opening and use within 90 days.
Compare to these:
Explore More Products