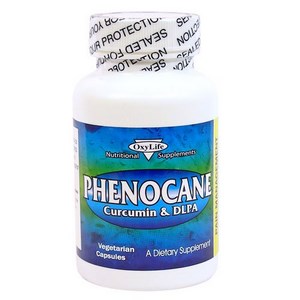 Full price 53.99
Savings 21%
Phenocane Curcumin (120 capsules)
| | |
| --- | --- |
| | |
| | Buy 3 - Get free delivery on whole order |
Are you looking for a safe and natural alternative to over the counter pain relief? Oxylife Phenocane contains safe and effective herbal ingredients that reduce inflammation and stop pain of all kinds: Curcumin (extract of turmeric), curcuminoids, dl phenylalanine, nattokinase and boswellia serrata combined safely and effectively reduce pain and inflammation, throughout the body.
Phenocane is an all natural pain reliever that will not affect your liver, kidneys or the lining of your stomach. It is not addictive and can greatly reduce inflammation and pain from sciatica, arthritis and old sports injuries. If you have struggled with intermittent results from conventional pain meds and discomfort caused by continued use then Phenocane may be the solution for you.Phenocane provides effective pain relief and decreased inflammation by inhibiting COX2 without the major, negative side effects of a COX1 inhibitor. COX2 inhibitors such as Vioxx, Bextra, and Celebrex became popular for reducing inflammation and doctors were hopeful that these types of medications would provide great pain relief without the damaging side effects. Unfortunately, studies showed that these COX2 inhibitors were causing strokes and heart attacks by inducing blood clots and were removed from the market by the FDA.
Phenocane Curcumin Plus effectively reduces inflammation and relieves pain and has not been found to promote any negative or dangerous side effects, thus making it safe for long-term and continual use.
Suggested Use
Adults: 1 morning and evening or as directed by your health professional.
Supplement Facts


Phenocane

Curcumin

plus

DLPA


Serving Size: 1 capsule

APS

%DV

Curcumin

250 mg
*
dl

Phenylalanine

75 mg
*

Boswellia

175 mg
*

Nattokinase

2.5 mg
*
Other ingredients: Magnesium Stearate, Vegetable Capsules.
*Not intended to diagnose or treat diseases or ailments, and is not reviewed by the FDA.
Uses & Indications.
Reducing Inflammation
Relieving Back Pain
Soothing Sore Muscles
Relieving Pain
Ailments & Concerns.
Inflamed Joints
Muscle Aches And Soreness
Compare to these:
Reviews
Thursday 09 February, 2017
I work at a desk all today and I end up with pain in my neck often. I called Seacoast Vitamins and a customer service rep recommended this product to me. I have used this now for 3 weeks. I am very pleased with the results. It has also reduced the inflammation and pain in my right foot that I have suffered with for years due to a sports injury. So glad this product was recommended. Thank you!
Thursday 14 January, 2016
I purchased this product for my very dear friend that suffers from inflammation and pain in her legs and lower back. She is 65 years old and was have a hard time getting out of a chair and walking up and down stairs. She has been using this product for 1 months now and we see and big difference in her pain levels. Her spirits are even a lot more positive and she says that she does not want to be without this product.
---
Questions and answers:
Asked on:
July 14, 2013
Question: Does it have cortisone in it? How soon will I see results?
A: In follow up to your questions about when to expect Phenocane to take affect, a

fter taking 2 capsules of Phenocane you can notice results in 25 min to 1 hour. You can repeat another 2 capsules in 5 hours if need it.
Asked on:
March 13, 2014
Question: I have fibromyalagia, will this help with the pain?
A: Fibromyalgia is complex disorder that causes widespread pain and fatigue in our muscles. It is a chronic pain condition brought on by several abnormal responses to stress. An individual who suffers from Fibromyalgia has decreased opiod receptors that affect mood and sensitivity to pain. Many hormonal and brain chemical changes may also occur such as lower levels of seratonin, norepinephrine, and cortisone resulting in a lack of sleep and increase susceptiblity to infection. Phenocane is a natural COX2 inhibitor that relieves pain and inflammation by preventing PGE1 (Prostagladin) secretion. When thinking about which supplements to take, it is vital to speak to a Rheumologist or Family Doctor with all medical conditons before any initial decisions are made.
Asked on:
March 21, 2014
Question: I recently fell and have a knee injury that has caused my knee to swell up and cause a lot of pain especially by evening. Will this product help?
A: The ingredients in phenocane will relieve pain and inflammation and sore muscles. Curcumin and boswellia which are COX2 inhibitors which makes this formula a powerful anti-inflammatory product. Our customers have relied on this formula for many years for relief of back pain, arthritis and injuries that cause inflammation.
Asked on:
August 20, 2015
Question: Is this product recommended for high blood sugar, knee pain, and arthritis?
A: Along with curcumin, Phenocane includes DL Phenylalanine, Boswellia and Nattokinase which all assist in a natural pain relief alternative for those with inflammation. Curcumin has been shown to reduce pain and increase mobility. A study was conducted for it's ability to improve elevated blood sugar in a group of 100 pre-diabetic patients. There were no new cases of diabetes in the 9 month long study. In the second clinical trial it was also found that using curcumin increased HDL and reduced LDL cholesterol levels.
Asked on:
January 13, 2016
Question: I have a 18 pound dog and this product has been recommended as part of his protocol. He just had a bought with liver issues but is doing well now. Just checking to see if there are any contradictions. Thanks!
A: It is not uncommon for veterinarians who are experienced in holistic medicine to suggest a product like Phenocane for dogs with arthritic conditions resulting in pain and inflammation. Phenocane is a natural pain reliever for adults and has been shown to be helpful in animals as well. Curcumin, DL-phenylaline, Boswelia and Nattokinase work synergistically to reduce whole body inflammation. Curcumin and Turmeric are interchangeable as curcumin is an extraxt of turmeric. A clinical study with humans was published in the BCM Complimentary and Alternative Medicine, and is shedding light on the benefits of curcumin in not only addressing pain and inflammation but on it's liver protective and regenerating properties. If your pet does have a pre-existing condition, has a surgery planned, or is pregnant, it is advisable to talk with your vet before introducing a new supplement.
Asked on:
February 9, 2017
Question: Is this a popular selling product at Seacoast Vitamins? Do you have repeat customers that buy this product?I am looking for pain relief in my knees and feet.
A:

Phenocane is a very effective product used by many of our regular customers on a daily basis to reduce pain and inflammation throughout the body. Joint and muscle pain whether from overuse, disease or common aging can limit mobility and be very uncomfortable. The combination of Curcumin (the active ingredient of turmeric) is a natural Anti-inflammatory compound , Boswellia supports healthy inflammatory response and pain-free joint mobility, dl Phenylalanine helps relieve pain, and Nattokinase is a powerful proteolytic enzyme that has fibrinolytic health benefits and offers relief from swollen joints. Phenocane is an all natural alternative to over the counter anelgesics which often cause side effects with long term use. Phenocane has powerful antioxidant properties to generate healthy cell activity. This unique formula provides much needed relief of pain and discomfort.
Explore More Products