Bone-Up (240 capsules)
Bone-Up from Jarrow is a unique formula combining Microcrystalline Hydroxyapatite (MCHA), Vitamin K2 as MK-7 and Vitamin D3 to promote maximum absorption and deposition of calcium throughout the skeletal system. MCHA (also called MCHC) is an all natural substance derived from bovine. The Microcrystalline Hydroxyapatite in Bone-Up is derived from free-range Australian calves, and is one of the purest sources available on the vitamin market today. Vitamin MK-7 or Vitamin K2 is naturally found in foods such as meat, eggs, most dairy products and the Japanese dish Natto. This form of Vitamin K is one of the most bioavailable forms and is absorbed more rapidly into the body than other or synthetic forms. Vitamin D3 plays multiple roles throughout the body and aids the body in the absorption and distribution of Calcium.
Treat your bones well with Bone-Up from Jarrow. Whether you seek to help prevent Osteoporosis, or are recovering from a bone breakage, Bone-Up promotes healing and knitting of bones, and helps increase bone density. For strong healthy bones, Bone-Up!
Benefits:
Complete Multi nutrient Bone-Health System
Published Clinical Trial with Bone-Up®
Ossein-Hydroxyapatite
Contains active bone-growth factors
#1 Imitated Bone Supplement
Bone-Up® is always UP-FORMULATED™ to include the latest breakthroughs in bone health.
Promotes Bone Density
Suggested use: Take 3 capsules twice per day with meals, preferably dividing the number of capsules equally with each meal (for a total of 6) to facilitate maximum absorption or as directed by your healthcare professional.
Ingredients:
Vitamin C (as calcium ascorbate) 200 mg
Vitamin D3 (cholecalciferol) 1000 IU
Natural MK-7 (vitamin K2 as menaquinine-7) 45 mcg
Calcium (elemental) (from microcrystalline hydroxyaptite) 1000 mg
Magnesium (as magnesium oxide) 500 mg
Zinc (as zinc L-monomethionine) 10 mg
Copper (as copper gluconate) 1 mg
Manganese (as manganese citrate) 1 mg
Potassium (as potassium citrate) 99 mg
Boron (as boron citrate) 3 mg
Other Ingredients:Maltodextrin,magnesium stearate (vegetable source) and silicon dioxide. Mineral amounts are elemental. Capsule consists of gelatin.
Contains: Soy (in trace amounts).
No wheat, no gluten, no dairy, no egg, no fish/shellfish, no peanuts/tree nuts.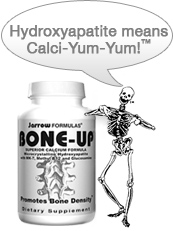 HEALTH CLAIM: Adequate calcium and vitamin D as part of a healthful diet, along with physical activity, may reduce the risk of osteoporosis later in life. For best results, use with Jarrow FORMULAS® JarroSil™, the biologically Activated Silicon™.
*Not intended to diagnose or treat diseases or ailments, and is not reviewed by the FDA.
Uses & Indications.
Enhancing Absorption
Promoting Healing
Increasing Bone Density
Ailments & Concerns.
Osteoporosis
Bone Fractures
Compare to these:
---
Questions and answers:
Asked on: November 5, 2012
Question: What are the side effects?

Asked on: November 26, 2012
Question: Is it sure that to use this medicin hight will grow? if i cross age of 18 years

Asked on: November 28, 2012
Question: i am 20 years old,so will grow up.

Asked on: January 15, 2013
Question: give me the contact number and address in india

Asked on:
May 22, 2013
Question: can this product we give to children age 13-17 years old..
A: Most supplements unless otherwise stated are formulated for adults and the dosage suggested is the amount for a full grown adult. For the possible use and dosage for a child it is best to consult with a physician.
Asked on:
June 7, 2013
Question: is this bone-up a part of the latest stepup products that you had been advertising in indian chennal? i am looking for the stepup product for the growth of my bones...so does thia bone-up really helps in the growth of the heights?
A: I cannot say for sure that this is the exact product you are seeing advertised on your Indian television networks. Bone up, by Jarrow Formulas is formulated to help increase bone density. Unfortunately it does not make the claim that it can help increase a person's height. At this time, we do not carry any products that can help adults grow taller.
Explore More Products