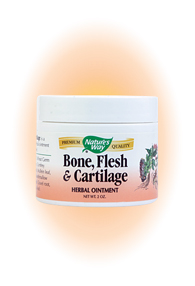 Bone, Flesh & Cartilage Ointment (2 oz)
This product has been discontinued.
Seacoast recommends an excellent replacement.

   

Click here.

Sorry! This item has been discontinued. See below.
2 oz
Nature's Way Bones, Flesh & Cartilage Ointment is a great way to support these particular parts of the body. It is an all-natural blend that contains ingredients like olive oil, beeswax, honey, and more. It helps to keep your bones, flesh, and cartilage healthy and strong.
Bones, Flesh & Cartilage Ointment is time-tested. It is safe to use.
Supports bones, flesh and cartilage
natural
Safe
Time tested
Contains: Olive oil, Wheat Germ oil, Beeswax, Honey, Comfrey root, White Oak bark, Mullein leaf, Black Walnut leaf, Marshmallow root, Wormwood leaf, Gravel root, Scullcap leaf, and Lobelia leaf.
We would like to suggest the following alternative: Complete Tissue & Bone Ointment (2 oz) - Dr Christophers Original Formula Helps Promote Healthy Bone, Cartilage & Tissue Function The bone, flesh, and cartilage combination, does wonders in restoring flesh and internal healing of bones and cartilage. It can be taken in any of its forms, capsules, syrup, tea (internally and externally as a fomentation) and topically in a salve. All will do the job. The choice of how you take it depends on what the problem is. This formula has done miraculous things with broken backs, legs, hips, etc. This formula has been used on curvature of the spine, polio, multiple sclerosis, and muscular dystrophy, stroke and arthritis of the bone. This formula is used externally as well as orally and has brought tremendously fast results. This formula is a "power house" and has been used on (and restored to health) cancer of the spine, arthritis and polio, and has helped rebuild torn cartilage.
*Not intended to diagnose or treat diseases or ailments, and is not reviewed by the FDA.
Uses & Indications.
Reducing Inflammation
Promoting Healing
Regenerating Skin Cells
Strengthening Bones
Ailments & Concerns.
Osteoporosis
Eczema
Osteoarthritis
Compare to these:
Reviews
Monday 28 June, 2010
I have been using BF&C for about 10 years. I had had a very painful bone spur on the "heel" of my thumb and my Dr. had recommended surgery. A friend's husband had used BF&C on his knees with severe arthritis, and within a few months he began playing raquetball again. So I rubbed it on my thumb/wrist area 3 times a day and at night before bed. Within a month the bone spur was GONE and I had no more sharp pain at all. I now use it for maintenance, at bedtime putting it on my fingers and thumb, and on my knees, neck and back. My arthritis pain is much less sever than it had been and I believe the cartilage is acually rebuilding. I most heartily recommend Bone, Flesh & Cartilage for arthritis pain.
---
Questions and answers:
Asked on:
April 25, 2014
Question: I have not use your product but have interest on bone, flesh cartilage but would like to attach picture of state of an accidental leg which i need drugs for.
A: The Nature's Way Bone, flesh & cartilage has been discontinued. You may consider Dr Christophers Complete tissue and bone 2oz container. This is an excellent product for strengthening bones and promote healing.Please consult with your physician pertaining to any currecnt conditions you have before taking any new supplement. http://www.seacoast.com/complete-tissue-bone-ointment/christophers-original-formulas/2-oz/p754
Explore More Products