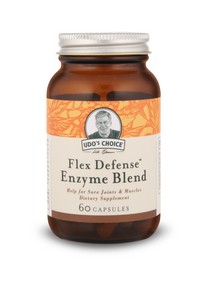 Full price 23.49
Savings 8%
Udo's Flex Defense Enzyme Blend (60 v-capsules)
| | |
| --- | --- |
| | Sorry! This item has been discontinued. See below. |
Flora Health - Udo's Choice
Flex Defense Enzyme Blend
Support for Joint Function and Inflammation Control
Udos Choice Flex Defense Enzyme Blend contains seven potent proteolytic plant and fungal-based enzymes, including bromelain, to help reduce discomfort from minor pain and stiffness in joints and muscles without side-effects. These enzymes also act as catalysts to natural body defenses in recovery from minor soft-tissue injury. Udo's Choice Flex Defense Enzyme Blend acts synergistically with natural body defenses to help maintain a healthy immune response and to assist in the healing processes.
Suggested use:
Take one capsule up to three times daily on an empty stomach.
EACH CAPSULE CONTAINS:
INGREDIENTS:
Protease AM = 25 AP
Bromelain = 750,000 FCCPU
Protease 6.0 = 10,000 HUT
Papain = 500,000 FCCPU
Peptidase = 2,500 HUT
Protease (A. mellus) = 14,950 U
Protease (A. oryzae) = 50 U
OTHER INGREDIENTS:
Microcrystalline cellulose, magnesium stearate and maltodextrin in a vegetarian capsule made of water and hypromellose (USP).
CAUTION: Caution: In case of stomach ulcer, do not use on empty stomach. Do not use if pregnant or breast feeding. Security sealed for your protection. Do not use if seal is missing or damaged.
*Not intended to diagnose or treat diseases or ailments, and is not reviewed by the FDA.
Uses & Indications.
Support Healthy Immune System
Aid Recovery From Soft Tissue Injury
Aid Healing Process
Reduce Discomfort From Minor Pain And Stiffness In Joints & Muscles
Ailments & Concerns.
Compare to these:
---
Questions and answers:
Asked on:
November 26, 2012
Question: Wobenzym what your body hasbeen achnig for!Wobenzym is an enzyme preparation originally designed in Germany in the 1960s and is a natural anti-inflammatory with many additional health benefits.Although its original use was primarily to treat osteoarthritis, studies have revealed that Wobenzym lowers C-reactive protein levels (a marker of chronic infection in the body) on average by 30!The latest research, published in the New England Journal of Medicine, has documented that individuals with high levels of C-reactive protein have up to 6 times the likelihood of a heart attack or strokes as individuals with lower levels.In addition, Wobenzym acts as a natural and safe alternative to anti-inflammatory drugs such as Ibuprofen.Furthermore, some Olympic teams have used Wobenzym to reduce injuries by as much as 50 and to enhance healing after injury. This is partly due to the bioflavonoids ability to prevent the discoloration and local pain associated with traumatic injuries. For these same reasons, leading surgeons now routinely prescribe Wobenzym to prevent bruising and edema and the associated pain for their post-surgical patients.As more and more uses of Wobenzym are discovered, the list of health problems benefiting from Wobenzym continues to grow and include:Reducing the incidence of blood clots, known to be induced by the sudden breakdown of vulnerable plaque.Improving feelings of well-being due to its antioxidant effects.Reducing the incidence of heart attacks and strokes because of its anti-thrombotic, anti-spasmodic, anti-arrhythmic and cholesterol lowering abilities.Helping to resolve many of the molecular features of aging.Providing protection from environmental toxins in the air, water and food.Treating autoimmune and rheumatic illnesses, such as osteo and rheumatoid arthritis, joint and muscle pain.Benefiting viral injection treatments for herpes, cancer and Hepatitis C.Lowering inflammation involved in allergies and alleviates the symptoms for the sufferer.Dosage:A common maintenance dose is 3 to 5 tablets twice daily, although the Cancer Treatment Centers of America routinely prescribe 10 tablets three times daily. Ideally Wobenzym should be taken at least 30 minutes before meals or 60 minutes after meals. The optimum time to take it is just before bedtime and immediately upon arising.Side effects:Wobenzym is formulated with natural nutrients, it is safe and effective with no known side effects. It can be taken regularly and with confidence to reduce pain and enhance the functioning of organs and bodily systems.This product is safe it is not a drug. It is all natural. People that do not know about it will tell you wrong info about it.Any Health Food store can assure you of its purity and its great effects.God likes vitamins and herbs and minerals. So even if you get hands laid on you, it will not interfere with this product that is natural. I used to sell it all the time at Ivy's Bridge To Better Health.
Explore More Products