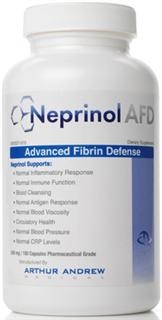 Full price 199.99
Savings 28%
Neprinol AFD (300 caps)*
price

Price is

too low

to show. Add it to your cart

Buy 3 - Get free delivery on whole order

Neprinol is radically more advanced than today's leading systemic enzyme blends. Neprinol can supplement the enzymes that Mother Nature takes away from us as we age. Neprinol contains several sources of anti-oxidants, as well as a full spectrum of proteolytic (protein digesting) enzymes. Neprinol's exclusive formulation contains several highly concentrated digestive enzymes that assist the body in its ordinary digestion of fats, proteins, sugars, and carbohydrates. These digestive enzymes also work in the blood removing waste material and converting undigested food particles into energy. All of the enzymes contained in Neprinol come from microbial, fungal, or vegetable sources, and have a much wider pH tolerance than their animal-derived counterparts. Neprinol is vegan friendly.
Inflammation and Enzymes
Our body produces certain chemicals in response to injury. Enzymes do not inhibit the production of these chemicals and thus reduce swelling and pain without interfering in the natural process of healing. Essentially, enzymes work synergistically with the natural repair mechanism of our body.
Neprinol Supports:
Normal Immune Function
Normal Blood Clotting
Blood Cleansing
Fibrinolytic Activity
Normal Blood Viscosity
Circulatory Health
Normal CrP Levels
Suggested Use: As a dietary supplement, take one or two capsules three times a day, in between meals with 8oz. of water.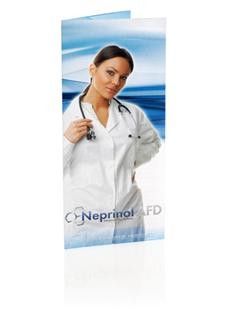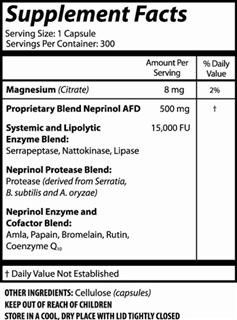 Neprinol AFD Contains:
The benefits of Ubiquinone (USP Grade Co-Q10): (Coenzyme)
Decreases the proliferation of free radicals, supporting a healthy immune system.
Stimulates the metabolism to aid your body in the conversion of food to energy.
Essential to the production of ATP, cell respiration, electron transfer and the reduction of cellular oxidation.
Helps promote maintenance of normal cardiovascular function
Coenzyme essential for enzymes to function in the body
The benefits of Serratiopeptidase (Serrapeptase): (Proteolytic Protein digesting enzyme)
Activates naturally occurring plasmin "the bodies naturally released fibrinolytic enzyme".
Thins secretions from the mucus membranes
Potent Fibrinolytic activity reduces systemic fibrin concentrations
Absorbs released amino acids
Selectively locates the desired amino acids
Promotes recovery of musculature after physical stress
Boosts energy levels
Promotes leanness in body mass
The benefits of Nattokinase (Fibrinolytic enzyme)
Helps maintain normal blood viscosity
Helps maintain normal cardiovascular health
Antioxidant effects may be beneficial to promote normal prostate health
Aids in the elimination of free radicals
Potent Fibrinolytic activity reduces systemic fibrin concentrations
The benefits of Bromelain: (Proteolytic Protein digesting enzyme) derived from pineapple
Acts with the body to promote its normal immune responses
Helps maintain healthy skin condition
Helps maintain a healthy immune system
The benefits of Papain: (Proteolytic Protein digesting enzyme) derived from papaya
Promotes normal healthy digestive processes which may reduce occasional gas/bloating, diarrhea, and cramps
Helps keep skin healthy and soft·
Promotes natural healing of bruises and other tissue injuries
The benefits of Rutin: (Non Enzyme "Flavonoid")
Promotes strong capillaries and connective tissue
Helps maintain healthy blood vessels
The benefits of Amla: (Non Enzyme) derived from Indian Gooseberry
Contains tannic acid, glucose, cellulose and calcium
Helps maintain normal acid and pH balance
Traditionally used as a nerve, brain and hair tonic
The benefits of Magnesium: (CoEnzyme)
Promotes a healthy cardiovascular system
Helps maintain healthy teeth and gums
Essential for cell repair, hormones and a regular heartbeat
Helps reduce effects of increased stress
Coenzyme essential for enzymes to function in the body
*Not intended to diagnose or treat diseases or ailments, and is not reviewed by the FDA.
Uses & Indications.
Immune System
Protein Digestion
Inflammation
Blood Cleansing
Prostate Health
Fibrinolytic Activity
Ailments & Concerns.
Compare to these:
---
Questions and answers:
Asked on:
January 14, 2013
Question: Also, do I need to get some kind of blood test to see if I am deficient in anhnyitg? Is that what you did? Sorry if I'm asking lots of questions but this has been driving me crazy for 7 years and I've tried lots of other things, but nothing has worked and I'm hoping your protocol may give me some relief. If you could email it to me so I could read more into it I'd be very grateful! Thanks heaps.
Asked on:
January 16, 2013
Question: Hi KaseyCasey (sorry not sure how it's spelt!) Can I ask you more about who I need to see (i.e. which type of professional) who can dganiose me with autoimmune' urticaria? Doctors seem to know the least about this, so I'm wondering if some other alternative health therapist would be better? Who was able to help you dganiose yours? I have had what an allergy specialist doctor told me was idiopathic' urticaria since the end of 2002, so if anyone knows how you feel, I do!
Asked on:
March 12, 2013
Question: I am taking 8 capsules daily. Is this too many?
A: The recommended dosage is 1 to 2 capsules 3 times per day so 8 capsules is above the manufacturer's suggested dosage. For higher doeses, it is always a good idea to consult with your physician.
Asked on:
June 7, 2013
Question: Is this product safe to take if you will be having surgery?
A: The warnings on this supplement are as follows: D

o not take this product without the consent of your physician if you are currently taking anti-coagulants or it you are pregnant or nursing. You may want to let your doctor know you are wanting to take Neprinol AFD if you have any concerns about taking it with your upcoming surgery.
Asked on:
June 7, 2013
Question: If you want to take this product for chronically sore muscles or possible fibromyalgia, then what would the dosage be, and will there be side affects like soft stools, headaches, etc?
A: The dosage is one or two capsules 3 times daily. For other possible doses you many want to ask your physician as we are only able to recommend what the manufacturer provides.

No serious or adverse side effects have been reported from taking systemic enzymes such as Neprinol*. If you are taking blood-thinning medication, you should consult with your physician before taking Neprinol.
Asked on:
July 19, 2013
Question: I have a bottle of neprinol with a mfg date of 512, is this still good? Will it be as effective as a brand new bottle?
A: Most supplements lose potency after the expiration date, so most likely it will not be as effective as when you first purchased it.
Explore More Products