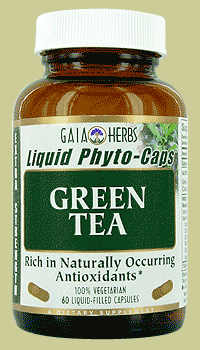 Full price 25.99
Savings 23%
Green Tea (60 caps)*
price

Price is

too low

to show. Add it to your cart

Buy 3 - Get free delivery on whole order
Gaia Herbs
Green Tea Liquid Filled Capsules
Recently, there has been a renewed interest in green tea due to its high polyphenol content and powerful free radical scavenging activity. Of particular interest to researchers today are the polyphenols known as catechins, and more specifically, epigallocatechin(EGC), epicatechin(EC), epigallocatechingallate(EGCG), and epicatechingallate(ECG). These catechins demonstrate the most promise in reacting with most free radicals. It is also interesting to note that the actual structure of these constituents help to prevent the production of free radicals and also bind to heavy metals that challenge health and cause cellular damage.
As a potent antioxidant, Green tea provides assistance in maintaining a healthy balance between free radicals necessary for the healthy functioning of the body, and an excess of free radicals.While free radicals are part of normal human body function, too many free radicals cause cellular damage.
Suggested Use: Take 2 capsules 2 times daily after meals. Not to be used during pregnancy or lactation. If you have a medical condition or take pharmaceutical drugs, please consult with your Doctor before using this product. Keep away from children. Use only as directed on label. NOTE: This product contains naturally occuring caffeine from Green Tea
Supplement Facts
Green Tea
Serving Size: 2 capsules
APS
%DV
Calories
20
ALCOHOL FREE CONCENTRATED EXTRACT(S) OF:
**
Green Tea herb (Camellia sinensis), Green Tea herb extract (Camellia sinensis)
*
WHOLE PLANT STANDARDIZATION PROCESS™
**
Total Polyphenols
300 mg
† Each 2 capsules contain 3000 mg crude herb equivalent.
** Daily Value not established.
Other ingredients: Vegetable Glycerin, Vegetable cellulose (capsule)
Breaking News:
Phase 2 clinical trials by Mayo Clinic have shown that green tea extract reduces cancer cells in chronic lymphocytic leukemia (CLL) patients. (ASCO), are the latest in a series of Mayo studies to show promise for use of the chemical epigallocatechin gallate (EGCG) -- the major component of green tea for treating CLL patients. Mayo first tested EGCG in a variety of laboratory assays about eight years ago, and it was found to reduce the survival of CLL leukemic cells. This laboratory finding was followed by a successful phase I clinical trial -- the first time green tea extract had been studied in CLL patients. "Although only a comparative phase III trial can determine whether EGCG can delay progression of CLL, the benefits we have seen in most CLL patients who use the chemical suggest that it has modest clinical activity and may be useful for stabilizing this form of leukemia, potentially slowing it down," says Tait Shanafelt, M.D., a Mayo Clinic hematologist and lead author of the study. "These studies advance the notion that a nutraceutical like EGCG can and should be studied as cancer preventives," says Neil Kay, M.D., a hematology researcher whose laboratory first tested the green tea extract in leukemic blood cells from CLL patients. "Using nontoxic chemicals to push back cancer growth to delay the need for toxic therapies is a worthy goal in oncology research -- particularly for forms of cancer initially managed by observation such as CLL." Drs. Shanafelt and Kay caution that EGCG is not a substitute for chemotherapy. All of the patients Mayo tested with EGCG were early stage, asymptomatic CLL patients who would not otherwise be treated until their disease progressed. "All in all, the treatment was well tolerated with very mild side effects in most patients," Dr. Shanafelt says. The researchers say that the prior publications on the effects of EGCG on CLL leukemia cells in the laboratory and the data from the published phase I study have been widely disseminated via the Internet by patient advocacy groups. Based on information from patients and colleagues throughout the country, the Mayo researchers have become aware that many CLL patients nationwide have started to use EGCG supplements, which are readily available over the counter. "Without a phase III clinical trial, we cannot make a recommendation that EGCG be used by CLL patients, but those who want to take supplements should consult with their oncologists and need to receive appropriate monitoring using laboratory tests," Dr. Kay says.
*Not intended to diagnose or treat diseases or ailments, and is not reviewed by the FDA.
Uses & Indications.
Strengthening The Immune System
Supporting Normal Cholesterol Levels
Alcohol Free
Rich In Polyphenols Which Scavenge For Free-Radicals
Ailments & Concerns.
Compare to these:
---
Questions and answers:
Asked on: November 27, 2012
Question: Do u really loose the weight

Asked on: December 5, 2012
Question: is this the green tea pill mentioned on th Dr Oz Show

Asked on: December 8, 2012
Question: is this fluoride-free

Asked on:
April 10, 2013
Question: how much vitamin k in one capsule of green tea
A: Unfortunately the amount of Vitamin K has not been measured or indicated. Typically there is only a small amount of Vitamin K present in Green Tea.
Asked on:
September 5, 2013
Question: IS THIS PRODUCT GOOD FOR REDUCE BELLY FAT?
A: Though some people use green tea for aid in their weight-loss we do carry some other supplements that may be better targeted to reduce fat in the region of the belly. Safslim is one of them.You can take a look of all our Safslim supplements below. http://www.seacoast.com/topic.php?health=safslim
Explore More Products