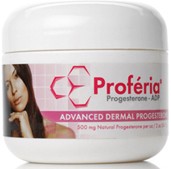 Full price 29.99
Savings 17%
Proferia Progesterone ADP (2 oz)*
price

Price is

too low

to show. Add it to your cart

Buy 3 - Get free delivery on whole order

Proferia, transdermal progesterone, is safe, natural and does not contain petroleum, lanolin or animal derived substances. Breast and endometrial cancer are two of the greatest fears, along with osteoporosis, that women face as they approach menopause. These fears, under present circumstances, are well warranted.
However, they need not be. Among many cancers, the cause is still unknown. However, for breast and endometrial cancers, a great deal is known about it's major hormonal factors. The mystery is, why hasn't this information permeated the halls of contemporary medicine?
The carcinogenic effects of unopposed estradiol, an estrogen, and the anti-cancer benefits of estriol and progesterone, are well established for these two cancers. Because of its many benefits, it's great safety, and particularly its ability to oppose the carcinogenic effects of estrogen, natural progesterone deserves far more attention and application than generally given in the prevention and care of women's health problems today.
Clinical Benefits of Transdermal Progesterone
Studies that have been conducted have shown that natural progesterone is better and safer than synthetic progestins. It has also been shown that transdermal progesterone can readily penetrate the skin to stimulate therapeutic bone regeneration. The foremost exponent of natural transdermal progesterone therapy for osteoporosis is California physician John R. Lee, M.D., who uses a skin cream containing progesterone derived from an extract of wild yam, which penetrates the skin safely and effectively.
Dr. Lee has published the results of his extensive clinical experience with progesterone skin cream in Lancet 1990 and others including the book Natural Progesterone: The Multiple Roles of a Remarkable Hormone. In a study of 100 postmenopausal women, aged 38 to 83, many of whom had suffered one or more bone fractures and had lost height (common signs of osteoporosis), Dr. Lee reported that "97 of them showed 5% to 40% new bone formation within 6 to 48 months after using a wild yam progesterone cream. Some women attained as much as 105% of the average bone density of a 35 year old. It was common to see a 10% increase in bone density during the first 6 to 12 months of treatment, and an annual increase of 3% to 5% until stabilisation at the bone strength level of healthy 35 year olds". Dr. Lee added "the occurrence of osteoporotic bone fractures dropped to zero.
Suggested Use:
PRE-menopausal women (i.e. if you are still menstruating)
Calculated from day 1 of the menstruation cycle (i.e. First day of bleeding)
Use from day 12 to day 26 inclusive � to � teaspoon per day
Rub the cream into areas of the body where you blush or the skin is thin - i.e. neck, upper chest, breasts, inside thighs, back of knees, inside arms and wrists.
Vary application sites daily to maximize absorption.
If your symptoms disappear or reappear use less cream
Stop using the cream for two weeks of the month (i.e. from day 27 to day 11).
POST-menopausal women (i.e. no longer menstruating)
Use � teaspoon per day for 21 days consecutively during the month.
Rub the cream into areas of the body where you blush or the skin is thin - i.e. neck, upper chest, breasts, inside thighs, inside arms and wrists.
Vary application sites daily to maximize absorption.
Stop using the cream for one week.
Ingredients: Mexican Yam Root, Whole Leaf Aloe Vera Concentrate, Deionized Water, Safflower Oil, Stearic Acid, Cetyl Lactate, Sorbitol, Cetyl Alcohol, Wheat Germ Oil, Hydrolyzed Mucopolysaccharides, Sodium PCA, Progesterone, Extracts of: (Arnica, Burdock, Rosemary, Pine, Chamomile, Watercress, Nettles, Red Vine, St. John's Wort, Horse Chestnut, Marigold, Limetree, Hops, Horse Tail, Lemon, Fucus, Queen Meadows, Corn Flower), Triethanolamine, Imidazolidinyl Urea, Fragrance, Tocopherol, Retinol, Ergocalciferol.
SOME NOTES:
It is advisable to start using the cream in greater rather than smaller amounts to find the correct quantity for you.
If your progesterone levels are very low, use greater quantities in the first month (i.e. � teaspoon twice a day) and reduce to ordinary dosages thereafter.
The amount needed may vary from individual to individual.
If the symptoms re-occur, then lessen the amount of cream.
Have a break from the cream as directed in order for the body to become re-sensitised to it.
Post-menopausal women seldom may find that their periods start again after using the cream, this is temporary.
*Not intended to diagnose or treat diseases or ailments, and is not reviewed by the FDA.
Uses & Indications.
Supporting Hormone Balance
Relief From Symptoms Of Menopause
Ailments & Concerns.
Estrogen Dominance
Osteoporosis
Endometriosis
Blood Clots
Fibrocystic Breasts
Uterine Fibroids
Menopause
Low Libido
Compare to these:
---
Questions and answers:
Asked on:
December 19, 2012
Question: are there any side affects to this product?
Asked on:
May 3, 2013
Question: do you still carry Estrogen 500 and Progesterone 30 by Natural Living? I really liked this product and it wors for me. Pam
Explore More Products