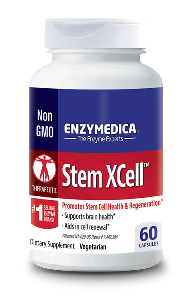 Full price 49.98
Savings 20%
StemXCell (formerly NaturaCell) (60 caps)*
price

Price is

too low

to show. Add it to your cart

Buy 3 - Get free delivery on whole order
StemXcell Promotes Stem Cell Health
Stem XCell contains the patented blend NT020 developed by a leading university and has been shown to promote the growth and health of stem cells.

Research demonstrates that the unique combination of ingredients found in NT020 helps to promote stem cell nutrition and renewal by means of interaction with adult stem cell populations. Stem XCell contains the patented NT020 blend of wild blueberry extract, vitamin D3, green tea extract, and carnosine. Enzymedica has added glutathione, alpha lipoic acid, SOD, and six additional enzymes to enhance the potency and efficacy of the Stem XCell formula. All of these ingredients are beneficial in their own right however, it is this specific combination that makes Stem XCell unique and effective in supporting the body's cellular health.

Green Tea features hundreds of beneficial phytonutrients well known for their antioxidant value. New research indicates Green Tea enhances the proliferation of stem cells in the body, particularly within the skin. Wild blueberries further promote general health with maintenance of healthy brain, cardiovascular, vision, joint and urinary tract function, and normal glucose levels. Research also indicates that VitaBlue® Wild Blueberry Extract may help prevent some effects of premature aging by promoting adult stem cell regeneration. Carnosine is an amino acid that is naturally present in muscle and brain tissue. Carnosine is an antioxidant, which may help prevent damage to the body by ridding the system of any abnormal substances and leaving it free to function optimally. It may also delay the natural aging of cells, and extend the lifespan of adult stem cells. In addition to supporting cardiovascular function, vitamin D3 supports adult stem cell self-renewal from bone marrow, and helps these cells become important immune cells for naturally fighting infections and abnormal cell growth.

Enhanced by Enzymatic Activity
The enzyme blends in Stem XCell are aimed at supporting the immune system and optimizing antioxidant delivery and absorption. Protease and antioxidant enzymes, such as SOD and catalase, are the very enzymes our bodies manufacture to maintain the immune system and scavenge free radicals. This in turn supports stem cell growth and function.* The Botanical Enhance Enzymes in Stem XCell; are comprised of carbohydrase enzymes formulated to assist with the delivery of important botanical source antioxidants found in this unique formula. Adult stem cell therapy is an unprecedented step forward in modern medicine. Stem XCell by Enzymedica offers a proven approach to natural cellular regeneration.
Stem Cells are often referred to as "master" cells. According to the National Institutes of Health, the primary role of adult stem cells is to maintain and repair tissue. As we age, our adult stem cells decrease in number. Due to the degradation of our adult stem cells over a lifetime we become more open to degenerative disorders, injury, and experience decreased recovery from all health-related issues. Adult stem cells have the potential to develop into most tissues in the body and have the capacity to migrate toward problem or damaged areas.
StemXcell represents a synergistic blend of active botanicals, antioxidants, and enzyme catalysts in one of the most exciting new formulas aimed at adult stem cell renewal. Contains the scientifically proven NT020 blend.
Benefits:
Support The Normal Growth And Function Of Your Body's Own Stem Cells

Maintains Optimal Health Of Adult Stem Cell Populations To Support A Healthy Immune System

Antioxidant Enzymes, Botanicals, And Vitamins Provide High ORAC Value To Slow Oxidative Process

Enzyme Formula Provides Optimal Delivery And Absorption
Suggested use: 2 capsules daily. More may be taken as recommended by a healthcare professional. Consult physician prior to use if pregnant or nursing.
Supplement Facts
Serving Size: 2 Capsules
Servings Per Container: 30
Amount Per Serving
%DV†

Vitamin D3 (as cholecalciferol) Vegetarian

2,000 IU

500%

Proprietary Blend NT-020

800 mg

Green Tea Extract (Leaf)(95% polyphenols)

**

Blueberry Lowbush Powder (fruit)

**

Carnosine

**

BioVin Advanced Red Grape Extract (Vitis vinifera) (fruit) (5% Resveratrol)ÃÃ

*Not intended to diagnose or treat diseases or ailments, and is not reviewed by the FDA.

Uses & Indications.

Supports Healthy Stem Growth
Potent Antioxidants
Therapeutic Plant Based Enzymes

Ailments & Concerns.

Aging
Compromised Immune System

Compare to these:




---

Questions and answers:

Asked on:

March 10, 2013

Question: My White Blood Cells are bouncing around and I have to be tested for Chronic Leukemia, I would like to know if Natura Cell, will help improve the white blood cells, thanks, Cathy

A:

StemXcell support the normal growth and function of your body's own stem cells. It also protects the cells against the harmful effects of free radicals can have and helps to support the generation of stem cells within the body.

For addtional information and specifics on how your body may benefit from this supplement please consult with your physician.

Explore More Products




1. Statements and claims on Seacoast.com have not been evaluated by the FDA and are not intended to treat or diagnose any ailment or disease.