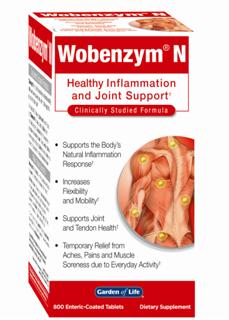 Full price 229.99
Savings 32%
Wobenzym N (800 tab)*
price

Price is

too low

to show. Add it to your cart

Buy 3 - Get free delivery on whole order
February 2010 - This product is the original Wobenzym manufactured by Mucos Pharma in Germany. Garden of Life is the distributor of Wobenzym in the U.S. The packaging has been adjusted for the U.S. market. Mucos Pharma and Garden of Life are both subsidiaries of Atrium Innovation.
Healthy Inflammation and Joint Support
Wobenzym N is the authentic systemic enzyme formula trusted by millions worldwide to provide clinically demonstrated support for joint and inflammation health.
First introduced in Germany as a pharmaceutical over 40 years ago, Wobenzym N has been updated but still features the time-tested, synergistic combination of plant-based enzymes, pancreatic enzymes and antioxidants. These powerful yet delicate enzymes are protected by a vegetable-based enteric coating which ensures optimal absorption and utilization in the blood stream.
The key benefits of Wobenzym N include:
Supports the Body's Natural Inflammation Response
Increases Flexibility and Mobility
Supports Joint and Tendon Health
Temporary Relief from Aches, Pains and Muscle Soreness due to Everyday Activity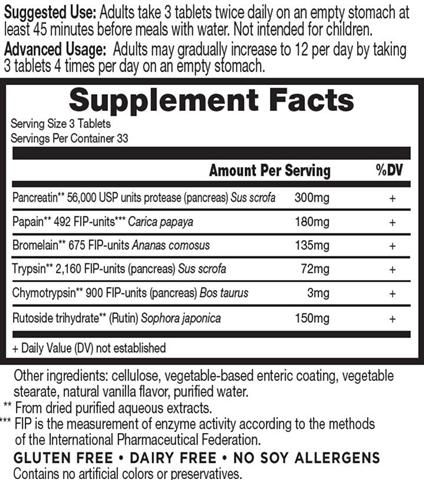 Years of Research and Validation
The exact formulation found in Wobenzym N has been featured in six human clinical studies with 2,489 patients studied. When you read that Wobenzym N provides temporary relief from everyday aches, pains and muscle soreness due to everyday activity, increased flexibility and mobility, and promotes a normal inflammation response and supports joint and tendon health, you know that these results have been clinically studied.
The Far-Reaching Benefits of Wobenzym N
Wobenzym N is a unique blend of systemic enzymes that provides temporary relief from aches, pain and muscle soreness due to everyday activity, supports the body's natural inflammation response, and leads to increased flexibility and mobility and supports overall joint and tendon health as well.

Enzymes are fascinating essential biological catalysts that are involved in almost every single process in the body. They initiate millions of chemical reactions every second in the human body. It is easy to see why supplementing with systemic enzymes can have far-reaching benefits to the human body.

The enzyme blend in Wobenzym N contains the following, clinically studied enzymes: pancreatin, papain, bromelain, trypsin, and chymotrypsin. Each one of these is a protease, which simply means that they break down proteins.

There are certain proteins in the body that stimulate and others that repress inflammation. Under normal circumstances, your body balances the two. The systemic enzymes in Wobenzym N support that balancing process, assisting normal inflammation response that in turn, leads to temporary relief from everyday activity-related aches and pains.

And of course, Wobenzym N tablets are enteric coated to ensure that the enzymes are protected and allows them to reach the small intestine, where absorption occurs and they can be accessed by the body.
If you want to take control of your life and live it on your terms, choose the brand that has been trusted by millions worldwide for decades — choose Wobenzym N.
*Not intended to diagnose or treat diseases or ailments, and is not reviewed by the FDA.
Uses & Indications.
Improving Digestion Reducing Inflammation
Increasing Red Blood Cells
Enhancing Metabolism
Ailments & Concerns.
Fibromyalgia
Prostate Cancer
Anemia
Rheumatoid Arthritis
Cancers
Breast Cancer
Crohn's Disease
Polymyalgia
Compare to these:
Reviews
Friday 24 February, 2017
I started using this product 8 months ago for osteoarthritis. I also have an autoimmune condition and have found that the Wobenzym N has relieved the pain and inflammation. Inflammation in the body can lead to may other conditions. This proteolytic enzyme formula works well for me. I have recommended this to many other friends and family.
Friday 27 June, 2014
excellent product helps digestion en stops inflammation
Thursday 13 October, 2011
I use wobenzyme for joint pain, to reduce my cholesterol, to help me digest, to help the other vitamins to kick in, to clean my arteries. To speed up my digestive movment. To improve my energy, to, hopefully ccalm down the muscle pain.
Monday 30 August, 2010
I've known about Wobenzym and have taken it for several years. Heard about it from a radio health talk show and started taking it after my double hip replacement back in 2004. Bought myself a huge supply when I visited Germany a couple of years ago. Love your prices that't why I've switched to you
Friday 07 March, 2008
ONLY GENUINE GERMAN MUCOS PHARMA PRODUCT WORKS. AMERICAN PRODUCT DOES NOT! I DRIVE 40 EXTRA YARDS ON THE GOLF COURSE,MAKES ME FEEL 10 YEARS YOUNGER. I TAKE ONLY 3X TIMES 2 PILS 1/2 HOUR BEFORE THE MEALS. IT IS A FANTASTIC PRODUCT !!! I AM TREATING MY LIPID PROFILE FOR PAST 20 YEARS. FINALLY, NOW IT IS 100% O.K.- THANKS TO THE MUCOS PHARMA WOBENZYM.
Monday 25 June, 2007
I came across this product after researching proteolytic enzymes on a tip from "Alive" magazine, pg 57, January 2007, which suggested such enzymes to improve immune function to combat hypothyroidism. It is an interesting way to naturally manage thyroid health, and other autoimmune disorders, such as Lupus. On it, and a mix of Vitamin C, Turmeric and Vitamin E, my TSH hormones have dropped to below 1. It had my MD ND taking notes. I take 2-3 servings daily of 5-10 tabs. The bottle smells delicious upon opening it, and for some reason, causes great physiological joy, motivating a passionate stick-to-it-edness for my regimen. I highly recommend Wobenzym.
---
Questions and answers:
Asked on:
August 25, 2019
Question: I have wet macular degeneration glomerulonephritis is wobenzyme ok to take
Explore More Products