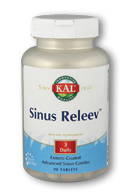 Full price 21.19
Savings 29%
Sinus Releev (90 Tablets)
| | |
| --- | --- |
| | Sorry! This item has been discontinued. See below. |
90 Enteric-Coated Tablets
Sinus Releev by KAL has been formulated to reduce congestion and inflammation of the sinuses. Containing Vitamin C, Bromelain, and Quercitin, Sinus Releev may reduce fibrin in the sinuses, in turn reducing mucus and inflammation. With the absence of inflammation and congestion comes the absence of nasal discomfort and pain.
Sinus Releev tablets also contain beneficial herbs such as Nettle, Feverfew, and Meadowsweet. Traditional uses of these herbs includes remedies for Hay Fever, bronchial discomforts, difficulty breathing, and general inflammation. Tablets have been enteric-coated ensuring the active ingredients are able to work their way into the intestines where they can work their herbal charms on your body. Try this product at the first signs of cold, allergy attack(s), or when in dry and dusty surroundings.
Benefits:
Congestion
Sneezing
Sinus Inflammation
Allergies
Supplements Facts: 3 tablets
1 g Total Carbohydrates - <1g Dietary Fiber
500 mg Asorbic Acid (Vitamin C)
500 mg Bromelain - 150 mg Oregon Grape - 100 mg Quercitin
100 mg Freeze Dried Nettle - 100 mg Feverfew - 75 mg Meadowsweet
10 mg Beta Glucan - 10 mg Serrapeptase (providing 2000 U/mg)
Other: Cellulose, Silica, and Stearic Acid
Compare to these:
Reviews
Wednesday 23 September, 2009
I REALLY GET MISERABLE IN AUG. TILL THE FIRST FROST WITH RAGWEED AND GOLDENROD ALLERGIES. MY ASTHMA ACTS UP MORE, AND I SEEM MORE ALLERGIC TO OTHERS THINGS DURING THAT PERIOD. I CAN'T TAKE ANTI-HISTAMINES AND AND DON'T WANT TO TAKE STEROIDS. I USUALLY TOUGH IT OUT WITH SOME NATURAL REMEMDIES HERE AT HOME, BUT THIS YEAR WAS WORSE. I WENT TO OUR HERBAL STORE AND ASKED FOR A SUGGESTION. AND ONE OF THE EMPLOYEESS TRIED THIS PRODUCT ..SHE SAID IT WORKED FOR HER AND HER DAUGHTER. (SINUS RELEEV) HAS BEEN A MIRACLE FOR ME TOO. MY CO-WORKER HAD ALLERGIES AND TRIED IT AND IT HELPED HER TOO. I HAVE NOT EVEN HAD TO USE MY ASTHMA INHALER AS MUCH! I AM USUALLY VERY SENSITIVE TO TAKING THINGS AND CAN HAVE REACTIONS, BUT SO FAR THIS PRODUCT HAS ONLY HELPED. I CAN BREATHE THROUGH MY NOSE AGAIN, AND CAN SPEND MORE TIME OUT OF THE AIR CONITIONING!
---
Questions and answers:
Asked on:
January 11, 2013
Question: Do I take all 3 tablets at ONE time once a day?
Asked on:
January 11, 2013
Question: how do I get an answer if I should take all 3 tablets at one time each day? email is billandsandycenturytel.net
Explore More Products