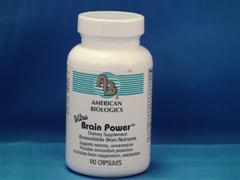 Full price 56.26
Savings 15%
Brain Power (90 capsules)
This product has been discontinued.
Seacoast recommends an excellent replacement. Click here.

Sorry! This item has been discontinued. See below.
American Biologics
Brain Power
Dietary Supplement Supports Mental Focus, Clarity of Thought
Brain Power formulated by American Biologics provides highly bioavailable forms of nutrients which are clinically proven to support concentration, memory and the other higher brain functions. These nutrients operate through diverse mechanisms, facilitating brain oxygenation, metabolism, circuit integration, and antioxidant defense.
Supplement Facts
Brain Power
Three (3) capsule contains:
APS
%DV
Vitamin B6 (pyridoxine hydrochloride)
20 mg
1000%
Folic Acid (folate)
400 mcg
100%
Vitamin B12 (cyanocobalamine)
250 mcg
4167%
Phosphatidyl Serine (LECI-PS)
100 mg
n/a
Gingko Biloba Phytosome Extract
30 mg
n/a
Choline
n/a
PhosphatidylCholine, PC)
100 mg
n/a
PhosphatidylCholine, PC)
127 mg
n/a
Phosphatidyl Ethanolamine (PE)
82 mg
n/a
Phosphatidyl Inositol (PI)
36 mg
n/a
Taurine
500 mg
n/a
L-glutamine
125 mg
n/a
L-glycine
125 mg
n/a
n/a
Other ingredients: Magnesium stearate, silicon dioxide, and microcrystalline cellulose.
Free of: yeast, wheat, corn, soy, egg, gluten, rice, starch, salt, preservatives, artificial colors, flavors, hormones or antibiotics.
*These statements have not been evaluated by the Food and Drug Administration. This product is not intended to diagnose, treat, cure or prevent any disease.
Compare to these:
Explore More Products