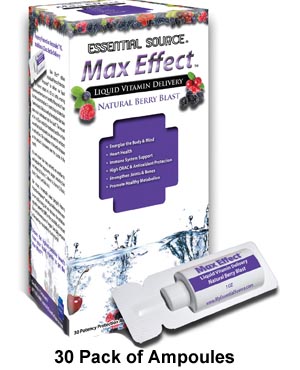 Full price 59.95
Savings 33%
Max Effect Liquid Multi Vitamin Ampoules (30 ampoules)
Essential Source Max Effect Liquid Multi Ampoules Great for Travel
Max Effect Liquid Multi Ampoules utilizes individual Potency Protection Ampoules to deliver a daily dose of high potency Essential Source liquid daily multi-vitamins, ensuring you receive the maximum benefit from the first ounce to the last. The unique, hermetically sealed (airtight) Potency Protection Ampoules not only provide mess free, easy-to-carry daily dosing, but also decrease the oxidation-reduction potential (ORP) or the possibility of nutrient loss due to the exposure of oxygen. Each daily ampoule is like opening a new bottle for the first time!
The best thing about Max Effect is you never have to leave home without it. Each bottle contains 1oz of fresh and flavorful multivitamins and minerals well under the standard regulation for airplane travel. Travel can be stressful and not the time to eliminate your supplements. You want to feel your best and full of energy. Thanks to Essential Source your worries are over and your energy is in your pocket!
Max Effect Liquid Multi benefits:
Energize the Body and Mind (B Complex, Chromium, CoQ10, Inositol)
Supporitng Cardio Health (B Complex, Vitamin C, Vitamin E, CoQ10, Grape Seed Extract)
Supporting a Healthy Immune System (Vitamin A, Vitamin C, Vitamin D3, CoQ10, Selenium, Zinc)
High ORAC & Antioxidant Protection (Vitamin A, Vitamin C, Vitamin E, CoQ10, Grape Seed Extract)
Strengthening Bones & Joints (Vitamin A, Vitamin C, Vitamin D3, Calcium, Magnesium, Grape Seed Extract, and Zinc)
Promoting Healthy Metabolism (B Complex, Chromium, Inositol)
Vegetarian and Gluten Free
Naturally Sweetened with Stevia
Directions: Best served cold. Prior to consuming, shake ampoule well. To open, bend top tab back and forth, then twist off. Drink entire contents of one ampoule daily. Best if taken with food.
Supplement Facts
Max Effect Liquid Multi
Serving Size: 1 AMPOULE
APS
%DV
CALORIES
20
N/A*
TOTAL CARBOHYDRATE
7 Gm
N/A*
SUGARS
4 Gm
N/A*
VITAMIN A (AS BETA CAROTENE)
5000 IU
100%
VITAMIN C (ASCORBIC ACID)
250 Mg
400%
VITAMIN D (AS CHOLECALCIFEROL)
1000 IU
300%
VITAMIN E(AS VITAMIN E SUCCINATE)
30 IU
100%
VITAMIN K
85 Mcg
100%
VITAMIN B1 (THIAMIN)
2 Mg
100%
VITAMIN B2(Riboflavin)
2 Mg
100%
VITAMIN B3 (NIACINAMIDE)
20 Mg
100%
VITAMIN B5 (AS PANTOTHENIC ACID)
10 Mg
100%
VITAMIN B6 (AS PYRIDOXINE)
2 Mg
100%
FOLATE (AS FOLIC ACID)
400 Mcg
100%
VITAMIN B12 (AS CYANOCOBALAMIN)
6 Mcg
100%
BIOTIN
300 Mcg
100%
CALCIUM (CALCIUM LACTATE)
50 Mg
N/A*
IODINE (AS POTASSIUM IODIDE)
150 Mcg
100%
MAGNESIUM (CHELATE)
25 Mg
N/A*
ZINC (AS GLUCONATE)
15 Mg
100%
SELENIUM (SODIUM SELENITE)
70 Mcg
100%
MANGANESE (CHELATE)
2 Mg
100%
CHROMIUM (CHELATE)
60 Mcg
100%
MOLYBDENUM (SODIUM)
75 Mcg
100%
POTASSIUM (CITRATE, IODIDE)
71 Mg
N/A*
ESSENTIAL FRUIT BLEND (GRAPE CONCENTRATE, BLUEBERRY CONCENTRATE, GOJI BERRY CONCENTRATE, CRANBERRY CONCENTRATE, RASPBERRY CONCENTRATE, CHERRY CONCENTRATE, BOYSENBERRY CONCENTRATE, ELDER BERRY EXTRACT, ACAI FRUIT, PEAR CONCENTRATE, GRAPE SKIN EXTRACT, PEACH CONCENTRATE)
3100 Mg
N/A*
AMINO ACID BLEND (MILK PROTEINS) (ALANINE, ARGININE, CYSTEINE, GLUTAMINE, GLYSINE, HISTADINE, ISOLEUSINE, LEUCINE, LYSINE, METHIONINE, PHENYLALANINE, THREONINE, TYROSINE, VALINE)
100 Mg
N/A*
ESSENTIAL SOURCE SEA BLEND (BLADDERWRACK, DULCE, KELP, SEA LETTUCE, SEA BUCKTHORN)
25 Mg
N/A*
CITRUS BIOFLAVONOIDS
75 Mg
N/A*
CO-Q10(COENZYME Q10)
10 Mg
N/A*
GRAPE SEED EXTRACT 95%
20 Mg
N/A*
INOSITOL
20 Mg
N/A*
TRACE MINERAL BLEND (75 TRACE MINERALS)
10 Mg
N/A*
FLAX SEED OIL (OMEGA 3,6,9)
5 Mg
N/A*
**Daily Value Not Established. *Percent of daily value based on a 2000 calorie diet.
Other ingredients: Purified Water, Natural Flavors, Vegetable Glycerin, Essential Sweet Blend (Organic Cane Juice, Stevia), Xanthan Gum, Citric Acid, Potassium Sorbate, Sodium Benzoate.
Does Not Contain: Egg, fish, shellfish, gluten from wheat, rye, or barley, peanuts or tree nuts.
Max Effect only utilizes Stevia and organic cane juice in moderation to sweeten our nutrient blend. Which in his article,( "Sugar May Be Bad, But This Sweetener Is Far More Deadly") Dr. Mercola states these two sweeteners as his two highest recommended. At Essential Source, we believe that just because something is good for you, it doesn't mean it has to taste bad. With over a year of Research & Development, and countless comparison taste tests, we're confident you'll agree that Max Effect is the best tasting liquid vitamin on the market today.
*Not intended to diagnose or treat diseases or ailments, and is not reviewed by the FDA.
Uses & Indications.
Supporting Health And Well Being
Promoting Cardio Health
Boosting Energy
Ailments & Concerns.
Weak Immune System
Frequent Travel
Low Energy
Vitamin Deficiency
Compare to these:
Reviews
Friday 27 September, 2013
wonderful for people like me who cant take pills, the consistency is perfect aswell.
Wednesday 25 September, 2013
i really enjoy the easy taste of this multi, i like the fact that its a liquid aswell.
Monday 16 September, 2013
havent tried this yet but i have heard plenty of wonderful rev iews on the stuff, i will be purchasing it today..ill get back to you soon chao!
Wednesday 11 September, 2013
taking horse pills has NEVER been easy for me so finding a liquid vitamin that tastes GOOD was just what i needed.
Friday 06 September, 2013
i can not take pills so this works very well for me, the taste is pretty good and you can really feel the difference when taking this.
Friday 23 August, 2013
i have been taking multiple pill form vitamins for years and its just getting to be too much, i am going to try this because the woman at the health store told me its one of the best on the market
Thursday 22 August, 2013
best vitamin intake, the flavor is just right and i find that taking this in the morning after breakfast helps me make it through the day without feeling exhausted.
---
Questions and answers:
Asked on:
January 15, 2019
Question: We have used Max Effect Liquid Multi Vitamin Ampoules (30 ampoules) for years. Do you know of anywhere that might still have some in stock? Thank you!
Explore More Products