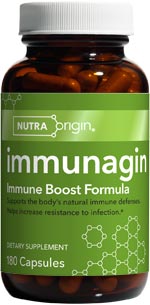 Full price 34.95
Savings 30%
Immunagin | Immune Boost Formula (180 caps)*
| | |
| --- | --- |
| | Sorry! This item has been discontinued. See below. |
NutraOrigin
Immunagin | Immune Boost Formula
NutraOrigin's Immunagin is an immune support supplement that promotes strong and healthy immunity.* Formulated with ingredients that boost resistance and strengthen immune function, it is designed to keep you healthy whatever the weather.* Immunagin is perfect for anyone wanting to support a healthy immune system.
Your immune system is generally divided into two categories: innate immunity, the kind you were born with, and adaptive immunity, the kind you develop as you mature. Innate immunity is your first line of defense. Adaptive immunity kicks in once your body identifies what kind of challenge you're dealing with. Immunagin includes natural ingredients that activate both kinds of immunity, helping put your immune response into high gear.
Aloe vera, bromelain, echinacea and pine bark all have immuno-stimulating activity.* Laboratory research has shown they may increase the generation of T cells, promote the maturation of dendritic cells, induce the production of cytokines, and activate macrophages, natural killer cells and phagocytes — all key immune system players.
Ashwagandha is an adaptogen that combats the effects of occasional stress and generally promotes wellness.
Colostrum and zinc/selenium have been shown to increase resistance in human subjects.
DMG boosts immune response to immune challenges.
Green tea and maitake mushroom have a nutritive, long-term resistance building effect.
Cat's claw and noni may have immune-enhancing action.
Developed based on a thorough review of the scientific evidence, NutraOrigin's Immunagin, includes only ingredients with documented efficacy and safety, and contains no artificial colors, flavors or preservatives.
Supplement Facts
Immunagin
Serving Size: 6 Vegetarian Capsules
APS
%DV
Zinc (as zinc citrate)
20 mg
133%
Selenium (as selenium methionine)
100 mcg
143%
Organic Freeze-Dried Aloe Vera Juice Concentrate (200:1) [standardized to 32% total polysaccharides, 45% short-chain polysaccharides and 55% long-chain polysaccharides] (leaf, inner fillet)
200 mg
**
Ashwagandha (Withania somnifera) [standardized to 8% withanolide glycosides, 32% oligosaccharides and 2% withaferin-A] (root, leaves)
250 mg
**
Bromelain (2,400 GDU/g)
200 mg
**
Cat's Claw (Uncaria tomentosa) Extract [standardized to 5% alkaloids] (bark)
100 mg
**
Casseine-Free Colostrum (from bovine) [standardized to 40% immunoglobulins, 0.7% lactoferrin]
1,000 mg
**
N, N-Dimethylglycine (DMG)
375 mg
**
Echinacea (Echinacea angustifolia, Echinacea purpurea) Extract [standardized to 4% echinacosides] (flower, stem)
500 mg
**
Green Tea Extract [standardized to 98% polyphenols, 80% catechins, 45% EGCG] (leaves)
300 mg
**
Maitake Mushroom Extract [standardized to 30% polysaccharides] (whole fruiting body)
500 mg
**
Noni (Morinda citrifolia) [standardized to 20% polysaccharides) (fruit)
800 mg
**
Pine Bark (Pinus maritimus) Extract [standardized to 95% proanthocyanidins)
150 mg
**
** Daily Value not established
Other Ingredients: dicalcium phosphate, vegetable cellulose (capsule shell), magnesium stearate, silica.
Suggested use: Divide daily dose intake evenly with major meals. Consume immediately after meal or during the meal with a full glass of water (8oz). Consult with your doctor or healthcare practitioner before starting any nutritional dietary supplement program.
*Not intended to diagnose or treat diseases or ailments, and is not reviewed by the FDA.
Uses & Indications.
Supporting Healthy Overall Immunity
Boosting Immune Response
Stimulating The Immune System Into Action
Providing Long-term Nourishment For Immune-building
Ailments & Concerns.
Exposure To Bacteria & Virus Which May Cause Illness
Weakened Immune System
Compare to these:
Explore More Products